Migrant Diaries
The 2020 COVID pandemic brought to fore the dismal lives that our migrant workers lead. Read these heartbreaking stories of how they lived before the pandemic, how the lockdown changed their lives and what they're doing now.
13 Oct 2020
Migrant Diaries: The story of Zia ul Sheikh
Zia ul Sheikh, a skilled goldsmith, is back home in Birbhum. The 32-year-old loves the clean air and green spaces of Harishpur village, where he was born and lived for 20 years. This is where he got married and now lives in a home full of love and care with his parents, wife and two young boys.
"My firstborn is five-years-old and the little one is just one-year-old," says the proud father who has enrolled the elder one in an "English-medium private school." He credits his wife for all that she does for the family, and especially the children's education. "She looks after all of us. She is very caring and at the same time she is strict about the children's studies, so that they stay on track," he says feeling relieved that even under the lockdown when the schools are closed, his little lad studies at home. 
"My father is a farmer and grows all the vegetables we use, he has made sure there is food on our plates even in this lockdown and we don't have to depend on anyone," Sheikh is a proud son too. But all the love, home grown vegetables, and fresh air will not pay the bills, and Sheikh says he wants to start earning again and save money. "At the moment I am trying to look for some work anywhere in West Bengal, so that we will have some money if needed in an emergency," he says wisely cognizant of the possibility of sudden future requirements.
The biggest lesson he has learnt in the wake of Covid-19 pandemic is this: Always be prepared for the worst. He is still shocked by how quickly the situation changed in Mumbai where he worked. "I had reached the city just two days before lockdown was suddenly announced. I thought it would last for maybe 14-days or so. My fellow workers and I had enough food stocked to last us till then, so we were not too worried. But the Coronavirus spread like fire, and the government extended the lockdown. That too suddenly," he remembers the panic that began to creep in then.
"Soon enough we were struggling for food, and had to seek help," he says they approached many organizations for ration but only got a response from Citizens for Justice and Peace (CJP) and a Bengal organization. "We got enough rations for an entire April month, and sometimes also got packets of cooked food from some people. It was only because of all this help from various places that we managed to survive in this lockdown," he says grateful for the generosity of strangers that taught him the other big lesson: Seek help when needed, and give help when possible.
 Once the emergency train schedules were announced Sheikh and his group filled the travel forms. "We got a call after ten days from the police station. They told us to get ready to board the next train to West Bengal from Mumbai CSMT. On May 17 we went to Pydhonie Police Station and a thermal screening was done before we were taken to the railway station," he says. The sight there was overwhelming for Sheikh, "There were so many migrant workers standing in queues, looking so happy to be given a chance to reach their villages. We boarded the train systematically; all the IDs were checked." The next development surprised him even more, "We were each given two masks, two parathas with pickle, a biscuit packet and a water bottle. I was so happy when I got my seat, we all were maintaining proper distance from each other and all of us were wearing masks."
Sheikh who has lived in Mumbai for over 12 years, says he was one of the lucky ones who seemed to have the best experience on these Shramik Special Trains. "During the journey we were given biscuits, bananas and water. No 'real' food was provided but I did not care. I was happy to be headed home. We reached Murarai Railway Station the next day, and had thermal screening done, we were told to be in home quarantine for 14 days," a new term that Sheikh says he obeyed like the law. "My home is close to the railway station so I walked back and followed all the instructions. I did not step out for 14 days," he says. He was grateful to be home but waves of sorrow rose whenever he thought of the thousands of others who had to take uncomfortable truck rises, or worse walk for hundreds of miles to reach home. His quarantine is long over, and he is keeping busy helping at home while searching for a job. 
He also misses his workplace at Zaveri Bazaar, in Bhuleshwar Mumbai. He has been working here since the day he first came to Mumbai. "I earn around Rs 15,000 per month and manage to send almost Rs 9000 back to my family. I stayed with five roommates, all of us are from West Bengal, and we would divide the rent of Rs 11,500 per month among ourselves," he says describing how things were going fine and every year Sheikh would visit his family in the village for two months. This schedule may have now been reversed, fears Sheikh, "I hear in the news that the situation is getting serious every day as the number of cases are increasing. I got a call from Mumbai that work has started, I want to go but I am scared because Mumbai has most cases," he says. "My wife is also not allowing me to go, so I guess we will have to wait for the official announcement of a normal situation," says Sheikh.
He does not want to complain now. He is home, there is food to eat, family to talk to and rations of grain from the government. "Everything is fine here, and I don't want to go and get myself in trouble, because no one can predict what will happen in Mumbai next. I will wait till the situation is normal." 
Related:
Migrant Diaries: Hurdanand Behara
Migrant Diaries: Laxman Prasad
Migrant Diaries: Abul Hasan Mirza
Migrant Diaries: Mohammed Jamaluddin
Migrant Diaries: The story of Atiur Rehman
The Covid-19 pandemic could have been an opportunity for all of us as a society to showcase our most compassionate and humane side. But many employers and middle-men took this opportunity to further exploit their labourers, especially impoverished and often unlettered migrants, and push them to the brink of starvation. This is the story of one such migrant from West Bengal, Atiur Rehman.
35-year-old Rehman, a construction worker, has been toiling away in Mumbai since 2001, even as his wife, two sons, mother and sisters continue to live in Dunigram, a small village in Birbhum district of West Bengal. "My elder son is 11-years-old and he is studying in class 5. The younger one is 6-years-old and studies in class 2. My sisters are married," he reminisces fondly about his family and village. "We have a small plot in the village and my mother does farming. She takes help from others but the income from that farm is not enough," he says, giving us an initial insight into why he took the difficult decision to not go back home when the lockdown began. 
"I am the only son and must work to support my family," he says. Rehman feared that if he went back home, it would place a bigger burden on his family and plunging them into a financial crisis.
Rehman is a daily wager and works through agents who help him secure jobs. "We call them 'mukhiya' or leader, and they are the ones who hire workers like me for jobs at construction sites. They pay us on a monthly basis," he says. Rehman manages to earn around Rs 15,000 per month. "But I haven't got any payment for January, February and March. The agent blames it on the Covid-19 lockdown. He says the bills have not been cleared yet," says Rehman explaining how his own penury disallowed him the luxury of leaving town in the months that followed. "I was sure I would stay put, even if the other five men I was staying with in Govandi were toying with the idea of returning home," he says.
He remembers that one of the migrants he lived with, left for his village by truck, and two others took a bus from Majiwada, Thane. All of them paid the fare from their own pockets. He remembers an initial futile attempt at leaving town with his fellow migrants, "We had decided to go to the police station to inquire about the emergency travel forms, but the police didn't allow us to talk to anyone and shooed us away!" Rehman still feels the anger boil over whenever he recalls how they were treated that day. He did not try to get official help again.
"My nephew and I, both, stayed back in the hope that our work will start soon," he says, remembering being told by some people that the lockdown would end quickly. However, that did not happen. Nor did the agent give Rehman his due payments. Feeling humiliated, betrayed and exploited, Rehman decided to move from Govandi to Chembur.
"I got fed up with the situation and came to Chembur to an area where other migrants from West Bengal stay. With their help I have got work at a construction site near Surya Hospital in Santa Cruz," says Rehman who managed to get a job when construction activity resumed. But Rehman finds it difficult to talk about the prolonged period when he didn't have money or even food when he was still at his older accommodation in Govandi.
"After the lockdown was announced, I was anxious as nothing like this had ever happened before. None of us were prepared. We bought some ration with the money we had, but the food ran out quickly," he says. Rehman remembers approaching a local group for food supplies, "In Govandi there is a mandal (group) who helped people with ration and food in the initial lockdown period. That was a big help for us, but soon they stopped giving food." Rehman says he understood their limitations, "They can only offer help to an extent, not forever."
Following this, Rehman and his group approached people in the neighbourhood. "But they were not in a position to help," he says. Then one day, Rehman got a call from volunteers of Citizens for Justice and Peace (CJP), asking if they needed help with the travel forms. "We told them that we had run out of food and urgently needed some ration. I confessed that we had not eaten a proper meal for three days, and just survived on tea and some biscuits," says Rehman who was overjoyed when CJP volunteers brought them ration. "There was not a penny in my pocket for three months and not a grain in my belly for three days when help arrived from CJP. We ate as soon as the food came," says Rehman recalling how relieved he felt that day. Rehman says as his roommates had already left for their villages, and he too decided to move from Govandi to Chembur. 
He shared the ration which was provided by CJP with the other migrants at the new site, "because they were also in need and how could we eat when someone else is sitting hungry near us," says the generous man. But the ration is now running out. "I requested CJP to provide us with some more ration. We don't need a big kit like before. Just some pulses, rice and oil," he says.
"I want to thank CJP for providing us ration when we needed it urgently, I will remember this for my lifetime," says Rehman who feels let down by the government. "I also want to tell everyone that we didn't get any help from the government. They should have helped the poor in this crisis. Even when we went to the police station, they didn't even listen to us. It is people like CJP volunteers who came forward and helped us, and I am really thankful to all of you who provided us food, which gave us strength to survive," says Rehman.
Rehman says he is also grateful to his new friends who have helped him find work. "Our work has just started a few days ago, and we are getting payments on a daily basis," he says, feeling relieved that now he can finally send some money back to his family. "They are also struggling in the village," he worries.
Rehman misses his family. "I usually go back to my village during Ramzan, and come back to Mumbai 2-3 months after Eid," he says sadly accepting why the trip did not happen this year. More than the festival celebration itself, he just wanted to be with his family. "It's been almost a year since I have seen my family, and I don't even know when I will go back now, because in this lockdown I have faced a financial crisis and have to make up for the losses. I just hope that my old boss gives me my pending salary as soon as possible," says a hopeful Rehman who will send most of that money home too.
His only prayer now is that the work continues, "so that we can earn something and can manage our daily needs. I now earn Rs. 800 rupees from the past few days. I want to send Rs. 4,000 back home." Rehman does hope to visit home for the next Eid if possible. "I want to go back home during Bakra Eid, till then I will work hard. And if needed, I will do extra work, so that I can earn enough and can celebrate Bakra Eid with my family," says a determined and hard-working man with renewed vigour.
Related:
Migrant Diaries: Hurdanand Behara
Migrant Diaries: Laxman Prasad
Migrant Diaries: Abul Hasan Mirza
Migrant Diaries: Mohammed Jamaluddin
Migrant Diaries: The story of Makar Behara
Makar Behara, who works as a skilled mason in Mumbai, was sure he would not go back to his village of Biripali in Bolangir district of Odisha, even though many others were leaving town in droves in wake of the Covid-19 lockdown. For the 48-year-old father of four staying in Mumbai was the only way to make sure his children's education did not get affected.
No, they are not studying in Mumbai, they live in Odisha with their mother. Behara lives and works in Mumbai and sends money home for them. "This is why I thought going back to the village was of no use. At least in Mumbai I can earn something and send money back home," he says feeling relieved that his work has resumed, now that construction activity has been allowed.
"I came to Mumbai 30 years ago, soon after my parents passed away. Someone from our village worked here and he told me to come to Mumbai too. I was scared because I knew no one in the city, but I also realised that staying in Odisha was not going to help me much. To earn well and live a good life I had to come to Mumbai," says Behara explaining why he chose to come to the city of dreams in the first place. "I have been working with the Painterior Company that undertakes repairs and renovations of buildings. I am a skilled mason and earn around Rs 750 rupees per day, in a month I make almost Rs 22,000. I send Rs 15,000 back home," he says adding how a good part of that goes to fund his children's education, "I want them to have a good life."
Behara's elder son is studying for a Master's degree in Arts. The second child, a daughter, is studying for a Bachelor's degree in Arts. "My two younger daughters are in class 12 and class 8. By god's grace they are good in studies, so that's why I work hard for them," says the proud father. His younger brother, his wife and two daughters stay with Behara's family too. "My brother had also come to Mumbai for work but he didn't like it and went back. I then helped him to open a paan shop," said Behara who usually goes back to the village when monsoon hits Mumbai, to return only in November. "It rains heavily in Mumbai and our work also gets affected. The monsoon in Odisha is even worse, so I prefer to be with my family in those months," he explains.
However, the schedules were a bit different last year. "I came to Mumbai in July 2019, because in May 2019 my eldest daughter got married," said Behara who had taken a loan of Rs 1,00,000 from a landlord in Odisha for wedding expenses. "I have paid back Rs 50,000 and have to pay the balance Rs 50,000. That is why when I came back, I worked at Alibaug and then at Cuffe Parade, the work was going smooth until the lockdown was announced," recalls Behara who was with 30 other migrant workers at the construction site.
"It's a 20 storied tower and requires a lot manpower. We migrants prepare our own hutments near the construction site using aluminum roof panels and cook our own food. So, I don't stay at a particular place, instead I and live where I work. Sometimes the site is located outside Mumbai," he says. "After the lockdown was announced our work totally stopped, we had some money with us so we brought our ration but soon it got over," he recalls the early days of the lockdown.
Behara says the contractor did give them some rice, pulses and oil but it did not last even a week. With a crisis looming, his fellow migrants and Behara heard of the ration distribution campaign of Citizens for Justice and Peace (CJP) and got in touch with our volunteers. "We got a ration kit which included everything we could want. It helped us a lot and was so much that still we have some pulses left. I am very grateful to CJP," he said with a laugh that even now at each meal the group blesses the volunteers as they begin eating.
However, they still remember feeling hurt at being shunned by the ones who were living next door. "It was very hurtful that the people who stayed in Jupiter building didn't provide us anything, not even a single meal. It would not be difficult for them but the rich don't care about the poor. I really thought they would ask us to leave the site but thankfully, it didn't happen as our boss told them that migrant workers don't have any other place to stay," he said adding that they have to undergo  thermal screening every day and their 'rooms' are also sanitised, though Behara didn't seem to mind that too much.
When the government kept extending the lockdown, the migrants felt restless and just wanted to go back to the village. "We even filled the emergency travel form but didn't receive any call from police officials. Then our boss and a few people from the building requested all of us to stay where we were, because the situation was only getting worse," he says. "But 14 people left by truck at their own expense and 12 more went on a bus arranged by Mumbai Central IAS officer Sarika Jain, who is originally from Odisha," says Behara recalling the initial exodus.
After much consideration, Behara and four others decided to stay put. "The main reason for staying back was that all the Odiya migrants from different parts were travelling back in large crowds. There were chances that they would all be quarantined together, putting everyone at risk of infection," Behara explains their rationale. Behera spoke to his wife and son and even they thought it was best that he stayed put in Mumbai.  
"Luckily, our work has resumed. I work with four helpers who mix the cement while I do the masonry. We are getting our daily payment so we have brought enough ration for the next 15 days. I have also learned that many migrant workers are coming back to Mumbai, and am now convinced that I made a good decision by not going home," he says sounding relieved. Even though the work situation is stabilising, Behera is worried that Covid-19 cases are increasing in Mumbai, and fears another lockdown. Meanwhile, home is where Behera's heart is, and he is already looking forward to his planned next trip soon. "Once this work gets over, I will go back to my village," he says.
Related:
Migrant Diaries: Hurdanand Behara
Migrant Diaries: Laxman Prasad
Migrant Diaries: Abul Hasan Mirza
Migrant Diaries: Mohammed Jamaluddin
Migrant Diaries: The story of Sagar Ali
Sagar Ali, a daily wage labourer, had returned to Mumbai from his village in West Bengal just a week before the national lockdown was imposed. He had yet to get back into his work routine, had no money, and no stock of ration for his family. At the beginning of the Covid-19 lockdown in March itself, Ali was struggling to make ends meet.
"I hail from Majhida in Birbhum, and have been working in Mumbai as a helper and daily wage labourer. For the past four years, I have had a steady job, and worked as a helper at a construction store, earning Rs 13,500.  My wife is a domestic worker and earns Rs 4,000 per month. We send Rs 3,000 to my younger brother and mother who live in the village. My younger brother works as a labourer in Birbhum but the work is not regular, so I have to take care of their needs too, as I am the eldest son. My younger sister got married last year," says the 31-year-old for whom family always comes first.
In Mumbai, Ali stayed with his father but he passed away almost eight years ago. "Then I started staying with other migrants from West Bengal, and brought my wife and 7-year-old son to live with me four years ago," he tells us. The young family lives rent-free as the colony does not charge migrants. Ali's son had been enrolled in a boarding school in West Bengal. "It which charged Rs 4,000 per month but I got to know that they didn't take proper care of children, so I brought my son with me to Mumbai. I wanted to enrol him in an English medium school in Mumbai, and enquired at a couple of schools but realised they were asking for huge fees so I decided to enroll him in BMC school," says Ali, though he does not regret this decision at all. He just wants his son to get a good education.
However, the real shock was that of the lockdown hitting the family just as they had returned to town after a trip back home, Ali says his 'bad luck' is to blame. "I had no clue that such a thing would happen. I had only carried Rs 1200 with me while returning from the village, I knew I was going to rejoin my work soon. I had no tension as even my wife is employed as a domestic worker and she was also going to rejoin work."
When the family returned, they bought some ration for Rs 1,000 and were left with Rs 200 rupees. Nothing to worry, they thought, they will be back at work soon and the wages will be paid soon, maybe they could take an advance if needed. But all plans vapourised in the Mumbai heat the minute the lockdown was announced without any notice. "We were scared of what would happen next? How will we manage without money," Ali recalled that the ration they we had stocked lasted for 20 days. "After that the real struggle started. I got to know that from our village the sarpanch is going to arrange a ration supply, I gave my family's names but we didn't receive any ration from them," he says.
He then approached CJP volunteers. "I got ration twice from CJP, once in May, and again in June," says Ali adding that the family also collected cooked food occasionally being distributed in their area by individuals. "I am so thankful to CJP for helping the poor. The government should have provided us with ration, and money, to survive in this situation. They just say we are giving a package worth lakhs and crores, but it never reaches the poor. During this period, I even did cleaning work at some houses and because I needed money, I earned Rs 800 from that and I sent Rs 500 to my brother in the village, and kept Rs 300, for emergencies. I have never experienced such a situation in my life," he says. Ali says he even got a call from someone to inform him there were shelter homes being set up for migrants but he said he had a home, and just needed food to survive. "I asked for some food to be arranged, but they said they could not do that," his voice falls as he recalls that conversation.
"In May the trains were going to start, I filled the emergency travel form and even had a medical screening done for my family, I paid Rs 900 for that. I had to borrow money from my boss but till now I haven't received any call from any official," he says he does not know what the authorities have arranged now. Even as he saw most migrants left by bus and truck, Ali said he felt helpless, "I also wanted to go but as I said I had no money at all, so going home was not possible." As news of accidents and deaths of migrants who were travelling came in, Ali's wife did not even want to take a risk. She said, "We will stay in Mumbai and survive somehow, but I don't want to go by truck." Ali stayed on with a little help, "I called the CJP volunteers and requested more ration, we got ration kits on which we are surviving till now."
Sagar Ali has given up all plans of going back to the village for now, as the lockdown restrictions are slowly lifting. "Things are getting normal and my boss said our store will open soon. That's a relief now and I have to earn and send money to my mother too, returning to the village is of no use now. Living in Mumbai is better, if anything happens here, we can at least go to nearby government hospitals," he says the city has health facilities and things are worse off in his village, "there, the hospital staff don't give us much importance."
He only has one prayer for the near future, "I am just hoping that a lockdown should not be imposed again, because I hear news that a complete lockdown may be imposed again because of increasing cases of Covid-19. If it happens then I don't know how we will manage to survive. CJP already has given us ration kits twice and calling CJP again will not be good, I am sure because the organisation must be having its own limitations," he signs off with concern for those who are concerned for him.
Related:
Migrant Diaries: Hurdanand Behara
Migrant Diaries: Laxman Prasad
Migrant Diaries: Abul Hasan Mirza
Migrant Diaries: The story of Mohammed Jamaluddin
39-year-old Mohammed Jamaluddin is a skilled mason, who has been working in Mumbai for the past 13 years. But in wake of the coronavirus pandemic, he was forced to leave the city and undertake an arduous journey back home to his village in Birbhum, West Bengal. At first, he undertook two consequent journeys by bus, then travelled in the back of a truck, then a short distance even on foot, before again boarding a truck just so he could go home to his family!
Once he reached his village, he called to tell us, "The bus transport was provided by the government. But the journey was really painful and lack of proper coordination made it very challenging for homeward bound poor and helpless migrants." 
Jamaluddin, had never thought he would have to leave Mumbai this way. He had come to the city in 2007, and worked as a labourer for seven months. But he had to return to his village after that. "I returned to Mumbai in 2009, and since then I am working here. Initially used to work as a helper, but now I am a skilled mason. We are called 'Naka Workers', because every morning we stand at the naka (road crossings) and then the Mukadam, our contractor hires as many workers as he needs for the day. Everyone used to get work daily," he recalls how he went about his work in Mumbai before the pandemic wreaked havoc on his life and livelihood.
Jamaluddin remembers the time when he would earn only Rs 110 when he worked as a helper. "As a skilled mason I earn Rs 1,000 each day, and get work 23-25 days a month on an average, so I earned between Rs 23,000-25000," he says. Telling us about sharing accommodation with other migrant workers from West Bengal in Mumbai, Jamaluddin says, "There were more than 200 of us, seven of us shared a room, and we divided the Rs 5,000 rupees rent amongst ourselves." 
Jamaluddin had an annual work schedule and worked in Mumbai from October to June. As soon as the monsoon hit, work would slow down. He says, "During the rainy season I would always go back to my village and spend time with my wife, daughter who is three-years-old now, and my mother. I also have three brothers, but they live with their families."
The visits home were spent relaxing and finishing any pending work in the house and sharing future plans with his wife. Jamaluddin says, "I would send Rs 15,000 back home and keep the rest. I have to save money because soon my daughter will start going to school, and I want to give her good quality education." 
When the lockdown was announced Jamaluddin did not panic. "All of us had some money so we brought ration for one month. But when the lockdown was extended, it was a real struggle for us. Our money was over and so was the ration. Then requested ration from various people but only Citizens for Justice and Peace (CJP) gave us rations that were enough for nearly a month," he says. "While getting the food was a big relief, our real problem was that seven of us lived in one 100 sq ft room. A police post near our locality made it impossible for us to step out, but we managed to survive somehow," he remembers the hot summer months almost trapped in the room.
He was keeping track of the news and heard that the trains were soon going to start. "I hoped we could return to our village but there was also news that the Chief Minister Mamata Banerjee had not given permissions for the train. We still filled up the emergency travel forms, but the police never called us. Living with six others in one small room during the scorching summer was really getting difficult. The whole day we were drenched in sweat, nights were a bit cooler but two of my roommates fell ill," he recalls.
"By May 15, we began discussing if we should start walking to West Bengal, and hire whatever transport we find along the way. I was the only one suggesting that we wait for a few more days, as surely there will be some arrangements made. But everyone was frustrated and wanted to reach their village anyhow. That day, three of my roommates from Malda, West Bengal decided to go by truck, and paid Rs 3,500 per head," says Jamaluddin.  
On May 17 Jamaluddin's other three roommates left paying Rs 4,000 per head for the journey back home. "Luckily, I heard about buses being arranged from Majiwada Thane to Chhattisgarh, so I went there and boarded the bus on May 18. I was so happy but my joy was short lived, as soon as I reached Madhya Pradesh, I saw that there was a waiting station for migrants from Bihar, Uttar Pradesh but there was nothing for West Bengal," he says.
Jamaluddin made enquiries and was shocked at the response. "They asked why I came here, that it wasn't the route to West Bengal," says Jamaluddin recalling feeling shattered. But later he found that the police had made some arrangements and one bus left for Chhattisgarh from Madhya Pradesh. "We were 21 people, it took us two days to reach Bilaspur, Chhattisgarh. There we boarded trucks leaving for Kharagpur, West Bengal, there were a total of 35 people in the truck and we had paid 200 rupees per head," he says recalling another arduous leg of the journey.
Jamaluddin reached Kharagpur on May 21 but was in for another shock. "There was a camp in Kharagpur from where officials were sending migrants to their villages, but an officer questioned us about where we came from, how did we come, did we have permission. I told him the route we took, by bus till Chhattisgarh and then via truck. However, he said they had not been informed about all this and told us to leave! 'You go to Mumbai again or go anywhere but don't wait here' he said, it was raining at that time," Jamaluddin recalls feeling crestfallen at this point.
A stunned Jamaluddin I tried to explain the tough journey he and his colleagues had just survived but the officer was not ready to listen. "He forced us to leave from there. So, twelve of us started walking on the highway, towards Birbhum," still coming to terms with the heartless treatment they had been meted out by the police. But Jamaluddin's luck was about to change. "We had only walked a few kilometres and met a man who appeared like god for us, who asked us where we were going. I told him the entire story," he recalls that chance meeting with a good samaritan who took them to a petrol pump near the highway, owned by his friend. "He asked us to wait there for the night and told us that the next day, May 22 there will be trucks going from here to Birbhum and other places to collect and drop stones," says Jamaluddin.
The man told Jamaluddin and his friends that he will arrange for them to travel on these trucks too. "We were happy, the kind man even arranged food for us so that night. We ate and slept at the petrol pump. The next morning, we grouped according to our districts, and three of us boarded the truck headed towards Birbhum," says Jamaluddin. As feared, at the Birbhum check post the truck was stopped by the police, who asked to see permission papers, "We had none, our truck driver gave Rs 1,000 to the police officer and then we were allowed to go. We pooled in money and repaid our driver," says Jamaluddin showcasing how bribery is often the only resort for helpless people. They reached Birbhum that night and were made to wait at the Panchayat School. "I wondered if things would have been better if I had gone with my roommates earlier," says Jamaluddin.
On May 23, they were sent to the government hospital for screening, and subsequently quarantined for 12 days. But, according to Jamaluddin, that was yet another horrifying experience. "Conditions at the quarantine were very bad, we were not provided food by them, and asked our families to bring rations for us. We cooked food ourselves every day and ate, there was no responsibility shown by the local government," he says recalling his ordeal.
"It was a very bad experience for me but I am grateful to have met many good people who helped us for food, water, biscuits along the way. In each state, there were people distributing supplies and helping migrants returning home, just like the man who helped us reach Birbhum. I also want to thank all of you at CJP, and everyone across our country who are helping the poor. I have no trust left in the government," he says. "We are not at fault. This Covid-19 has come from other countries but it is the poor who have to suffer," says Jamaluddin expressing anguish at how he feels that the authorities abandoned the poor in this crisis situation.
Meanwhile, economic compulsions have made Jamaluddin realise that he has no other option, but to return to Mumbai. "I am waiting for things to get normal so that I can again go back to Mumbai and work, because there is no work in my village, and even if there is a job the payment is so little," he says.
Related:
Migrant Diaries: Hurdanand Behara
Migrant Diaries: Laxman Prasad
Migrant Diaries: The story of Abul Hasan Mirza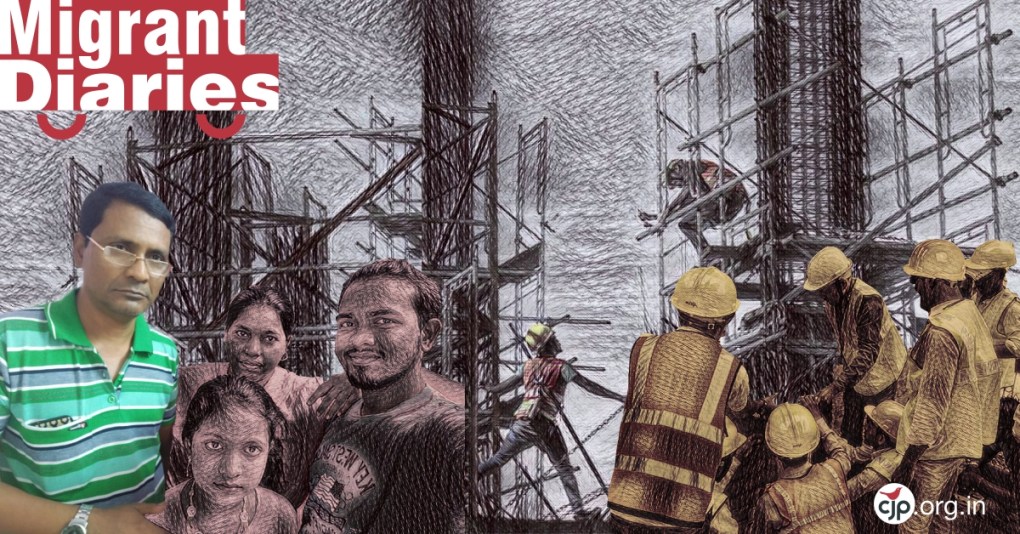 Abul Hasan Mirza is a rare kind of migrant worker. He is a supervisor at construction sites, and works for a company called Hotema. When the coronavirus pandemic descended like a nightmare he stood his ground and didn't abandon those who worked under his charge. Like many migrants leaving Mumbai, Mirza could also have boarded a Shramik Special train, or taken a bus back. But he chose to stay back to make sure that the labourers who worked under him, had rations, food and assistance if they wished to leave the city and go back to their villages.  
"I am from Birbhum, West Bengal. I have been staying in Mumbai for the last eight years. Before that, I used to work in West Bengal as a laborer," he told the CJP team when they went to distribute ration kits in the area. Mirza's life story is a shining example of how hard work, backed by solid ethics and empathy, can change lives. "When I came to Mumbai eight years ago, I didn't have a job. My aunt stayed in Mumbai so she had suggested that I come to Mumbai because here even a laborer gets Rs 500 per day, and a skilled labourer can earn upto Rs 900 per day. So I came here with my wife and two children. Initially we stayed in an Andheri slum where our rent was 1000 rupees per month." 
He remembers the hardships of those early days, "I didn't get any job for three months and lived on whatever savings we had. In the second week after I came to Mumbai I went to a local doctor to ask for a compounder's job because I had done that in West Bengal." Mirza didn't get that job, but when he heard his story with the doctors he was asked if his wife could cook food and clean the house. "I said yes, he asked me to send my wife to do domestic work at his house. He is a very good man, initially he paid Rs 5,000 rupees and after a few months increased it to Rs 7,000. I soon got a bus helper's job at St. Mary school. I used to clean the bus and make sure every child was getting in and out safely," he recalls. Mirza worked there for over a year and then began work as a labourer for Hotema Enterprises. One day he got a pleasant surprise, "After a few months my boss told me to not do labor work. I was scared and wondered what I did wrong. But then he told me I was promoted to supervisor!" 
Things began to look up for Mirza. "I was so happy that, from that day till now I am working as a supervisor at various construction sites for Hotema Enterprises," said Abul, who is proud of his achievements and credits his family's support with everything. "We have two children, my son is doing a Graphic Designing course, and my daughter is in class five at Kamladevi School, Andheri. My wife is a domestic worker, she works for four houses and earns Rs 20,000 per month. I earn Rs 12,000. Now we stay in a proper housing society in Andheri where our rent is Rs 12,000 rupees," he says. The rent is high, but he wants his children to live in a nice place, not a slum, "It is more than our status but I want our children to grow up in a good environment." He is a proud father indeed and says both his children are very good in studies, "Last year my son scored 94%." 
Mirza's younger brother is a college teacher but they are not on good terms so Mirza didn't call him for help when the lockdown was announced. "In  this crisis situation we are also helpless. After the lockdown was announced the situation started getting difficult for us because we live on what we earn monthly. With our expenses we could barely save anything. I am a supervisor, there are 200 people who work under me and I wanted to make sure that these people also get ration from somewhere."
During the initial lockdown, his wife's employers provided ration. "Some even gave money and the CJP Team also provided ration to my family and workers. So I was lucky enough that so many people helped us but as the lockdown extended, the rations got over. That's when I called  the CJP team again for rations. I knew CJP would do something to help us. When the CJP team provided us rations for the second time on May 21, 2020, I distributed it to all the laborers because they were dependent on me. That day my family and I only had tea and biscuits at night," he remembers that the labourers were in a bad state. 
"On June 1, the CJP team gave us rations for the third time, 10 packs for the 20 migrants and my family. I am very thankful to CJP, you people are like god to us, I will never forget your help in my life," he says. Mirza hopes to host all his new friends at CJP and his team of labourers once the coronavirus crisis is over, "I request your team to come to our place, all the laborers and family we all want to thank you." 
Optimistic, and empathetic, Mirza does not regret staying back in Mumbai when lakhs were fleeing. "I didn't go to the village because of two main reasons. Firstly, my children will have their exams soon after this lockdown. I don't want them to miss their exams, if the lockdown would have not happened my son would have got a job by now. Secondly, my team of labourers were in a difficult situation, so it was not fair to leave them in this condition and go to the village. So I decided to stay back and we will face the situation together, my wife also supported me. I am glad many people helped us in this situation and helped us to survive, especially CJP."
Now as the things seem to be stabilizing a bit, most of the labourers have decided to go to their villages. Mirza is busy making sure they have their tickets and that they get on the train safely. "Yesterday one group had come to my house because their ration got over, so I gave them some from my share. I consider them as my family," he says.
He has heard that the construction work may restart soon and is helping the few labourers who want to stay back and work to make an informed decision.
Related:
Migrant Diaries: Hurdanand Behara
Migrant Diaries: The story of Laxman Prasad
43-year-old Laxman Prasad, has been living and working in Mumbai for the past  27 years. He has lived in different parts of the city, but moved with his family to Kalina, Santacruz 15-years ago. He worked as an auto rickshaw driver and had bought his vehicle just two years ago, on a five-year-loan. Laxman and his family packed their bags and he drove them across the country, in this autorickshaw on May 10. They reached May 15 and went into quarantine for the next. Once that was over with, he called up the CJP team to inform us he was fine. 
He was feeling very nostalgic about the city which he has spent a large chunk of his life in and recalled his early days as a migrant from Jharkhand. "Before I started driving an auto rickshaw, I used to work as a waiter in a hotel. Initially I used to stay with other migrants from Jharkhand but five years ago I brought my wife and children over an we lived in Kalina," says Prasad for whom his kids are his pride and joy, "my elder son studies in class 8, my daughter studies in class 5 and my younger son studies in class 2." The children study in a school run by the  Brihanmumbai Municipal Corporation. 
Prasad's parents and three younger brothers stayed back in the village, "We are seven brothers, two of us drive auto rickshaws, two work as waiters." Prasad would earn almost Rs 25,000 per month, but the expenditures would drain his pocket fast, "I paid Rs 6,000 as my room rent, and had an EMI of Rs 6,000 to repay the autorickshaw's loan. I managed to send around Rs 3,000 back home and whatever remained was used to buy ration and meet our daily expenses." He tried his best to save a small amount each month. All that changed when the sudden lockdown was imposed. The earnings stopped, but the expenses did not. 
"This lockdown has cost me Rs 60,000 to 80,000 already, but we cannot blame anyone, this is a situation which we all are facing," he said, adding that it was the government that should have planned ahead for the poor citizens. He felt let down by the authorities and felt he could not depend on them anymore. "The government had not made any plans for us poor people, that's why I didn't depend on the government and decided to drive my auto from Mumbai to get home to my village in Jharkhand," he recalls the longest drive he has undertaken in his beloved vehicle.
Like many others, Prasad thought the lockdown was announced for a limited time only, "I didn't think it would be extended for such a long time." Even under the first lockdown Prasad ferried around a few passengers who were out for emergencies, but when the police started beating and slapping fines he decided not to risk it anymore. "We live hand to mouth, and slowly it started getting difficult for us. In the initial phase we used up our savings to buy ration and essential items," he says but that money was over soon and the crisis began. This is when the CJP Team reached Prasad's neighbourhood with ration kits. "I am thankful to CJP who provided us with rations that lasted for 15-20 days. There were some others in Kalina who were distributing cooked food. We used to stand in a queue for food daily," he remembers those days as some of the worst he has spent in Mumbai. "We did not like standing in a queue for food,  but we had no other option," he says.
Survival was at stake and Prasad didn't want to go back to the village, "because in Mumbai I feel we can survive somehow." But his family back home was worried, "They were constantly telling me to make some arrangements to return to the village." 
As the number of Covid-19 cases rose steadily so did Prasad's stress level. "We live in slums and I was also worried for my family, especially my children. The volunteers from CJP had called me to inform me about the Emergency Travel form. I along with my friends and their families filled the emergency travel form. I even followed up with the police station but they said they will call once the train schedule was confirmed," recalls Prasad.
No such calls came, "After waiting for five days I and a few other drivers decided to go home by our own auto rickshaw. We left Mumbai on May 10. We drove through Maharashtra, Madhya Pradesh, Odisha, and finally reached Jharkhand on May 15." At Madhya Pradesh a thermal screening was done and they paid Rs 25 as toll tax too. "We used to travel from morning to afternoon, take a lunch break, and then again travel till night. This continued for the next five days," he says he was the only one driving and was thankful that there were people distributing food, snacks, water to the labourers returning home. "We managed with that and sometimes had food at dhabas and paid. I spent Rs 12,000 on petrol and Rs 2,000 on food. I had no other choice but to go home so I had requested my brother to send me Rs 15,000," Prasad says this money helped him take his  family home safely.
"After reaching Rourkela which on the Odisha-Jharkhand border another round of thermal screening was done, and then we reached Kohlu, Jharkhand which is our village. We were kept in quarantine in the Panchayat School for 14 days. We were provided tea, biscuit and a banana each for breakfast, for lunch we got sabji, dal and rice and for dinner we got dal and rice," Prasad does not dwell on the taste of the food, he was grateful to be fed.
However, he remembers that many others in quarantine had asked their families to get food from home because the quality of the meals served at the school was not good. "We didn't trouble our family because my mother is old and it would have been difficult for her to cook for five of us. We managed the food which was provided. After 14 days, another  thermal screening was done and then we were told to go home."
Prasad says the quarantine was a struggle too but the family had no choice. The children are never going to forget this experience he says, "But I am glad that I have reached my village and I am with my entire family, the situation here is first class and we no need to beg in front of anyone for food." He is an optimistic man and is waiting for the situation to get normal, "Then I will go to Mumbai again, because now I am used to working in Mumbai. There, I can earn Rs 25,000 per month which will be difficult here in Jharkhand."
He is also not going to blame anyone for the crisis, "I don't want to complain about anything, because the situation is so difficult that even the government is struggling. People are doing their best to survive, some travelled on trucks, by some buses, some even walked. I was lucky to have my own vehicle. I am happy to be back here and now I don't have any tension, because we all are together if anything happens people are there to support you and take care of you."
His faith in humanity soars, but his wife is upset and worried about the impending financial crisis, "I am feeling very bad that all our savings have got over in this lockdown, whatever was left we spent on travelling back to home. While on the highway, I was scared of accidents because travel by auto rickshaw was not easy and there were big trucks driving beside us," she says. She too is grateful that people shared food along the way. "We had sufficient food during our journey, because people were distributing food, and  I had even carried biscuits, and some fruits with me. Now everything feels fine as we have reached home, that is the major relief."
Related:
Migrant Diaries: Hurdanand Behara
Migrant Diaries: The story of Munna Sheikh
27-year-old Munna Shaikh was a part of a group of 15 who lived in Bandra's Shastri Nagar, a low-income neighbourhood that is home to hundreds of migrant workers who hail from various states. He had moved to Mumbai from Bihar 15 years ago. On May 19, a huge crowd had gathered in Bandra to catch a train to Bihar.  Munna Shaikh and some of his friends somehow managed to board the train. It took them over 62 hours to reach Katihar, Bihar! He spoke to the CJP Team once he was home safe in his village. 
"Currently I am under home quarantine. The situation here is the same as it is in Mumbai. In Mumbai at least there were people who distributed food, fruits, rations to us, but here we have to survive on our own," says Shaikh wondering if he did the right thing by leaving Mumbai. "The Sarpanch is saying we haven't got anything yet from the government so how can we help you?" He said this was also the reason they were kept in the state monitored quarantine center for only two days saying, "Even during those two days, we were not provided food, our families used to bring food for us."
Shaikh and the others then asked to be allowed to go home. "We requested the Sarpanch to let us go home because Eid was approaching and we wanted to spend it with our families. He understood and told us to go to the nearest government hospital and get our health check done," he says recalling being instructed to report to the Sarpanch and confirm they had no symptoms of Covid-19. They were asymptomatic and allowed to go home.
Coming back to the village during Ramzan, as well as Bakri Eid was a happy routine for Shaikh. He had returned to Mumbai after his last holiday in November 2019, with a plan to work continuously till Ramzan. He says, "Things were going smoothly and no one could have even thought that this would be the situation just after a few months." 
After the first phase of the national lockdown was announced Shaikh recalls that the village Sarpanch had sent Rs.500 to each migrant labourer who hailed from the same place. "Baba Siddiqui (Bandra-based politician) and some other people were distributing food in the first lockdown, but after the lockdown was extended our real struggle started. There were so many migrants, that the food being distributed was not enough for everyone. Sometimes we even slept on empty stomachs," he recalls. "Then the CJP team came to us with ration kits, one for each person and after that we didn't go anywhere. This ration kit lasted till I left from Mumbai, I am very thankful to CJP," he says.
He misses the city he calls his second home a lot. "Mumbai has given me everything for so many years, I've never felt as if I was in another state,'he says. Tracing his life in Mumbai he says, "Initially I worked as a waiter in Yaadgaar Hotel in Bandra for three years, after that, for four years I did mason work at construction sites. For the last seven years I have been working as an autorickshaw driver." He was the happiest to be his own boss at last., "At first I drove a rented auto rickshaw, but last year I did manage a loan to buy my own auto rickshaw. The loan repayment amount is Rs 5,023 per month," he says even as he does the income vs expenditure arithmetic in his head. "I have lived in Mumbai, earned well enough to support my family back home. I have now seen how the current situation has affected many poor people because I stay with them. So many people were struggling for food which is a basic necessity. Personally this lockdown has led to losses worth almost Rs 70,000 so far. I don't know how I will make up for this," he says worried that even after things get back on track he has the loan amount to repay, "and the insurance company will never spare anyone."
Now that he is stuck at home, his mind keeps wandering back to the 'good old days in Mumbai', though they are not so much in the distant past. "I used to earn 700 to 800 per day. In a month I managed to send around Rs 5,000 home to my family, and repaid the Rs 5023 EMI. Whatever remained went to pay for rent, food, auto maintenance, etc."
He says his family had heard about the rising Covid-19 cases in Mumbai and wanted him to come home to them. "My family consists of my wife, parents, sister and my two daughters, the younger one is just 18 months old and the elder one is three years old. They were all so worried with this Covid-19 situation, and the only thing they kept saying was 'do whatever you can do to come home," he says of his family. They were feeling helpless as he was so far away from them and were worried sick. "They said if anything happened to me there in Mumbai, they won't be able to do anything from Bihar. They were really very stressed and the news of increasing Covid-19 cases added more tension," he recalls.
Shaikh had big dreams for his family, "I always thought of taking my wife and kids in Mumbai but the rent there is so expensive, which was the big reason I never took them there." Instead, he was the one who went back, "It was announced in May, that migrants like me will be able to go home by filling the emergency travel form. So we filled out the form and submitted it at the police station, but we didn't receive any call from them. Then, May 18, we got to know that there was a train to Jharkhand from Bandra Terminus. We went there, but the train had already left. The next morning some people told us there was a train leaving for Bihar from Bandra, but we had not received any calls from the police, still we decided to take a risk and go to the Bandra terminus," he recalls how the news of the train to Bihar spread like wildfire. "Then slowly everyone got this news and there was a huge crowd which gathered at Bandra,the situation was soon out of control, and the police launched a lathi charge. Many people were injured, but it didn't matter to any migrant because we just wanted to go home," he recalls the fateful day.
People rushed towards Bandra Terminus and started boarding the train, "The police there also were egging us on. Once the train was full the police started hitting those who were still trying to get on. Four from my group managed to get on the train, and the rest were left behind, we were sad but we didn't have any other choice. But eventually we got to know that those left behind had boarded another train on May 20. It was such a relief."
It took them 62 hours to reach Katihar, Bihar! They traveled in a crowded compartment without any food, "We were only given a water bottle. Luckily I had carried some biscuits and chapatis with me, so I managed on that only." 
After reaching Katihar, they were screened for temperature and then taken to their village to be quarantined in the Panchayat school for two days. "I am now under home quarantine, and I am happy to be with my family. I am in touch with some of my friends in Mumbai. I want to go back and earn again, for my family otherwise it will get very difficult here," he said. "I have kept my auto rickshaw at a parking lot which charges Rs 1,500 per month, so I am worried about that also, apart from the EMI payment," he says. Even though he is home, Shaikh says he is tense more than he can explain, "I hope the Bihar government will give some money or ration so that we can survive."
Related:
Migrant Diaries: Hurdanand Behara
Migrant Diaries: The story of Ganesh Yadav
Thirty-five-year-old Ganesh Yadav is an excellent cook, because it is what he enjoys the most. "It is my only skill," says the modest father of three, "but it has helped me live a good life in Mumbai for almost 20 years." Through good and bad, he forged a relationship with the city he came to, as a teenager looking for work, from Madhubani in Bihar. He does not remember that first train ride to Mumbai he took alone, but he will never forget the last train ride he took when leaving Mumbai last month.
Overnight, he had to pack up his papers, some clothes, biscuits for his three kids, and board the Shramik special train. His wife, Rattan Devi (30) and he carried a bag each, mostly clothes and the kids carried some of their things. The girls, Gauri (12), Gayatri (6) and Ganga (4 1/2) did not have time to pack their toys, or say goodbye to their friends. "We were told the night before that we had to report to the station at 10 am," he remembers the scramble that happened as the family rushed to pack whatever they could. "We left most things behind. I handed the keys to my room to my landlord and told him I will be back. He said okay, but now I have to figure out how to pay him the rent that will add up for the coming months," Ganesh's thoughts are running in his head faster than the Shramik Special train did. It was a slow, uncomfortable, journey without enough water, food, even fans as the crowded train trudged its way through the most arid regions of the country in the peak of summer.
Ganesh is still grateful that he managed to board the train. He had wanted to send his family home even before the 'junta curfew' was announced on March 22 and had booked train tickets for everyone to travel on March 26. "We had heard there was a Coronavirus spreading in Mumbai and I wanted to send my family away to Bihar, to safety. I would have brought them back in June or July, in time for school to reopen," says Ganesh, who planned ahead. But the sudden lockdown struck out of the blue and all trains were stopped. The family of five, was literally locked in their one room dwelling in Chitra Chawl, in the Nehrunagar area near Mithibai College. The police patrolled the streets once the lockdown was announced to make sure no one left the slum. "I did not want to get beaten up so I stayed indoors with my family. We would go to the paid toilet once or twice a day only. It was so tough to keep the little girls indoors, suffocating and hot. Earlier they could play outdoors, or go to the beach nearby," he sounds like he and the family are  missing the beach already. In his village home there is a power outage most of the day, but the kids do have open space to play in. 
Ganesh's work as a cook for students living near the college also stopped, the students left for their homes, and no one paid him for the days he did not work. He used to earn around Rs 25,000 per month as a cook working in four houses. The earnings stopped in March, however, expenses, including room rent, electricity, payment for toilet use, continued to pile up. Along with saved money, even the ration at home had almost run out. "It was then that I met the volunteers," he recalls how the ration arranged by Citizens for Justice and Peace (CJP) kept him, and his neighbours fed for days. "We got bags of dal, rice, oil, sugar, tea, even soap. Once we even got some vegetables," he says. They got enough for a week or two, and then supplies would be replenished as needed. Ganesh, however, kept seeking information on how to get back home to Bihar.
Once the CJP volunteers told him about the Shramik Special trains that were starting from Mumbai, Ganesh registered the next day. "It was getting impossible to survive in Mumbai by then. I had not got paid for two months. I could not beg for money. And I also thought it was best to leave and the rations we were getting from CJP, could be given to someone who did not have a home elsewhere to go to," Ganesh's thoughts of paying it forward and thinking of someone worse off were both surprising and inspiring.
However, the journey back was enough to almost break his spirit too. Though they were handed over free tickets, and sent to their allotted train seats one by one, they were not given any food or water. The train was full, but not overbooked, everyone had a berth/ seat allotted. The very young kids shared one with a parent. "We had packed even soap, and bottles of water, but did not have any food except biscuits," he recalls how he rationed out those to the kids who made a meal of the cookies with water. Ganesh had to refill the water from stations whenever he could, those without a bottle in hand were not allowed to de-board the train at any cost. Eventually they got some food the next day at Itarsi station. "We got packets of dal, rice, vegetables that were passed to us through the window bars," he said everyone was too hungry to complain about the taste and ate quietly. The fans and lights in the compartment stopped working at one point and complaints fell on deaf ears.
The train journey from Mumbai to Danapur, Patna, normally takes 18 hours, however this time it took almost 72. "The route was the same, but there were many stops and delays, it was exhausting," Ganesh and his family's journey did not end when they reached Patna. Once deboarded, screened they were given water and asked to wait at the ground near the station.
"We could not find any food. I saw some food packets being distributed but there was a massive crowd making a grab for whatever they could lay their hands on. I did not dare go into the crowds. It was better to wait," he said recalling the kids were too hungry to protest by then too. A hailstorm lashed the area, Ganesh parked his family under a shelter and went to get some food from another distribution point he had been told of.
A few hours later, the family was screened again and put on a bus leaving for Madhubani, it was an AC bus, but the AC was not working. "But we had no choice. It was an eight hour journey with one stop," said Ganesh, who was then sent into a school turned into a quarantine facility, and called his family in the village  to come meet them with food. The relatives sent them food for the two days they stayed at the school. The family was then sent home with strict instructions on how to stay in home quarantine. That isolation period is now over and reality has begun to knock on the doors, "How long will our relatives feed us? I do not own farmland, I will have to return to Mumbai as soon as it is safe. How else will I earn and take care of my family? I need to pay for my girl's education. If I could find a job in Patna as a cook that would be best, or if I could get a loan maybe I could open a dhabba in town? Do you think that is possible," he asks. Ganesh's thoughts are once again running at the speed of a super fast train.
Related:
Migrant Diaries: Hurdanand Behara
CJP comes to the rescue of migrant workers facing starvation amidst the lockdown!
Migrant Diaries: The story of Dilip Rana
Construction labourer Dilip Rana and 10 of his co-workers had migrated from Odisha to Mumbai around 15 years ago. They lived near Nariman Point and worked at construction sites in South Mumbai, earning around Rs 450 as daily wages. However, they got paid at the end of each month, and lived together as a community as it was cheaper than taking a room each.They worked hard all day, cooked and ate together, a brotherhood of sorts. Then the national lockdown struck, like a thunder bolt from the blue and all work stopped.
A month passed living on whatever they had managed to save, just enough food to survive. Social distancing was impossible in their cramped living space, and all they could do was wash hands regularly and keep their mouth and nose covered.
In April, Citizens for Justice and Peace (CJP) volunteers engaged in relief work all across Mumbai reached them and coordinated with the Mumbai City Collector to ensure urgent ration supplies to Dilip Rana and the other migrant workers from Odisha. But there was no scope of work restarting, with the lockdown being extended further, and 45-year-old Rana soon realised that it was best to return home to Odisha. However, his choice of transport was different than most. "It was getting very difficult for us to survive in Mumbai, so we decided to go back home, by truck. There were 50 people in the truck and we sat beside each other without any social distancing," he remembers the desperation everyone was feeling, but there was no choice.
He is now back home in Tukla, Odisha and is now under quarantine. When CJP volunteers called to check on him, he was only too happy to chat with the people for whom he had developed a fondness. Rana is waiting for the end of quarantine when he can go back to his wife and three daughters. The eldest had completed class 10, but was forced to quit school after that, as the family could no longer afford it. That is perhaps his biggest regret. The second daughter goes to an Anganwadi and the youngest is only two-and-a-half years old. "My youngest daughter has some medical issues, doctors have said that once she is a teenager they will have to perform a surgery," he says, already worried about that as well as the wellbeing of his ageing parents. "My parents also stay in Tukla, Odisha but they stay in a separate house," he explains. 
Initially, when the lockdown was announced, Rana, like other migrant workers also thought it would get over soon, and the government would have everything in control. "But, once the second lockdown was announced, the biggest concern for us was food supply, and I was also worried about my family because I was not with them and I knew Coronavirus was spreading fast."
He remembers how CJP volunteers arranged ration kits twice, but that was also not sufficient for the group of 11 labourers. "So, I requested money from my wife. She sent Rs. 4,000 in April and Rs. 4,000 in May. When we had to leave Mumbai I needed more money and she was the only one I could reach out to. I needed Rs. 8,000, which she borrowed from someone on interest and sent to me," he said.
Rana was also worried that he had not heard from the government if they had been given place in the Shramik Special trains being run by the Ministry of Railways. "We had even filled the emergency travel forms, hoping that our State and Central governments would make some arrangements for us to go back home. But even after 15 days after filling the forms, none of us got a call from the police station. Our money and rations were running out fast. I was scared of getting infected with Coronavirus, so I decided to go back home by whatever means of transport I get."
The group of 11, decided to leave Mumbai in batches. "Five people left one night, and then the remaining six of us left the next day. We could not find any trucks leaving from Mumbai and the local police also stopped us at different points," he said they had to escape like thieves. "We began hiding from them, and moved slowly and steadily until we reached the Mulund check post," he recalls. It was then they heard truck owners shouting the names of their destinations. 
"Some trucks were going to Nagpur, some to West Bengal and some to Odisha. So we hired one truck from Mulund check post, then we contacted the rest of the group who had left the night before and realised they have already reached Nashik, on foot!" Rana was shocked and said they were coming on a truck, to get them, "I told them that we have hired a truck, and we will soon reach Nashik and pick you guys up." The truck owner had charged Rs. 4,500 from Mulund, and the group picked up from Nashik was charged Rs. 3500.
"During the journey our only concern was to reach home safely. I am thankful to the NGOs and all the people who gave us food, water, biscuits in Maharashtra and Madhya Pradesh. After Madhya Pradesh we ate food at our own expense from highway dhabas," he recalled seeing a caravan of people returning home, "There were many trucks and buses full of people going back to their homes. We even saw some who were walking home. It took us two nights and three days to reach Orissa". 
He remembers that as the most unusual journey he had undertaken so far, "In the morning we used to freshen up at a river or pond, and after eating something resumed our journey. Around 1 PM we would stop for a quick lunch and drive on till 8 PM when we had dinner. At night we drove on till we found a safe place around midnight and took a break to sleep till 4.30 AM. This was our routine for three days." 
After reaching Odisha border, Karia Road the group was taken to the Police Station where their Aadhar Number, Mobile Number, Village Name was recorded and they underwent a medical screening before being sent to their respective villages by bus. They were put under quarantine at the Panchayat School. "My family visited me once, but they were not allowed to come close, so I told them not to come again," said Rana adding that the quarantine center was not "that good"  but he was grateful for the food, "We get three meals and bananas, which is more than I expected." He, and the others, have already undergone the Covid-19 test, and the report is awaited. "Once the reports come negative, then we will be allowed to go home," Rana is optimistic, even though he knows an uncertain financial future may unfold.
The future seems too far away for now, he has bigger money problems even now. "From January to March there was no regular work anyway, and then the lockdown was suddenly announced. The boss gave me Rs. 1,000 only. Usually I earned Rs. 12000 to Rs. 14000 per month and I would send Rs. 8,000 back home to my wife. This lockdown has cost me the loss of Rs. 40,000 to Rs. 45,000 and add to that Rs. 16,000 which my family had sent me to survive in the lockdown," his stress is obvious, "Will the government repay me the money I have lost due to the lockdown?"
"Now that I have reached my village and will soon be allowed to go home, my only request from the government is to at least repay our expenses, because we don't know when we will start working again. It is very risky to go out now, and with no money it will be very difficult for us to survive. Whatever we had managed to save over the years  my wife was forced to send me when I was in Mumbai, so the government should do some arrangements for the poor," says Rana.
Related:
CJP comes to the rescue of migrant workers facing starvation amidst the lockdown!
COVID-19 Crisis: CJP's commitment to Mumbai's migrant workers
Migrant Diaries - The story of Hurdanand Behera
"I used to work for four months in Mumbai and then go back home to my village Biripali, which is in Bolangir district of Odisha, for 15 days. I would take care of whatever needed to be done at home, attend to the needs of my parents, wife, and daughters, and then get back to Mumbai to resume work for the next four months," Hurdanand Behera, a skilled repairman, had his calendar down pat. He has not really strayed from it in the 20 years that he has lived and worked in Mumbai. This routine has helped him earn reasonably well and he enjoys his work at Painteria so much that he has never thought of a job change. 
Hurdanand's colleagues, many of whom hail from the same district, are his Mumbai family, and together they have worked hard for the painting and repairing company which has done well in the South Mumbai area. "I am in the repairing department, basically we do waterproofing, sealing and repairing. My monthly salary is Rs. 20,000," he says he would send Rs. 15,000 back home and manage with the Rs. 5,000 that remained, he lived a simple life. 
However, everything went awry as soon as the national lockdown was suddenly announced when Covid-19 cases began to rise. "Our work stopped completely, and we were soon struggling for food," he recalls. The situation was spiraling towards doom at breakneck speed and Hurdanand did not know what to do. "At one point during the lockdown, things were so bad that my wife had to send me Rs. 5,000," he says full of anguish. This shook him up, as it was he, who had always sent money home, and now his wife had to dip into the savings and send him money, so he could survive. "The situation was really getting tough for us, and the police did not allow us to even step out. Staying locked in a small space was the worst feeling," he remembers the discomfort even though many days have passed since he left the city.
Hurdanand Behera and his group of 22 others were under great stress when the volunteers of Citizens for Justice and Peace (CJP) met them. The team had helped over 6,000 migrant workers after the lockdown, and each one had a story to share. The CJP volunteers coordinated the relief work with the District Collector of Mumbai city and arranged for ration supplies to be provided to Hurdanand's group.
The men had also expressed a wish to return home and asked the CJP team to assist them in filing the emergency travel forms that were needed to get enlisted for the Shramik Special trains departing from Mumbai. He and his friends have reached their village Biripali and are now under home quarantine. 
When the CJP volunteers called him to ask how he was feeling, Hurdanand had plenty to share. Things were not easy even though he was back home with his family now. While earning enough money has always been a struggle this is perhaps the worst phase for the family. Hurdanand says he has never dealt with such a situation in his life. "The loss of two months of salary will be difficult to cover up, and now no one knows when will this get over," he said over the phone. 
At home, he remembers that it was the civil society members who came to help us, "You know the CJP ration kit lasted for a month." After that he and his group also had to request more ration, "Even though our families sent money it was impossible to go out to buy ration. Somehow we survived the two months but slowly started losing our patience. Then we heard of the news that trains were going to start and it gave us so much relief. My group and I filled the emergency travel form and submitted it at the Prabhadevi police station," he remembers feeling frustrated as there was no response from the administration, "We didn't receive any call for 10 days, and were hearing that the trains were also getting cancelled every day." 
So, they had no option but to wait till they came to know that one Sarika Jain, an IAS officer who hailed from Odisha could help. "We heard the officer and an NGO volunteer Pankaj Aggarwal were arranging buses for migrants from Odisha to go back to their villages. We were told these buses had all the government permissions needed. Finally, we got a call from some officials that the buses were ready and they asked us to pack our bags." The group elected a leader who was added to a WhatsApp group and everything was coordinated with them. 
"Then on the evening of May 15, we boarded a bus from Mumbai Central. There were 30 people in the bus, and while boarding we were given masks, snacks, fruits, water bottles, and our journey started. I was so happy to finally go back home," he says that he was pleasantly surprised that the entire process was smooth and hassle free. 
But he soon realised he was among the lucky ones. En route he saw something that still haunts him. "I sat near the window, and soon could see many migrants walking, and struggling to reach their home, I was feeling bad for them," he remembers. He was reassured that there were volunteers offering food, fruit, snacks, water, juices to the migrants but did not accept anything himself. "My group and I didn't take anything. We were scared of Coronavirus. We had lunch and dinner at dhabas along the route and paid for it ourselves," he says.
On May 17 afternoon at about 1 PM, the bus reached Karia Road which is on the Chhattisgarh and Odisha border. "There we had a health screening and they recorded details like our Aadhaar Number, Mobile Number, and village's name. Then, we all were taken to our respective villages by Orissa government buses," he added that he and some others got off at Biripali, and were sent to quarantine for the next fortnight. "On June 1 ,we were told to go home and be under home quarantine. We were told not to go out unless there was an emergency. We requested the doctors to test for Covid-19 but were told we had no symptoms, they were only testing people who showed some symptoms," he recalls. 
Hurdanand says he is happy that he has reached home safely but is aware that the financial struggle will begin afresh. "We are going to face a lot of difficulty due to unemployment and ultimately we will have financial issues. But I am with my family now which is most important to me. I am thankful to all the people who helped us during this crisis. I hope that things get back on track, and the state government provides us with some opportunity for work, so that we can at least earn for our daily living," said Hurdanand. 
His optimism, backed by his will to work hard, will help him brave this storm too. Hopefully, the government of Odisha is looking out for the workers who have always sent money, money that was also added by their families' spending, right into the state's coffers.

Related:
CJP comes to the rescue of migrant workers facing starvation amidst the lockdown!
COVID-19 Crisis: CJP's commitment to Mumbai's migrant workers
Migrant Diaries: The story of Tinku Sheikh

The heart-rending spectacle of migrant workers struggling to negotiate the Covid-19 lockdown is unfolding before us in real time. The term 'migrant worker' however hides behind it people who have extraordinary tales to tell – tales of daily struggles big and small, Homeric journeys, the little joys that make up life and stubborn fears that linger on. Only when these accompanying details are revealed and the portrait of a man, woman or child in throes of a tragedy is sketched that the enormity of this disaster is truly revealed. 
In April 2020, while responding to distress calls, CJP had helped Tinku Sheikh and five other workers in Mumbai with ration kits. On the resumption of interstate travel, Tinku went back home to West Bengal. Now in the last days of his home-quarantine, he told us what he went through. This is his story. 
"63 of us travelled four days and four nights in an open six-wheeler truck," says Tinku Sheikh, describing the journey he and his friends undertook from Kapurbawdi in Thane, Maharashtra to Rampurhat in Birbhum, West Bengal. "In the truck we took turns to stand and sit during the day. At night sometimes we had to pile up on each other in order to sleep. Our bags hung above us, on a rope line that we suspended across the truck," said Sheikh describing how they all managed to fit into the small space.
27-year-old Sheikh has a young wife and a 4-year-old girl back home. His parents also live in Bengal. "If not for obhab (want), why would we leave our parent's house and the comfort of our birthplace," he asks. "We never owned a significant amount of land. Whatever little we had was divided between my father's three brothers," he explains.
Sheikh's wife is also unwell. "She is unable to work because of a problem in her spine. I took her to a hospital in Burdwan where the doctors said it was incurable. Then I took her to the Sai Baba hospital in Bangalore but the doctors said the same thing. We do not have enough money to take her to super speciality hospitals anywhere else," he further elaborates upon the circumstances that led him to seek employment outside his village. 
Sheikh has been coming to Mumbai for work for the last nine years. He is a rajmistri (expert mason, foreman) on construction sites. Describing his latest project, he says, "Usually we work for 'companies', this is the first time I was working for a private 'party'." Sheikh had worked on construction sites for many skyscrapers in Thane for several well-known builders. "I work for six months at a stretch and then come back home for a few months. Then I return to Mumbai for a few months and so on," he explains.
"For the work I do in Mumbai I earn about 500-600 rupees in a day. The same work fetches 200-300 here in Birbhum," says Sheikh as he begins to shar the math behind the backbreaking labour that keeps him and his family alive. "We go to Mumbai instead of Kolkata because we have better connections there. I don't know anybody in Kolkata. In Mumbai I earn anything between Rs. 15,000 to Rs. 20,000 a month. Of this, I send about 10 thousand rupees back home. I need the rest for my sustenance, rent etc. This lockdown has cost me 30-40 thousand rupees. How will I ever be able to make up," wonders Sheikh.
This year, Sheikh returned to Mumbai on February 19. "We had barely settled in, that the lockdown was announced suddenly! Six of us lived in a chawl in Girgaon. Work came to a standstill and we did nothing but sit around all day," he recalls the early days of the lockdown. "When the lockdown was extended, we started fearing starvation. There was nothing to eat and nothing was open. In desperation I called Samirul Da (from the Bangla Sanskriti Manch). In a few days we got rations from CJP (Citizens for Justice and Peace)." Sheikh feels deep gratitude towards CJP. "I still call Teesta Madam (Teesta Setalvad, secretary, CJP) to inquire after her. I will never forget what they did for us in our times of trouble. For this I want to thank them from the bottom of my heart," says Sheikh overwhelmed with emotion.
After the lockdown kept being extended, Sheikh and his friends and fellow workers started getting desperate to return home. "When we heard about the buses that were ferrying people back home, we went to the local police station. They informed us that they did not have the necessary clearance from the West Bengal government. There were no trains either. We didn't know what to do." But then things took an uglier turn when uncertainty turned to a clear and present threat to their lives. "One night, some men from our neighbourhood threatened us. They said 'if any one of you gets infected with Coronavirus, no one will be spared, we will bury you alive'. They were drunk. That day we decided that we need to leave for home, no matter what," says Sheikh, still a bit shaken from the threat. 
Someone they knew offered to help them hire a truck. "If we found 60 other people to travel with us it would cost us Rupees 4200 each. We found 63, and hired the truck. On the day of the journey we set out early from Null Bazaar," recalls Sheikh. But their ordeal was just beginning. "The only taxi we found demanded Rupees 1200 per passenger. There were six of us. We refused. A contact then called for two private cars which cost us Rs. 500 per seat. The police stopped us outside Airoli station. We had to leave the cars there itself," says Sheikh, his words painting a picture of a world where everything that could go wrong, was indeed going wrong!
"Our pick up was now changed to Kapurbawdi in Thane. A taxi took Rs 100 per head and dropped us at Majiwada. From there another taxi took 100 rupees more and dropped us at Kapurbawdi. We arrived at 12 in the afternoon. Some people were distributing cooked food, water and biscuits. We settled in to wait for the truck. It arrived at 3 in the night," says Sheikh.
Luckily, throughout their journey, food was never a problem. "Especially in Maharashtra, someone or the other always gave us food. Only in West Bengal we received nothing. It was a strange journey – nothing was open on the way. Though the police stopped us twice, we reasoned with them and they let us go."
But Sheikh and his fellow travellers weren't the only ones making this arduous journey back home. "Our driver drove slowly and other trucks easily overtook us. As they went past, I saw that they too were full of people. I cannot even tell you how many trucks there were around us. The whole road, miles before us and miles afterwards were dotted with trucks. Daily news of road accidents filled me with fear. We had also heard that the roads were bad in parts."
Social distancing was clearly a luxury Sheikh and his fellow travellers couldn't afford. But what about the fear of contracting the dreaded Coronavirus? "We wore masks. But we are poor people. We cannot afford fear. Only the rich can afford to be scared and sit at home. I did feel scared. I had heard about the virus. But what could I do? I had to reach home," Sheikh says matter-of-factly. 
At the Bengal border they were stopped by the police and herded into a kisan mandi. "Our body temperatures were taken and our names, addresses and Aadhar card numbers were noted down. We were there for many hours, but no food was given – only a little puffed rice and water. Soon we got angry and demonstrated against the police. Then they let us go," says Sheikh now telling us about his ordeals in his home state.
"Back at the village we were quarantined in the panchayat school. But the living conditions were very bad. It was very hot. So, at night many of us broke out and ran back to our homes. In the morning some villagers protested outside the school and some of the runaways were brought back. I live a little away from the village so no one came for me. I have isolated myself in a room in my own house. It's been 12 days since I came back," says Sheikh, now finally amidst people who care about him.
He does feel betrayed by the political class. "All through the journey the only thing we discussed amongst ourselves is how nobody helped us – not the state government, nor the central government. When such a great calamity came upon us, no political leader stood up to help. We spent so much money to return home. We didn't earn any money in the last few months. Who will compensate us? Whose fault is this," asks Sheikh with anger simmering just under the surface. "These people are only good at extortion and bullying. When we need them, we do not get any assistance," he finally lets out his frustration at the system.
"And now, what next," he asks. "There is no work here. I have heard that MNREGA work has started in our village but I do not have a job card. My parents used to have one but I don't have one. Now the offices are shut because of this lockdown, how will I get one for myself? I don't know from where I will earn money for my and my family's sustenance? What I do know is that if the lockdown continues then poor people will starve to death," concludes Tinku Sheikh on a grim note, recognising that his ordeal is far from over and that uncertainty still looms large over his future.
---
Theme
A recap of all that transpired across India in terms of hate speech and even outright hate crimes, as well as the persecution of those who dared to speak up against hate. This disturbing harvest of hate should now push us to do more to forge harmony.
Taliban in Afghanistan: A look back
Communalism Combat had taken a deep dive into the lives of people of Afghanistan under the Taliban regime. Here we reproduce some of our archives documenting the plight of hapless Afghanis, especially women, who suffered the most under the hardline regime.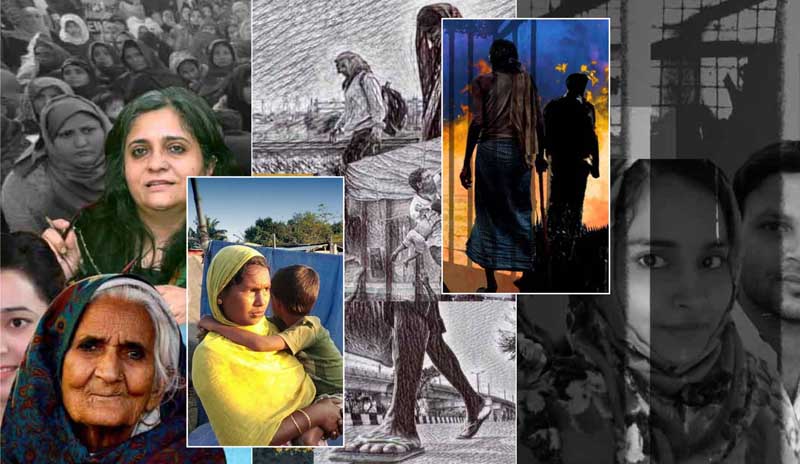 In the year devastated by the Covid 19 Pandemic, India witnessed apathy against some of its most marginalised people and vilification of dissenters by powerful state and non state actors. As 2020 draws to a close, and hundreds of thousands of Indian farmers continue their protest in the bitter North Indian cold. Read how Indians resisted all attempts to snatch away fundamental and constitutional freedoms.
The 2020 COVID pandemic brought to fore the dismal lives that our migrant workers lead. Read these heartbreaking stories of how they lived before the pandemic, how the lockdown changed their lives and what they're doing now.
Videos
Bastar violence: Anti-Christian Campaign causes breach in Adivasi unity
Hundreds of Adivasi church-goers across villages in Narayanpur and Bastar, Chhattisgarh have been experiencing boycott, intimidation and violence since December last year, forcing them to leave their homes and live in refugee camps. Reportedly, Adivasi districts across Madhya Pradesh and Chattisgarh is seeing a rise Hindutva mobilisation against Christians .
Bastar violence: Anti-Christian Campaign causes breach in Adivasi unity
Hundreds of Adivasi church-goers across villages in Narayanpur and Bastar, Chhattisgarh have been experiencing boycott, intimidation and violence since December last year, forcing them to leave their homes and live in refugee camps. Reportedly, Adivasi districts across Madhya Pradesh and Chattisgarh is seeing a rise Hindutva mobilisation against Christians .
Analysis
A recap of all that transpired across India in terms of hate speech and even outright hate crimes, as well as the persecution of those who dared to speak up against hate. This disturbing harvest of hate should now push us to do more to forge harmony.
Taliban in Afghanistan: A look back
Communalism Combat had taken a deep dive into the lives of people of Afghanistan under the Taliban regime. Here we reproduce some of our archives documenting the plight of hapless Afghanis, especially women, who suffered the most under the hardline regime.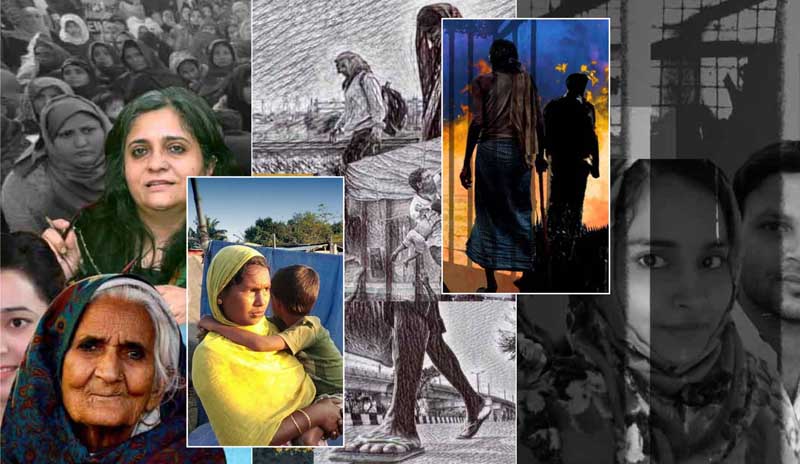 In the year devastated by the Covid 19 Pandemic, India witnessed apathy against some of its most marginalised people and vilification of dissenters by powerful state and non state actors. As 2020 draws to a close, and hundreds of thousands of Indian farmers continue their protest in the bitter North Indian cold. Read how Indians resisted all attempts to snatch away fundamental and constitutional freedoms.
The 2020 COVID pandemic brought to fore the dismal lives that our migrant workers lead. Read these heartbreaking stories of how they lived before the pandemic, how the lockdown changed their lives and what they're doing now.