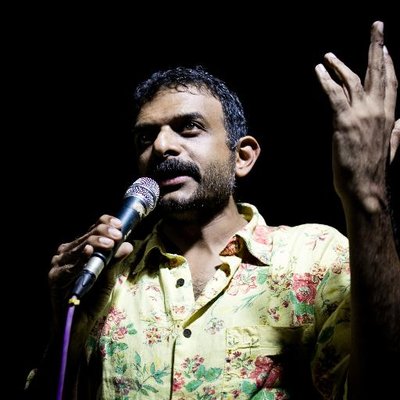 Image Courtesy: @tmkrishna, Twitter
Last November, T M Krishna was scheduled to perform at the concert organised by Airport Authority of India (AAI) and SPIC-MACAY at Nehru Park, New Delhi.  Mere days before the event, it was called off citing unnamed "exigencies" and that it would take place on another date. From the time of the event's announcement on social media by the singer, an online hate campaign was launched by right-wing trolls, who branded him with epithets like "anti-Indian" and "urban naxal", a term that currently has their relentless patronage. T M Krishna is known for his outspoken commitment to social and political justice as much he is for masterful singing. Undeterred by harassment and bullying, he
declared
, "Give me a stage anywhere in Delhi on November 17, I will come and sing. We just can't let ourselves be cowed down by these kind of threats". The AAP government in Delhi
stepped in
 and organised an event at the Garden of Five Senses and T. M. Krishna sang as scheduled.
On his return to Chennai, he was to be a part of an event organised by First Editions Arts (FEA), Mumbai. FEA has been a platform for bringing together musical practices across genres and traditions.  In a series of
tweets
posted on the afternoon of May 13, he spoke of the events that transpired as right-wing groups once again attempted to stop his performance. "The day after I performed in Delhi (Nov 17th, 2018) at the invitation of the Delhi government after the Spic Macay performance series was postponed by AAI due to exigencies of work, I was scheduled to sing for First Edition Arts in Chennai. The auditorium rented by @firsteditionart was Rasika Ranjani Sabha. To cut the long story short (which has many behind the scenes sinister happenings), a senior member of Hindu Makkal Katchi called Devina Dutt [of the FEA team] and threatened to disrupt the concert. The Tamil Nadu BJP unit also called her to stop the concert. The officials of RR Sabha put pressure on First Edition Arts to cancel the event. As a final bid to stop the concert officials of RR Sabha insisted that they must be allowed to condemn my political positions publicly while I am seated on stage, just before the concert begins. And if this was not allowed they would cancel the concert. I agreed to these terms and the RR Sabha official spoke for long saying many things! My answer was in song! And here it is," he said, with a YouTube link to the performance.
T. M. Krishna sang a composition by Subbarama Iyer titled "Yarukkaghilum Bhayamaa". The title can be loosely translated as "Is there anyone I fear?" The song as sung by a female protagonist, speaks of the declaration of love made to her by King Lingadurai. The town gossips about her, expects her to be furtive and slink through sidedoors. But she is proud. "Let them talk," she says. Whom should she fear? Whom has she wronged?  
Courtesy: Indian Cultural Forum