Govt. has called a hasty meeting with trade unions but has nothing substantial to offer as thousands of workers head to Delhi for historic maha-padav.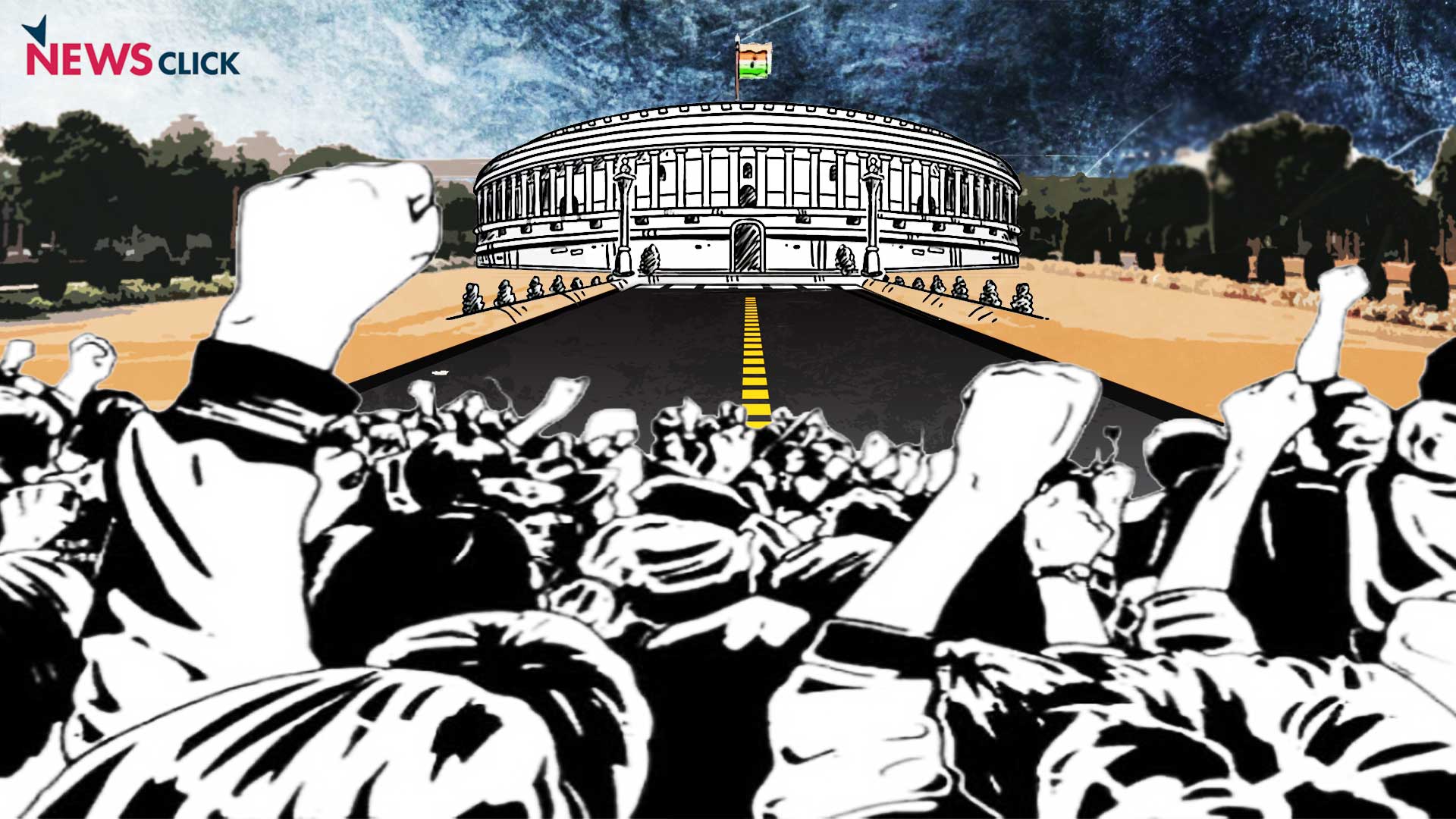 Newsclick Image by Nitesh Kumar
Even as a massive mobilization and awareness campaign across the country by central trade unions has reportedly reached over 20 crore workers and thousands are heading to Delhi to participate in the 3-day historic Maha-Padav (massive sit-in) for their demands, the central govt. is scrambling to deal with the situation by calling a hasty meeting with trade unions on 7 November.
"There is hardly any material change in the govt.'s position since the general strike in 2015 as far as we know. But they have called all central trade unions and we will go and see what they have to say," said Tapan Sen, general secretary of the Centre of Indian Trade Unions (CITU), which has been leading the campaign for the 12-point charter of demands along with 9 other central trade unions. BMS, the trade union affliated to ruling BJP has opted out of the movement and decided to hold a separate show.
"First, the Labour Ministry called us on 3rd November, but they deliberately left out the Congress affiliated INTUC. We refused to attend such a meeting. Then they have called INTUC also. This is the first victory of workers' unity," he added.
Over 300,000 workers from all states in the country and across all sectors of work are expected to congregate at the Capital's Parliament demanding better wages and social security, ending contract labour, control of inflation, stopping of labour law 'reforms', end to privatization of public sector, etc. This will be the biggest and longest assembly of protest ever at Delhi. 
"The campaign for this maha-padav has been unprecedented in its scale and depth. Every district in the country has seen a public event and campaign of mass contact with workers in every walk of life. The response has been massive and enthusiastic all round. There is so much anger among the workers at the policies of this govt. that people are just waiting to get into action," Sen told Newsclick. 
There are reports that workers contingents are already preparing to board trains from distant states like Kerala, Tamil Nadu in the south and from the North-Eastern states. 
Preparing to leave for Delhi, Shamsu Punnakkal from Mallapuram district in Kerala said that BJP is dividing workers on religious lines so that they become slaves of employers. 
"Acting at the behest of big industrialists, BJP govt. is not raising wages, amending labour laws, and generally pursuing anti-people policies. That's why over 600 of us are travelling to Delhi to participate in the protest," he said.
KV Unnikrishnan, a worker in the Vallivattam Cooperative Society in Thrissur district, Kerala, told Newsclick that he is leaving his place to join the maha-padav to fight for strengthening the cooperative sector, which is being abused and eroded by the Modi govt.
"Modi govt. is scared of cooperatives because they are a threat to the corporates. That is why BJP is trying to shut down cooperatives. We will never allow that," he told Newsclick over phone.
The maha-padav follows a series of general strikes in 2015 and 2016, and a workers' march to Parliament in 2013. Sources say that the trade unions are likely to give a call for general strike early next year if the govt. does not bend.
Courtesy: Newsclick.in