Thirty-year-old Aaliya is surrounded by relatives, family friends and other well-wishers telling her the glorious tales of her husband, Zeenat-ul-Islam, who was killed in an encounter with security forces on January 12. But Aaliya only has her three-year-old daughter's future in mind. She had thought that the birth of their child would prevent Zeenat from taking the path of militancy, but that was not the case.
Zeenat-ul-Islam, according to the local police, was a top militant commander in the Kashmir Valley. He was known for being a cordon breaker and an IED (Improvised explosive device) expert. He was killed along with an aide in an encounter with security forces in Jammu and Kashmir's restive Kulgam district on January 12. No wonder, the security forces termed the encounter of Zeenat as "a big blow to militancy" in the Kashmir Valley.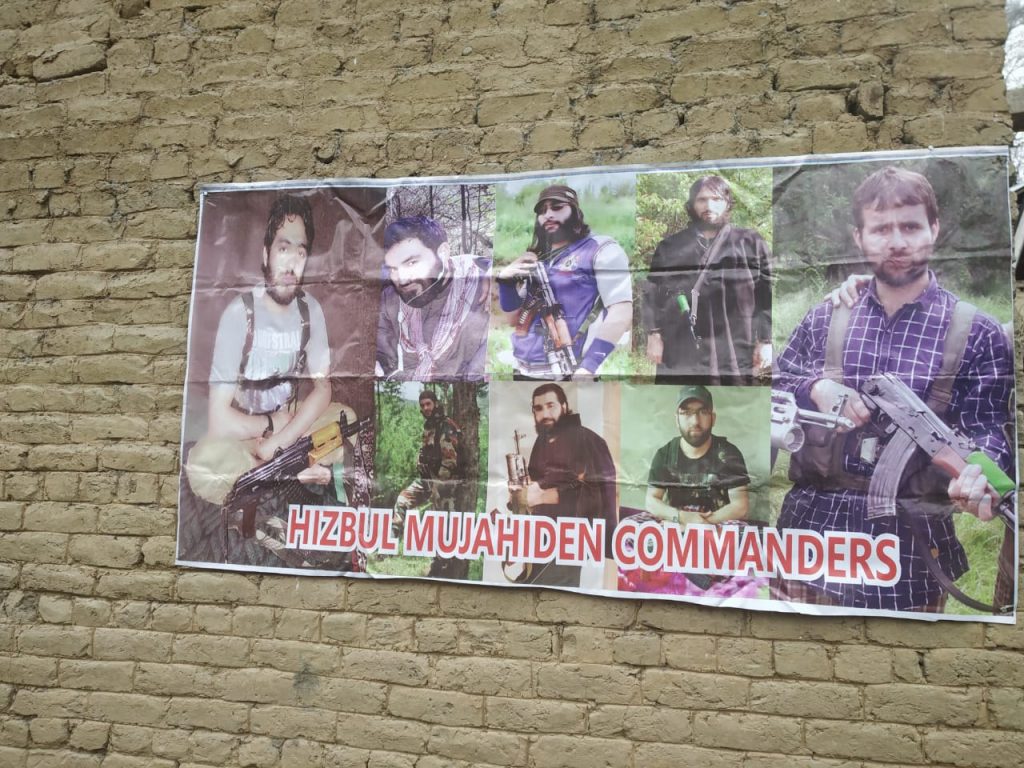 Banners praising local militants including Zeenat-ul-Islam, raised by the locals ( Photo: Auqib Javeed/ TwoCircles.net)
The family of Zeenat says their son joined militant ranks for the first time nearly 13 years ago and in 2008, he was arrested for the first time in Sopore under the dreaded Public Safety Act. Over the next four years, he spent his time in jail before finally being acquitted, first by the Shopian Court and later the High Court of Jammu and Kashmir.  In a conversation with TwoCircles.net, Shaftaq Hussain, his lawyer in the Srinagar High Court, said, "The police couldn't prove that he was a militant and he was acquitted first by the Shopian court. The state then challenged the verdict in the honourable High Court and I represented Zeenat during that time. The HC couldn't find any strong evidence against him and hence, he was released in 2012."
After his release, Zeenat started living a normal life and helped his father in the fruit business. During this period, Zeenat also got married and was blessed with a child.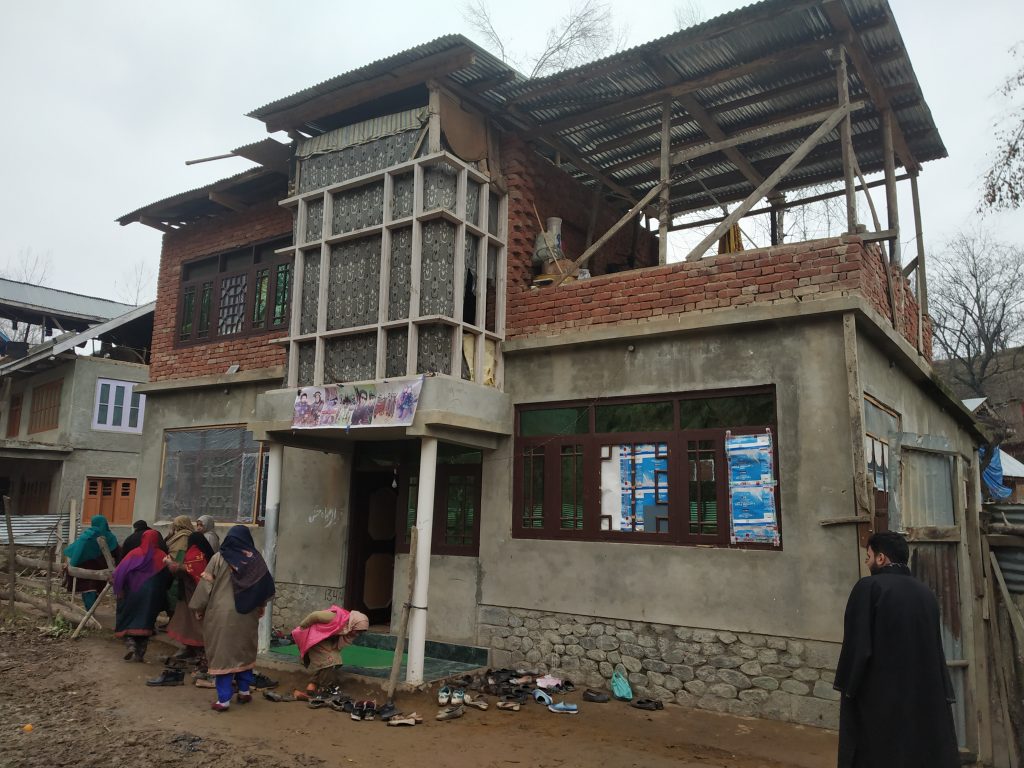 House of Zeenat-ul-Islam at Sugan Zanipura area of south Kashmir's Shopian district. ( Photo: Auqib Javeed/ TwoCircles.net)
"Everything was fine for sometime after his release from jail in 2012," says Ghulam Hassan Shah, father of Zeenat-ul-Islam at their residence in Sugan Zanipura village of south Kashmir's Shopian district.
"There came a moment when I thought it is time to get Zeenat married and with God's grace he tied the knot with a local girl, but our happiness was short-lived as security forces started summoning my son again to their camps," says Ghulam Hassan Shah.
"He was mentally tortured to such an extent that he thought that it's better to be a militant then live a normal life. Not only Zeenat, his friends too were harassed," says Shah.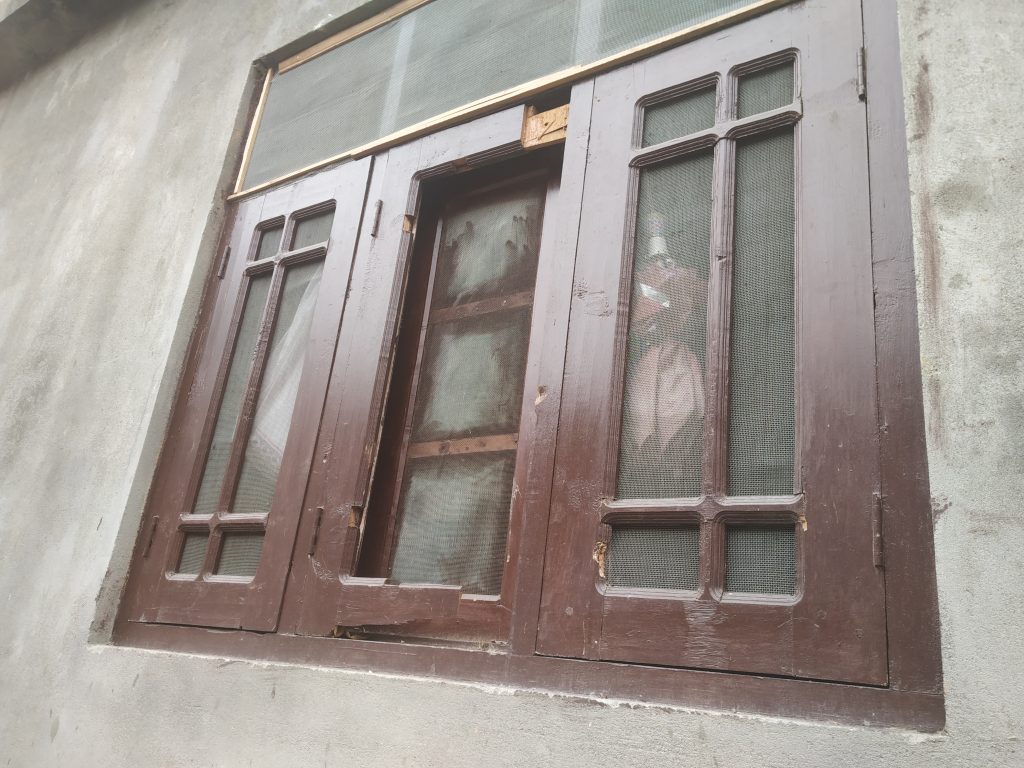 Broken windows of Zeenat-ul-Islam's house (Photo: Auqib Javeed/ TwoCircles.net)
Explaining further, Shah says that soon after he was released, security forces would often make Zeenat spend four to five days a week at various camps for questioning, which ultimately lead him to join the militancy again. Shah says the day his son got engaged, he was arrested and kept in a local police station.
"I begged the police officer to leave him at least for this day as he was going to be engaged but our pleas fell on deaf ears. The police official, in turn, said he would allow him to get married only if Zeenat along with me will work for police as informers," he adds.
Despite these issues, it seemed like Zeenat was ready to move on and in 2014, he got married to Aaliya. But five months after his daughter came to this world, he again left the home and joined the militancy. This time, he did not return. Aaliya says she knew her husband was a militant and released from jail a few years ago. "But it was God's will and we got married" she adds.
Keeping in view that many militants were released in the area and are living a normal life with their families, Aaliya thought the same.
"I thought he had left militancy so I wouldn't have any issues in spending the rest of my life with him. But I never had any inkling that he would leave us again," she says.
"I was at my father's home at Turkawangam, a village in Shopian with my five-month-old daughter when Zeenat left," she adds.
While Aaliya will never get to ask her husband directly about why he took the step, she believes she understands the causes. "My husband used to spend most of the days in Army camps. The Army would also call him to their camps during the special occasions like 26 January or 15 August or when any VIP would have to visit to Kashmir."
Aaliya believes that her husband wouldn't have left her and their daughter if security forces had let him live a normal life.
"I remember once, a top police official told him on the phone that I will ensure that you will be behind bars for life. I think he chose militancy because he believed it was better for him to die with dignity."
She says after joining the militancy, she never told her husband to come back. "I knew what he was going through his normal life. And for me and my daughter Allah is there for us," she adds.
Local security officers believe that the harassment angle to be both a lie and a cover up for Zeenat's real intentions.
"I can say it was the lust for power which led him to join the militancy back. He wanted to live a king's life and that was not possible in his regular, normal life. So he joined the militancy again," says a top police official from Shopian district, wishing to remain anonymous.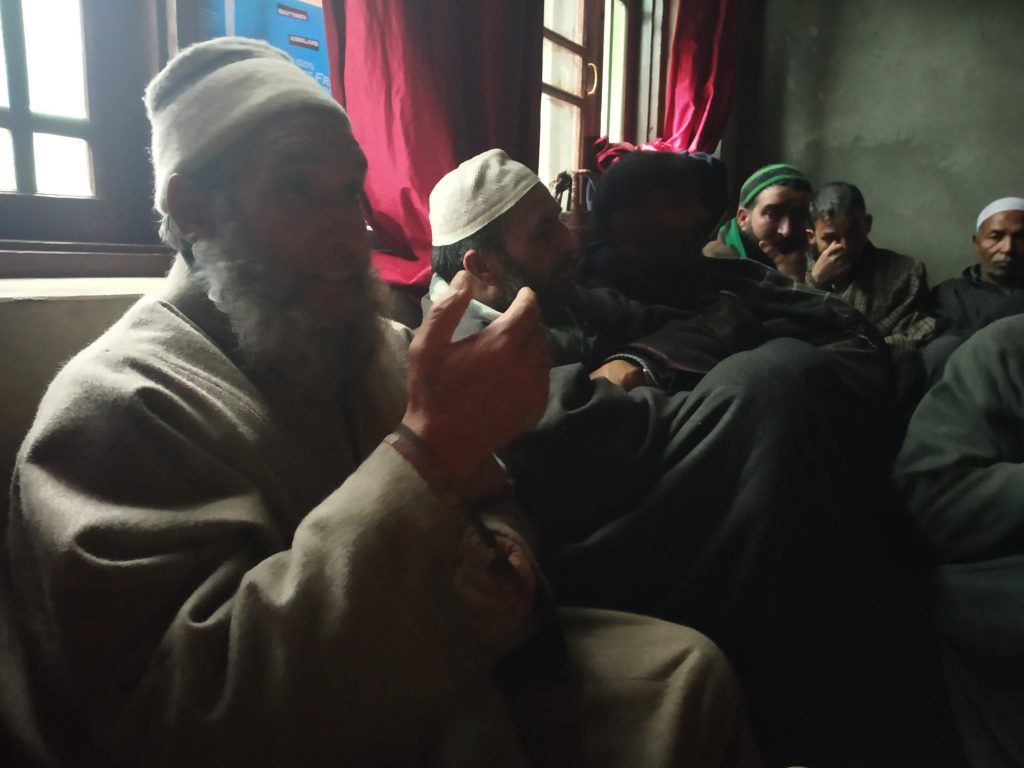 Father of Zeenat-ul-Islam addressing mourners at his home (Photo: Auqib Javeed/ TwoCircles.net)
The official added that Zeenat left the Hizbul Mujahideen (HM), a militant outfit which believes in merging Kashmir with Pakistan and joined the Al-Badar, another militant group, "because he wasn't a Pakistani boy and refused to follow the commands of Pakistan."
The official refused allegations of harassment. "When you have been a militant, the police will, of course, keep an eye on you. We only summon some ex-militants on special days….that reason alone cannot force someone to join militancy again." The official pointed to the fact that over 1,500 militants had been released in Shopian district. "How come only Zeenat became a militant again if the harassment stories are true?" asked the official.
Courtesy: Two Cirles