In yet another targeting of academia, Jawaharlal Nehru University (JNU) administration has issued chargesheets to 48 teachers for the July 2018 protests against the controversial Central Civil Services (CCS) Conduct Rules, 1964. Launching a scathing attack against the latest move, the JNU Teachers' Association (JNUTA), in a statement dated July 26 said that "they were vindictively targeted by the JNU administration for raising their voices against the misdeeds and mismanagement of the University."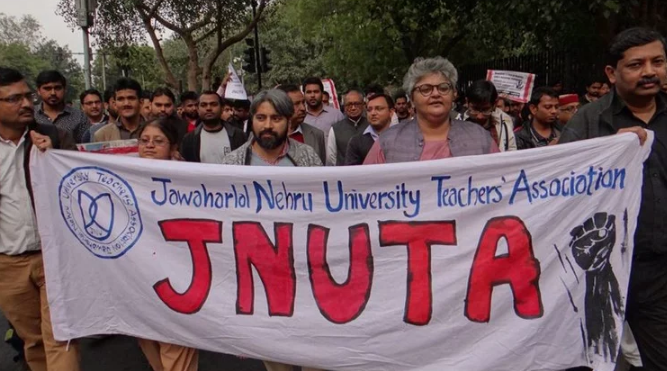 Image Courtesy: News Click
Signed by the JNUTA president Atul Sood and secretary Avinash Kumar, the statement read, "The General Body remains steadfastly arraigned against any attempt to impose CCS Rules on the teachers of the university, because they are antithetical to the very idea of a University and are thoroughly unsuited and inapplicable to activities that involve teaching and research."
Protests in the University at proposed amendments to the Ordinance pertaining to the service conditions and tenure of JNU teachers also forced the JNU Vice-Chancellor to withdraw his plans to impose CCS Rules on October 22, 2018 and publicly declare through a press release on the same day that "no CCS Rules have been incorporated in JNU ordinances."
Controversial CCS (Conduct) Rules 1964 (amended 2014) pg. 6-8
(1) No Government servant shall be a member of, or be otherwise associated with, any political party or any organisation which takes part in politics nor shall he take part in, subscribing in aid of, or assist in any other manner, any political movement or activity.
 (4) No Government servant shall canvass or otherwise interfere with, or use his influence in connection with or take part in an election to any legislature or local authority:
 (ii) resort to or in any way abet any form of strike or coercion or physical duress in connection with any matter pertaining to his service or the service of any other Government servant.  
 (1) No Government servant shall, except with the previous sanction of the Government, own wholly or in part, or conduct or participate in the editing or management of, any newspaper or other periodical publication or electronic media.
No Government servant shall, in any radio broadcast, telecast through any electronic media or in any document published in his own name or anonymously, pseudonymously or in the name of any other person or in any communication to the press or in any public utterance, make any statement of fact or opinion -
(i) Which has the effect of an adverse criticism of any current or recent policy or action of the Central Government or a State Government:
(ii) Which is capable of embarrassing the relations between the Central Government and the Government of any State; or
 (iii) Which is capable of embarrassing the relations between the Central Government and the Government of any foreign State;
Expressing apprehensions about the imposition of the controversial rules, the JNUTA said that imposition of CCS rules in one university will lead to "reverberations in all others and will have a severely adverse impact on higher education in the country through a number of clauses that are inimical to intellectual inquiry. Thus the "JNUTA General Body appeals to teachers associations, unions, civil society and all political parties across the country to stand in solidarity with the JNUTA and the Forty-Eight teachers who have been charge-sheeted."
It further read, "The GBM would like to point out JNU is an autonomous body created through an Act of Parliament and teachers are not government servants as defined under CCS (Conduct) Rules, 1964 or CCS (CCA) Rules. Conduct rules framed by the Government for those who have to discharge the specific function of government servants cannot be applied by a University on its teachers. Even CCS Rules are not applicable to all Government servants – for instance the All India Services are governed by other rules. More importantly, through the CCS (Conduct) Rules, government servants (and their family members) are constrained in the exercise of some of the democratic rights guaranteed to all other citizens of the country by the Constitution.The University is not an authority empowered to impose such restraints on anyone, especially the teachers whose specific function requires them to have the very freedom that are constrained by CCS (Conduct) rules. Any reasonable reading of the Code of Professional Ethics for teachers incorporated in the UGC 2018 Regulations and the CCS (Conduct) Rules would make it clear that the two are fundamentally incompatible with each other. The 'silences' in UGC Regulations or in the JNU Act and Statutes therefore do not constitute gaps that can be used as a pretext for invoking CCS rules."
Condemning the imposition of the CCS (Conduct) Rules, the JNUTA statement read, "The JNU Administration's premise that it has jurisdiction to declare all protests and difference of opinion itself as unlawful in JNU is itself illegal, infringes as it does on teachers' rights Constitutional rights and the statutory framework of the University. Drawing confidence from these overarching guarantees, the teachers of JNU shall neither be intimidated nor silenced by the threats of the administration. Outlawing protest does not end protest, and only imbues it with another motivation, namely, the defense of the democratic right to protest."
Related Articles: