Dalit Adivasi Adhikar Andolan released a 10 point manifesto for Safaikaramcharis to ensure that political parties take note and implement their demands.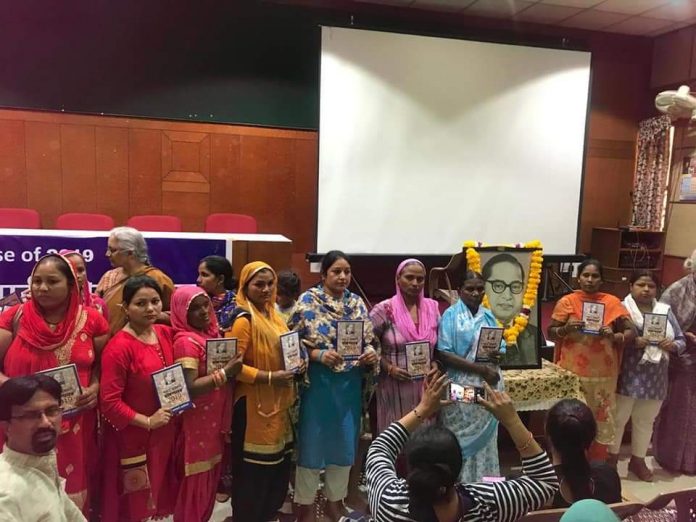 picture from facebook page of Dalit Adivasi Andolan
The Safaikaramcharis who are mostly manual scavengers lead pathetic lives in sub-human conditions and as many as thousands have even lost their lives due to occupational hazards. Yet no political party has taken up their issue to ensure safety measures or suitable compensation or their right to a life of dignity.
The manifesto begins with a demand for an unconditional apology from the Prime Minister for the historic injustice done through manual scavenging.
And to release every individual whether it is a child, man or woman from this labour in a time bound manner. The manifesto also demands that the sewerage deaths of the safaikarramcharis should be recorded and brought out in public along with the measures taken by the Government to stop these deaths.

Implementation of Article 21 of the constitution of India which guarantees the right to Life is another point in the manifesto. This right to be given in the form of issuance of 'RL 21 card' . This card should ensure the safai karamchais and their dependants access to quality education, healthcare, livelihood along with all other social security schemes and entitlements.
 
Demand for 1% budget allocation exclusively for the welfare of Safai Karamcharis from the Union budget; a special session in the parliament to stop sewer deaths and liberation and rehabilitation of persons engaged in manual scavenging are another two demands in the manifesto.
The manifesto even demands a separate Ministry to release and rehabilitate manual scavengers headed by the Prime Minister.
In order to increase the accountability the district magistrate should be held responsible for every sceptic or sewer death.
Compensation on the death of a worker should be enhanced to 1 crore a one time payment and subsequent grant of 50 lakhs for rehabilitation.
Courtesy: Two Circle