Today marks the 188th birth anniversary of Savitri Bai Phule regarded as an icon in the field of education for girls in India. Born in 1831 in Naigaon, Maharashtra, she was married off to Jyothi Rao Phule at the age of 9.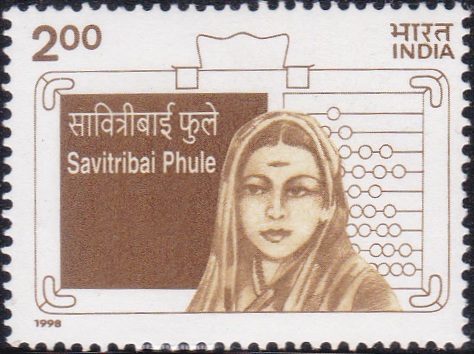 Jyothiba taught her at home and later on the couple began to teach other girls for which they faced stiff opposition from the dominant castes of the Hindu Society because learning was a taboo for women then. The couple began their first school with support from Fatima Sheikh and her brother Usman Sheikh who gave them a place to stay.
Thus the first school for girls was started in their home and Savitri Bai was its first teacher. Apart from teaching she fought against other social evils such as Sati, Child marriages, infanticide, killing widows (Sati) and caste based discrimination.
The home of Jyothiba and Savitri  Bai was not just for learning but also a refuge for rape survivors, sexually exploited widows, unwanted babies born out of wedlock and abandoned and so on.
Savitri Bai Phule is among the pioneers who fought patriarchy and set a trial for other men and women who are continuing their fight against the patriarchal structure that is deeply rooted in our society.
Jyotiba and Savitri Bai together started 18 schools, a care centre for pregnant rape victims called "Balhatya Pratibandhak Griha" which helped the women deliver their children.
She wrote many poems on caste based discrimination asking the people to educate themselves as that is the only way to fight the caste oppression.
She died on 10
th
 March 1897 after contracting plague from one of the patients she was taking care of in the clinic set up by Yashwant her adopted son.
The India Post has honoured Savitri Bai Phule by releasing a postage stamp in her name on 10
th
 March 1998, marking her birth centenary.
The University of Pune has been re named to Savitri Bai Phule University in 2015. And Google, the search engine has dedicated their google doodle to her in 2017.
Courtesy: Two Circles