The saffron party has started directly targeting him and his agenda in public to embarrass him and damage his image ahead of the 2020 state Assembly polls.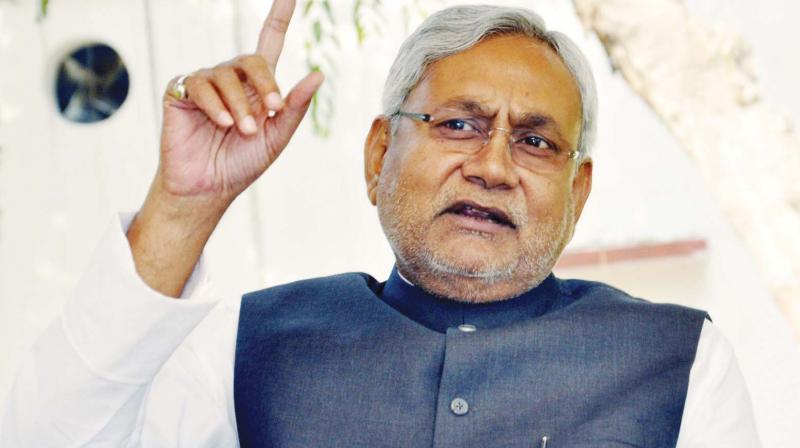 Image Courtesy: Deccan Chronicle
Patna: Bihar's Bharatiya Janata Party (BJP) – part of the coalition government in the state –is no longer comfortable with Chief Minister Nitish Kumar, who is also the president of Janata Dal (United) [JD(U)]. The saffron party has started directly targeting him and his agenda in public to embarrass him and damage his image ahead of the 2020 state Assembly polls.
Experts believe that this is a part of BJP's well-planned strategy to project itself as more suitable for the top post – chief minister – in the state.
"Nitish Kumar has occupied the chief minister's chair for quite a long time. As votes are now garnered for the NDA in the name of Prime Minister Narendra Modi, he should vacate the CM's chair for the BJP," senior BJP leader Sanjay Paswan recently said.
Similar demand was put forth by BJP MLC Sachidanand Rai soon after Lok Sabha polls this year.
By demanding the chief minister post for the BJP, Paswan, who is a BJP MLC and is considered close to RSS, seems to have sent a political message – "Nitish magic", which might have worked in the previous elections, appears to have been faded now.
"Nitish Kumar should play national politics in Delhi and hand over the state power-politics to senior BJP leader and Deputy Chief Minister Sushil Kumar Modi," Paswan said.
Several BJP leaders have privately said that the 'Nitish factor' is not visible any more in the state. JD-U itself is banking heavily on the 'Modi factor', as Nitish Kumar, too, had promoted 'brand Modi' during 2019 Lok Sabha polls. "It benefited JD-U that won 16 of the 17 seats contested this time as an ally of BJP, unlike 2014 polls when it had won only two of the 30 seats contested in Bihar by itself," a BJP leader said.
A BJP leader told
NewsClick
that Nitish Kumar's popularity has declined; he is no longer a reliable face. His claim of 'sushahan' (good governance) has been punctured on account of collapse of the law and order in the state and his political credibility is at an all-time low, said the leader.
"BJP cannot trust him, nor the opposition Rashtriya Janata Dal (RJD). Nitish Kumar's political credibility was badly damaged after he dumped RJD and once again joined hands with the BJP to form the government in July 2017. He is with us, but opposes [abrogation of] Article 370, Triple Talaq and NRC," said the BJP leader while speaking to
NewsClick
.
Giriraj Singh, a vocal champion of Hindutva politics, has publicly attacked JD-U and Nitish Kumar for opposing abrogation of Article 370,Triple Talaq and NRC. He also questioned Nitish Kumar on Monday for his statement that the mineral-rich Jharkhand, ruled by BJP, has failed to achieve desired development.
A fortnight after Lok Sabha polls, supporters of Singh, who had won from the Begusarai seat, raised slogans – demanding that he be the next chief minister of Bihar. It was alarming for the present CM ahead of next year state Assembly polls.
Additionally, what has hurt BJP is that JD-U will be contesting Jharkhand Assembly polls against the BJP and the party has already started targeting the saffron party. JD-U is also contesting Assembly polls in Haryana and in Delhi alone – which has not gone down well with the national leadership of the BJP.
On the other hand, JD-U leaders have strongly reacted to Paswan's statement, saying that the CM did not need a certificate from Paswan. "Nitish Kumar is the chief minister and he will remain so after the 2020 polls. There is no vacancy. He enjoys support and blessings of the people. It is known to all," claimed JD-U leader Nikhil Mandal.
JD-U spokesperson Sanjay Singh told
NewsClick
here that there is no alternative to Nitish Kumar. "BJP had tasted humiliating defeat in 2015 Bihar Assembly polls by contesting without Nitish Kumar. People have faith in the CM to deliver on promises made to them, unlike others," he said.
The tussle between the two ruling parties was visibly fuelled in July when the BJP leaders including MLAs opposed the Nitish Kumar government's order to gather detailed information on Rashtriya Swayamsevak Sangh (RSS) leaders and its subsidiary outfits.
It was reported earlier that the special branch of Bihar police was directed to gather detailed information about the state functionaries of the RSS and its 18 subsidiary outfits including Vishwa Hindu Parishad (VHP) and Bajrang Dal. This letter was issued by the special branch on May 28, two days before the swearing in of the Narendra Modi Cabinet. BJP leaders had expressed surprise over the order and had opposed this action.
However, in May, JD(U) had refused to join the Union Cabinet for being offered just symbolic representation. After being left high and dry by the top BJP leadership, Nitish Kumar had expanded his cabinet by inducting eight ministers from his party while not including any BJP leader. He later claimed that the BJP was offered a few positions on which the party was expected to take a decision later.
In the past three months, a few senior BJP leaders have questioned Nitish Kumar over deteriorating law and order situation in the state and had embarrassed him by pointing to the failure of the government in connection with the death of over 150 children reportedly from Acute Encephalitis Syndrome (AES) in Muzaffarpur.
In this backdrop, it is widely being discussed in the political circles that the BJP has had enough of Nitish Kumar. BJP leaders also claim that the party is stronger in the state and enjoys overwhelming support from the upper castes, OBCs and EBCs that were once loyal to Nitish Kumar.
According to political experts, BJP had used the 'brand Nitish' to fight against RJD since the mid-1990s till early 2000s.The BJP had projected a clean image of Nitish Kumar as a suitable face for the post of the chief minister in the 2005 Assembly polls and it had clicked.
It has become a thing of past now, and the saffron party seems eager to promote its own chief ministerial face during the upcoming elections.
Courtesy: News Click