Moneeza Hashmi, who was invited to the Asia Media Summit, was later barred from participating in or attending the programme.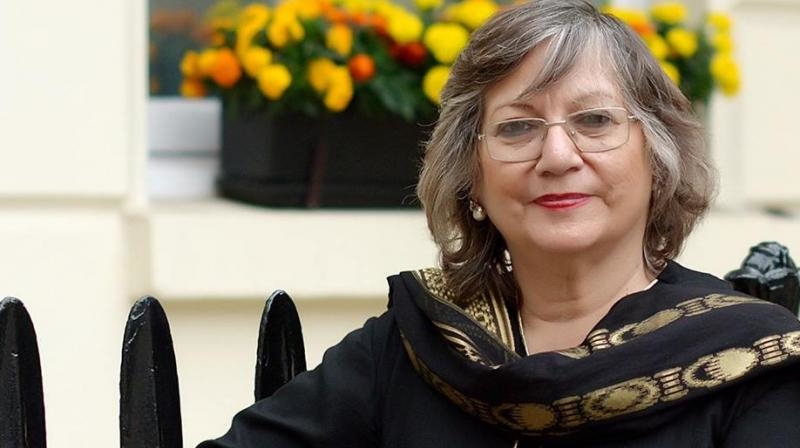 Image Courtesy: Siasat
 
Moneeza Hashmi, an eminent Pakistani peace activist, was barred from the 15thAsia Media Summit, which was hosted by Asia-Pacific Institute for Broadcasting Development (AIBD) and Information and Broadcasting Ministry in Delhi. She was invited for the summit earlier. 
Hashmi – the daughter of celebrated Urdu poet Faiz Ahmad Faiz – works for the Faiz Foundation, advocating peace between India and Pakistan. She was supposed to speak at the summit on May 10, on the topic 'Should all good stories be commercially successful?'. However, Hashmi's name disappeared from the final list of the speakers released by the government.
As per the schedule, Hashmi had reached Taj Palace Hotel in Delhi on May 9, a day ahead of the commencement of the summit. However, Hashmi learned from the hotel staff that there was no booking in her name. Following this, AIBD officials told her that she was being relocated to another hotel; however, she would not be able to participate in the session for which she had been invited. 
The concerned authorities did not provide any explanation for this decision. Moreover, Hashmi's request to attend the sessions was also rejected. 
The summit hosted 54 speakers to discuss various issues, along with more than 200 foreign delegates as participants during the two-day summit. However, there was no speaker from Pakistan. 
The Information and Broadcasting ministry officials had said on May 9 that Pakistan would be one among the participating countries while addressing the media. A report in 
The Indian Express
quoted a source as saying that the organisers of the media summit in Delhi were not granted "political clearance" for Pakistan's nationals. 
Observing that the incidents that happened were unfair to Pakistan, as it went un-represented at the conclave, Hashmi told 
The Telegraph,
"The Faiz Foundation will continue to promote peace and invite people from India; our hearts will remain open." 
"I come to India all the time as I have a multiple-entry, year-long visa. No one in the Indian government contacted me, but I get the impression they realised at the last minute that a Pakistani had made it to the conference," she added. 
"Now I'm being told that officials in India are saying that I did not come on a conference visa. But my sister Salima and I have attended several conferences on this very visa, which has been renewed annually for years now by the Indian High Commission in Islamabad," said Hashmi.
However, this is not the first time that Faiz's daughters, Moneeza and Salima Hashmi, have faced humiliation on this side of the border.  Recently, they were invited to an event celebrating the birth anniversary of Faiz on February 11 in Lucknow. But, only Salima got the visa, that was too came two days before the scheduled event date, which made it impossible for her to attend the event. 
"One needs to ask why this government is humiliating Faiz's descendants like this," 
said
 D P Tripathi, General Secretary, Nationalist Congress Party and author of the book 
Celebrating Faiz
. 
In February 2017, Kishwar Naheed was also compelled to leave the Jashn-e-Rekhta festival midway after she came to know that she was invited only as a guest. "I assumed they wanted me to come and recite my poems. That's how free-flowing such festivals are, or are supposed to be," Naheed, 77, had told 
The Telegraph. 
Organisers of the annual festival – that celebrates Urdu literature, art and culture – invited Pakistani artists as guests only in 2017. They were kept away from performing in the festival.
Yet another such incident had occurred in December 2016, when American singer duo Krewella sisters'- Yasmin and Jahan Yousaf's visa applications were rejected. "It is with heavy hearts that we inform you that due to our Pakistani heritage, our visas have been repeatedly denied and we will not be able to enter your country for [the] Sunburn festival," the sisters had informed via their social media handle. 
After discovering the role and modus operandi of David Headly – a Pakistani-American – in the 26/11 Mumbai terror attacks, the 
visa rules were changed
 in 2009. As per the new rule, there is a separate category of 
visitor visa
 only for 'Pakistani Passport Holders who have not renounced their Pakistan Citizenship'. As Pakistan allows dual citizenship, if an applicant of Pakistani origin applies for a visa on the US passport, the applicant would have to furnish the "proof of renunciation of Pakistani citizenship". If they cannot do so, they have to apply for visa on a valid Pakistani passport. Moreover, the visa applicants, who were born outside Pakistan and have never held Pakistani nationality, have to provide a notarised affidavit stating that the applicant never held Pakistan's citizenship or a Pakistan Origin Card or a National Identity Card for Overseas Pakistani.
The tedious process of applying for an Indian Visa by the Pakistani nationals often results in the rejection of visa application of scores of people including artists, social activists, and pilgrims.
Courtesy: Newsclick.in