Last year on 6th June, the Pune police had arrested 5 activists on false charges of inciting violence on Dalits that took place on 1st January in a Bhima Koregaon village in Maharashtra.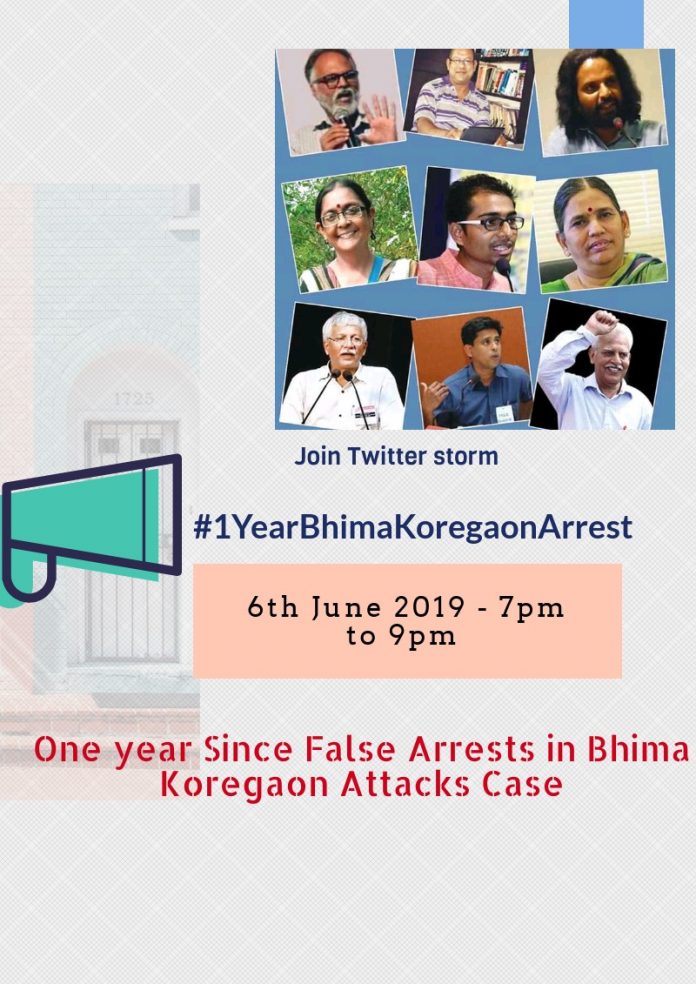 The 5 human rights activists are Sudhir Dhawale, a writer and Mumbai-based Dalit rights activist, Surendra Gadling, a UAPA expert and lawyer from Nagpur, Mahesh Raut, a young activist on displacement issues from Gadchiroli, Shoma Sen, a university professor and head of the English literature department at Nagpur University, Rona Wilson, a Delhi-based prisoners' rights activist.
These arrests were followed by witch hunting of other activists from all over India and advocate Arun Ferreira, advocate Sudha Bharadwaj, writer Varavara Rao and Vernon Gonsalves, Anand Teltumbde were arrested subsequently.
On January 1, 2018, hundreds of Dalits had gathered for the 200th anniversary celebrations of the Anglo-Maratha War of 1818 in which Dalits had fought bravely alongside the British, defeating the upper caste Maratha army of the Peshva. But there was stone pelting allegedly by the right winged groups who attacked the Dalits that resulted in the death of a youth while others were attacked and even detained. Vehicles were torched and some policemen were also injured.
The activists were charged under the Unlawful Prevention Activities Act by a trial court and later the police filed a charge sheet containing more than 5000 pages claiming that these activists were involved in Maoist activities under the banned party Communist Party of India ( Maoist) and that they were planning the assassination of Prime Minister Modi.
However the police have not provided any evidence despite their claims of having solid evidence against these activists. On the contrary they have kept delaying the trial on one pretext or the other.
Today despite more than 60 hearings the 5 activists have not been granted bail.
Activists, lawyers, academicians and others have initiated a campaign on Twitter to demand the release of human rights activists and lawyers arrested by tweeting to the Chief Minister's office and the police of Pune.
Join the campaign today 6
th
June between 7 pm to 9 pm.
Courtesy: Two Circle