On 6 September 2018, the Supreme Court of India passed a historic judgement decriminalising Section 377. The court said, "The law must be interpreted as per the requirement of the changing times."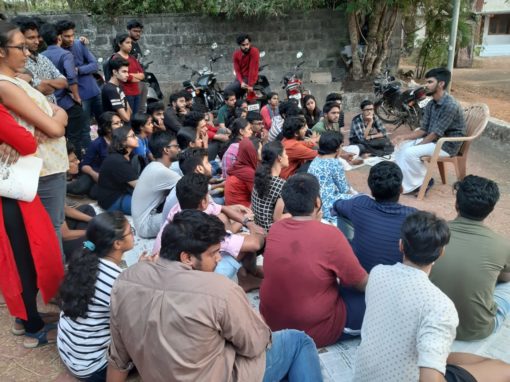 However, there are many who seemingly could not accept the SC verdict. Recently, the administration of the National Institute of Technology, Calicut, denied permission to hold a lecture on the LGBTQ. Directing the organisers to cancel such events, the administration said, "such lectures will have a negative impact on the society". The talk titled "Visibility of LGBTQ + Community" was organised by I-INK, an art club in the campus.
The organisers of the lecture scheduled to be held on 12 February, had invited Muhammed Zuhrabi, a graphic designer and LGBTQ activist based in Kerala, as the speaker. When organisers of the event approached the Dean seeking permission for the programme and venue, the administration refused to grant permission. Turning them down, the university authority said "are you trying to turn everyone in the campus gay?". Mocking the organisers, the administration also said that the students have come here to study engineering and should be focussing on their studies.
The administration also told them that they cannot bring outsiders as speakers in the campus.
The 
Indian Cultural Forum
spoke to Sourav, one of the organisers, who said, "This is not the first time we are organising a programme related to the LGBTQ. Last year we had successfully conducted programmes related to this topic. But this year the administration has been putting so many restrictions upon us. We have already invited the speaker for the talk too."
Since the student community on campus was already informed about the programme, the organisers had to shift the lecture in the parking area of the campus. Speaking to the 
Indian Cultural Forum, 
Muhammed Zuhrabi, who delivered the lecture said, "It is an unfortunate incident. I was informed about the denial of permission by the organisers. I am disappointed to see how such prime institutions in our country are denying permission for a talk. As someone belonging to a minority community, we ar expected to admire such institutions for their stand and the solidarity they extend towards us. This attitude of the university administration is highly condemnable."
This is the second time in the past two months that the administration has denied permission to the programmes conducted by the students. On Rohith Vemula's third death anniversary earlier in January,  the students of the campus organizesd a screening of Deepa Dhanraj's documentary,
We Have Not Come Here to Die
. The screening was interrupted in the middle by administrative officials. Later on, following students protest, the authorities were forced to screen the documentary. In a similar incident, the same administration also denied permission to conduct "Arpo Arthavam", a programme in solidarity with the Sabarimala judgement and on breaking the taboos on menstruation. The administration directed the students to conduct more "creative and positive" lectures.
NIT is one of the prime institutions of the country. While the right-wing is trying to curb progressive thinking and the voices of students, we have also witnessed some landmark judgements and acceptance of minorities in the country. Apart from that, Kerala is one of the first states in India to accept the LGBTQ community and provide job to the transgenders. Yet, a university in the very same state has denied acceptance to the community. As Zuhrabi said, "we choose to love a person from the same gender and the society cannot alienate us for the choice we have made. Such lectures will help people understand and accept the LGBTQ."
Courtesy: Indian Cultural Forum