Residents of 24 villages at the foothills of Kodingamali adjoining Koraput and Rayagada districts in Odisha, are up in arms against bauxite mining from hill in their immediate vicinity. The villages under eight panchayats of three blocks lie on the fringes of the hill and are being affected by the mining activities. The villagers have vowed to fight against the mining operations carried out by Orissa Mining Corporation (OMC), sarpanch Hasa Madangi of Murkar panchayat
told the Orissa Post
.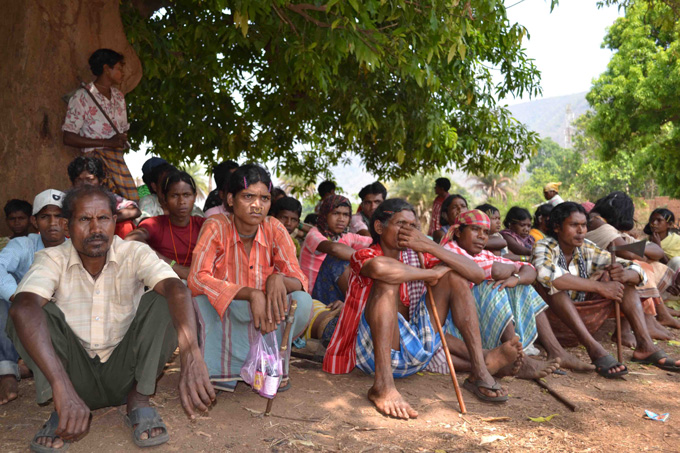 Image: Bibhuti Pati
Kodingamali hill has rich deposits of bauxite over 428.31 hectare of area. The villagers had earlier placed their demands before the state government stating that bauxite mining could only be allowed on the hill if it establishes a plant in the area and employs local youth on the basis of their merit. Additionally, it demanded improvement in healthcare service, education, transport, power and drinking water facilities in the affected villages, for carrying out mining activities.
However, the government has allegedly turned a deaf ear to their pleas and is carrying out bauxite mining operations on the hill. Meanwhile, OMC has reportedly signed a contract with Vedanta Alumina in Lanjigarh to transport the raw material to the latter's plant without conducting a Palli Sabha in the area, a villager Jawaharlal Bagh said. 
These villagers have threatened to stop allowing mining from the hill and subsequent transport of raw material, if their demands are not met. Two days ago, the villagers had blocked the road connecting to the hill. They withdrew the protests after Lakshmipur SDPO Tapan Narayan Rath assured them of looking into their demands. They have called upon the state government to act on their demands failing which they will move the apex court for justice.
They have alleged that the OMC and the consultancy agency carrying out bauxite mining, are trying to foil their protests by using the service of middlemen and anti-social elements. However, villagers claim that they are determined to stay put despite such threats. Villagers from Odisha have won historic struggles against the Vedanta conglomerate, the POSCO Company and several others.

Related Articles:
1. Odisha Village Gram Sabha Opposes Vedanta
2. Intimidation & Illegal Incarcerations of Adivasis: Odisha Police Acting at the Behest of Vedanta?
3. SC Rejects Odisha Govt Plea for Mining in Niyamgiri: Watch 6 videos on Save Niyamgiri Struggle