Last evening (15 th December,2018) civil society groups, academicians and social activists have gathered at the India International Centre and attended public memorial lecture on Prof.Mushirul Hasan who passed way (10 th December,2018 at the age of 69).In this memorial meeting, eminent personalities like former Vice-President HamidAnsari, noted lyricist Javed Akhtar, a well-known actress Shabna Azmi, prominentCongress leader Jai Ram Ramesh and others have expressed their condolence.Besides eminent Intellectuals and academics like Prof.Sumit Sarkar, Prof. ShahidAmeen, Prof.Aproovanand, Prof. Rizwan Quaisar, Prof. Mukul Keshavan, Prof. RajeevBharagava, AchinVanaik, Niladari Bhattacharya and others dignitaries have alsoattended the memorial lecture and expressed their condolence. Apart from this socialactivist like Shabnam Hashmi, Harsh Mander and eminent journalist like Saba Naqviand students and teachers from JMI JNU, and DU have also attended and expressedtheir condolenceThe meeting was conducted by the late Prof. Hasan close relative Shaaz Sahiba and Sameer Rizvi. Mr. Rizvi introduced initial remarks. He said that Prof.Mushir alias Parvez (Childhood name) had an academic vision and cherished the humanistic values in his writings and personal life too. He noted that Mushir's works and academic contributions will always guide us in years to come.
 
Prof. Hasan cherished the 'Awadh culture' locally termed as Qasbati Culture in his academic writings. Ansari end his talk with the beautiful couplets- Kaya Khub Admi Tha Khuda Maghpherat Kre ! Similarly, a senior journalist Saeed Naqvi shared his personal experiences in India and
abroad (Riyad). Mushir was very dear younger brother to me and his nature was laughing, mischievous too. While highlighting the hospitality given by Prof. Zoya Hasan, Naqvi also underlined that Prof. Hasan was fond of 'Urdu poetry' particularly Faiz Ahmad Faiz. Prominent historian and his colleague at the Department of history JMI, Prof. Narayani Gupta highlighted the work of Hasan in the historical context of 19 th century with respect to Muslims intellectuals like Abu Talib and Zakaullaha and others. She said that he championed liberalism, secular values and nationalist thoughts in his writings and as a capacity of VC of JMI including while when he was the Director of National Archive of India. Besides, all these involvement and public responsibilities, Hasan gave importance to family and his relatives too, added Prof, Gupta.
The scholar like Javed Laique observes that Prof. Hasan and his beloved Zoya are in- fact heroic figures. While citing the case of Salman Rushdie, controversial affairs (Around his book, 'Satanic verses') and the infamous Batla House encounter (2008), he said that Prof. Hasan had taken firm stand on these issues. Moreover, Prof. Hasan was also a brilliant administrator and managed to build up high quality Jamia academic environment at large said Laique.
Prominent economist Prof. Jayati Ghosh underlined that for me, both Zoya and Mushir academic journey represents the best for India and we should be proud of it. Hasan was deeply humanist, secular and cherished composite culture and civilizations of India. To note that when Prof. C.A Bally had invited him to join the University of Cambridge, Mushir had rejected the offer and prefer to stay at India, she adds. While speaking in memorial meeting, a noted Marxist-economist Prof. Prabhat Ptanaik shared his experiences at the University of Cambridge and said that we generally met while watching cricket match. Further, Prof.Patanik underlined that his personality was deeply oriented towards academic works and one can't deny that he was the great institutions builder. Finally, he said that after the critical accident, Mushir's remaining four-year life were crucial for him and Zoya, however, their life were very closely intertwined.
Renowned journalist Seema Chisti appreciated Hasan's works, while he was the Director of National Achieve of India. Further she said that Prof. Hasan scholarship and his progressive ideas are rare to find elsewhere. While highlighting the contributions regarding the Jamia Millia Islamia, she pointed out that during his tenure as Vice- Chancellor ( 2004-2009), Castro Café, Noam Chomsky (He is well known for his critical thinking.) building, Edward Said (author of well-known book 'Orientalism')Hall and others academic centers were constructed and established. Apart from this, rich heritage of Jamia including history related to Jamia founders were preserved and widely disseminated by Mushir. While toeing the line of others, Chisti also noted that Prof. Hasan can be regarded as 'Man of Renaissance'. While citing the case of Babri Masjid demolitions, Prof. Kamal Mitra Chenoy pointed out that Mushir in his work 'Legacy of Divided Nation: India's Muslims since Independence (Oxford Delhi: Monohar, 1991) has underlined that controversy around Babri could be traced when first time Govind Ballabh Pant had placed statue inside the Masque.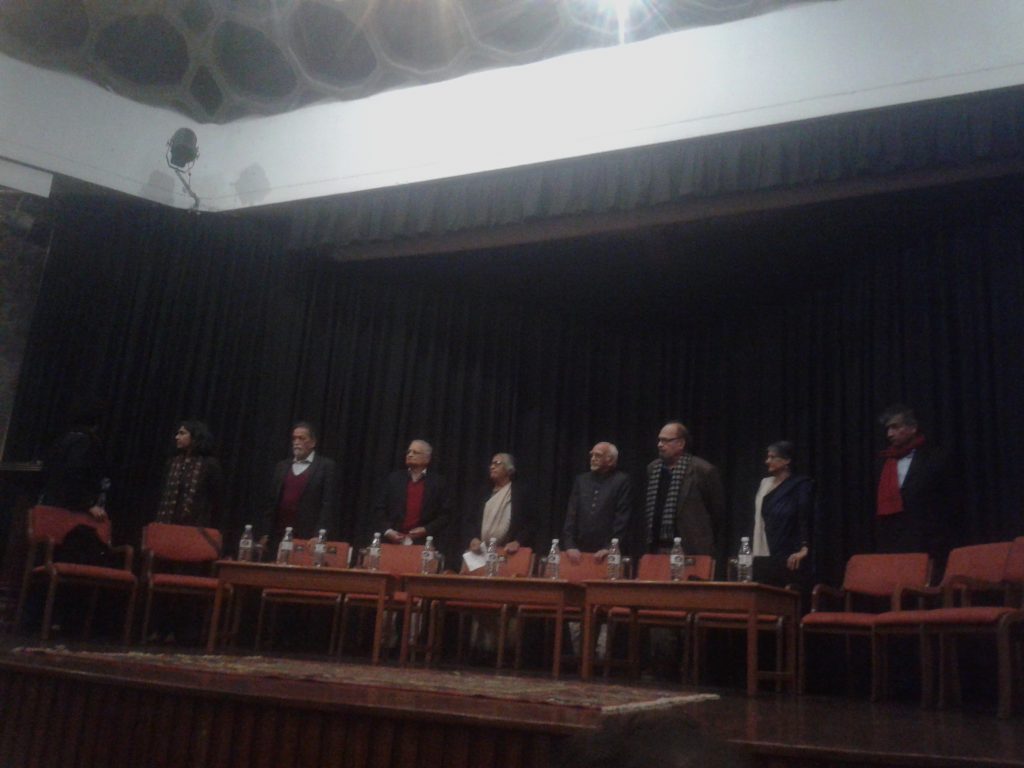 Moreover, while sharing his views with respect to Mushir's intellectual rigor, Chenoy accepted that I learn a lot from him mainly how can know real history. Another well-known journalist, Seema Mustafa shared her public and personal experiences with family and relatives of Prof. Hasan. For her, Hasan really represents himself as a 'Secular Muslim'. For taking uncompromising stand on various issues as said earlier, Hasan was equally attacked and faced sever backlash by both Hindu communal forces (who is currently ruling this country) and Muslim fundamentalist
forces.  
BadreAlam Khan(

[email protected]

) is a research scholar, Department of
Political Science, University of Delhi. Imran Ahmad is blogger and former Student of Jamia

Courtesy: Two Circles