Srinagar
:- In a patriarchal society like Kashmir where all avenues of employment are dominated by men, a 25-year-old girl from Srinagar has started her own café as the idea of a male-dominated business sector doesn't go well with this lawyer-turned businesswomen.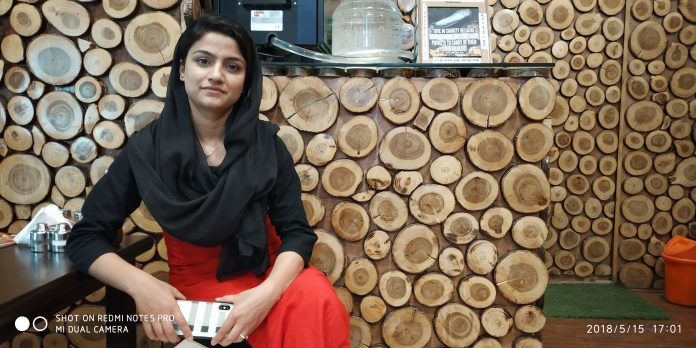 Mehvish at her cafe in srinagar
Mehvish Mehraj Zargar, a resident of Lal Bazar area of the old city, has set up her own café and given it a beautiful name – ME'n'U Café. Located in Bemina area of Srinagar City, the Café can cater to around 50 people at a time.
The café opened in the month of February this year but had to stay shut most times due to the current turmoil.
She did her bachelor's in Law from the Central University of Kashmir but her dream of being an independent woman and her interest in business pulled her to set up her own venture.
She lost her father due to cancer when she was just seven; she always wanted to do something for her mother and to support her family.
When Mehvish shared the idea of opening her own venture with her family, they appreciated her and supported her to set-up her dream café.
"My mom and brother supported my financially and emotionally, this was not possible without them, and especially in a place where the society is too conservative," says Mehvish.
The café is equipped with all the modern facilities, good ambience and a retro look for the people of all age groups. The café offers a perfect atmosphere to hang out and get together.
The café has become an ideal place for teens and young adults to unwind and be themselves. Not that the adults and middle-aged don't frequent its outlets, but that in no way diminishes its appeal among the youth. Not only is it the freewheeling atmosphere and a happy go lucky culture of the café that attracts the youth towards it but the wide variety of eatables and beverages it offers within the range of their pocket money is other major attraction.
She says the target audience includes the students since the café is close to Degree College Bemina and the prices are pretty much in their range.
"You can order just a cup of coffee," says Mehvish, "and sit there for hours and read and write and talk. Nobody is going to disturb you," she adds.
The layout of the café is quite trendy and appealing. The outlet is aesthetically designed and the colour combination and furniture is pleasing to the eye. The front side of the café is designed with wooden logs and it has become a focal point in this café.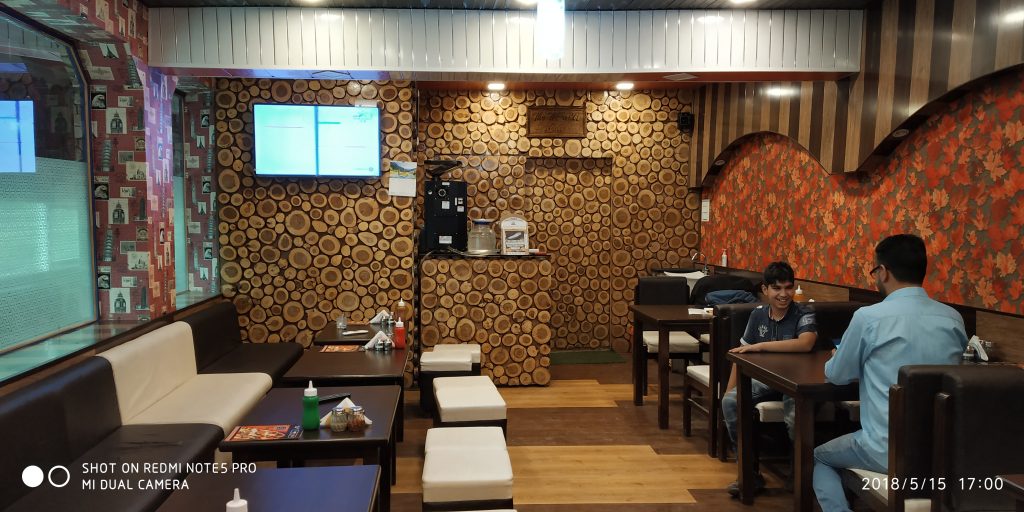 View of the Me n U café that can cater to about 50 people
The café, according to its owners, serves Pizza, Rice, Pasta, Soups, Chicken, coffee, Hot and cold beverages, Kababs, Rolls and much more.
Mehvish believes that in today's world, a lady should be financially and emotionally independent. "An independent woman is someone who knows her identity and has figured it out completely. Being an independent woman, and a happy one at that, is the most important person you can be,' she says.
She says an independent woman takes care of herself and her family as well. "She is capable of so much. By being independent, you set an example for your children to follow just as my mother did. If you ask me about the society, you will face a number of critics which I don't even think matter," she adds.
Talking about her initial days into the venture, Mehvish says, "I faced a lot of opposition in the beginning but I paid no attention to them and kept myself oriented towards my goals."
"People used to stare at me and I used to get strange looks from them. But now everything is fine as I have stopped taking these things seriously," she adds.
Mehvish says she is trying to break-up the stereotype that a girl can't do well in business. "I just want to be independent and business was my dream, I am ready I have to be strong, women will be criticised in any way when the idea of starting this venture came to my mind, I was aware that I will be criticized, So I prepared myself for that," she explains.
Mehvish also understands how her business model is supposed to work out. "In the beginning, one cannot chase profits as you have to invest for your business so that it is on solid footing.  Right now, I am satisfied as there is no loss no profit," she asserts.
"My message for the girls of the valley would be: Take your decisions and follow it. People will judge you anyway but you have to follow your dreams and fight back" Mehvish suggested to the female folk of the Kashmir.
She also receives Faeezah award for her contribution to "being an asset of the society and the agent of the positive change". She dedicated the award to her family.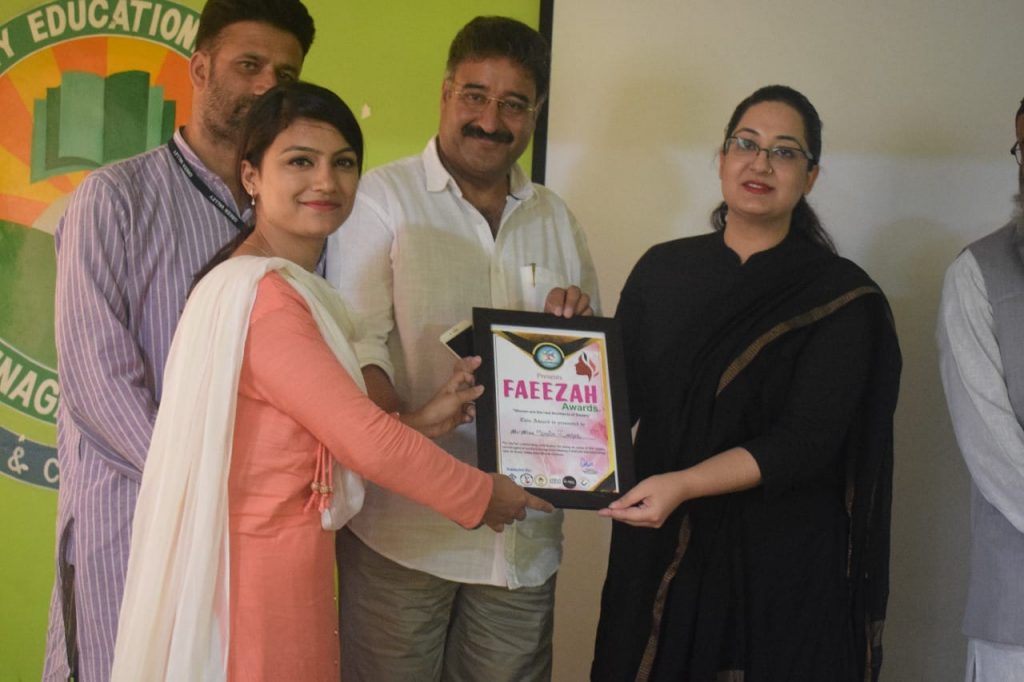 Mehvish receiving Faeezah award for her contribution to "being an asset of the society and the agent of the positive change
She also understands the need to employ a local workforce and working with contingency plans. "In Kashmir, shutdowns and strikes are common it is a part of our daily life and I have kept myself ready for that," she says. Keeping the current situation in mind, she didn't hire chefs from outside the state and has recruited local chefs only.
"By hiring local chefs, you are providing employment to your own people and at the time of strikes they are still available here and can call them any time," she says.
Courtesy: Two Circles