According to experts, Muslims which constitute 6.57 % voters should have 15 to 20 representatives, however, there has been only one since 2003.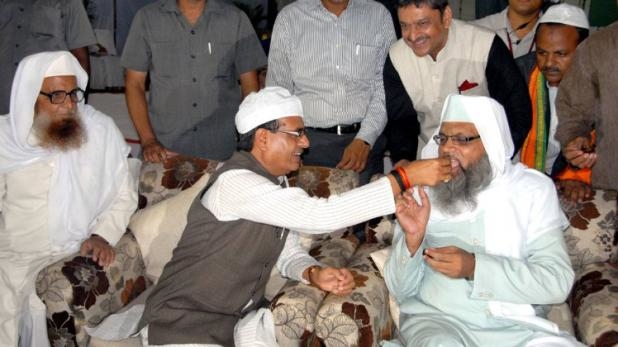 Image for representational use only. Image Courtesy: india.com
Bhopal: The number of Muslim political representatives in the Madhya Pradesh state assembly has declined in the last two decades according to the poll data. The political parties are giving a wide berth to Muslim leaders, irrespective of their population. There are between 37 to 38 lakh Muslim voters, out of 5.03 crore in the state, but there has been only one Muslim representative in the state assembly in the last 15 years, according to the data compiled by the Congress and the Bharatiya Janata Party's minority cell after the release of the final electoral list.
The new house to be formed after the election gives no good news to them.
While the Congress has given tickets to three Muslim candidates – Arif Aqueel from Bhopal North, Arif Masood from Bhopal Madhya and Masharat Shaheed from Sironj, the BJP has given ticket to only one candidate, Fatima Rasool Siddiqui from Bhopal North. BJP has pitted her against Aqueel so that as a minority community candidate, she may cut into his vote share.  
Besides Bhopal North and Bhopal Cenral, Muslim voters influence the results of more than 25 seats. These constituencies are Narela, Burhanpur, Shahjapur, Dewas, Ratlam city, Ujjain-North, Jabalpur-North, Jabalpur-East, Mandsaur, Rewa, Satna, Sagar, Gwalior South, Khandwa, Khargone, Indore 1, Depalpur, according to the data.
Yet, no party has made any attempt to increase the number of their representatives in the assembly.
Commenting on the declining Muslim representation issue, senior journalist and political expert, L S Herdenia said that Muslims formed 6.57 per cent of the state's 7.27 crore population, according to the 2011 census. So, their representation in the assembly should have from 15 to 20.  
"We must try to increase Muslim representation into the Parliament and state assembly. For this, political parties must encourage Muslims to participate in political activities and give tickets to them," Herdenia said.
He further said, "But unfortunately, this is not being done. Let us have a look at the office-bearers of Congress in MP. Not a single Muslim has been given important position in the organisation headed by state Congress chief Kamal Nath," adding that if prompt action has not been taken in this respect, it will result in frustration in the rank and file of Muslim political workers.
Reason behind Declining Muslim Representatives
There are two reasons for the sharp decline in Muslim representation in the state: first is the polarisation of votes after the demolition of Babri Mosque (December 6, 1992), and the second, the division of Muslim population after delimitation of constituencies during the Congress rule.
Delimitation is a process in which Boundary Committee redraws the boundaries of various assembly and Lok Sabha constituencies and convert seats based on the recent census. The present delimitation of constituencies had been done on the basis of the 2001 census in 2002.  
Soon after the demolition of Babri mosque, assembly elections were held in MP in 1993, and Digvijay Singh led-Congress stormed to power. But, this was for the first time when no Muslim leader made it to the assembly. In 1998, during Singh's second term, three Muslims were elected to the assembly including Arif Aqueel from Bhopal North. Aqueel was first elected as an Independent. Later, he joined Congress and was elected to the assembly again.
When asked the reason for this decline, state Congress spokesperson, Sajid Qureshi said because political parties don't see Muslim leaders as potential candidates. "After the Babri Mosque demolition, the gap between the two communities have widened and members of both the communities starting seeing their leaders on religious lines irrespective of their work," said Qureshi adding, as a result Muslim representation dipped across the country, not only in MP.
Former Union Minister and ex-MP from Betul constituency Aslam Sher Khan said, "Division of Muslim population in different constituencies and polarisation of majority votes after the Babri Mosque demolition were the major reason. With the support of fundamentalist forces, the Digvijay Singh-led state government hatched a conspiracy against Muslims and divided the Muslim population. Or converted Muslim-dominated seats to reserved ones. Just like Betul in 2002." 
While constituencies such as Bhopal, Satna, Rewa, Narela, and Jabalpur were divided into different constituencies in 2002 by the Boundary Commission with the help of Congress' Digvijaya Singh government.     
Till the third decade of Independence, Muslims occupied several public offices in the state. Such as Gulsher Ahmed, who held the position of speaker of Madhya Pradesh Vidhan Sabha and a minister. He was also the governor of Himachal Pradesh. The other prominent name is Aziz Qureshi of Bhopal, who served as minister and Governor of Uttarakhand.
Other Muslims who were elected to the Parliament included Maimuna Sultan, Ghufran-e-Azam and Aslam Sher Khan in 1991. Both Ghufran and Aslam were also well-known hockey players, Aslam Sher Khan was a part of the national team which won the gold medal in hockey World Cup in 1975. 
Before the Babri Mosque demolition and delimitation of constituencies in Madhya Pradesh, Muslims had a healthy representation in the assembly and Muslim candidates had also contested General elections. Their presence was clearly registered till 1990 in areas like Betul, Jaora, Burhanpur, Jablapur and so on.
"Nobody can expect the BJP to help Muslims get what they are entitled to. BJP leaders have publicly stated that they do not want votes of Muslims. In pursuance of this policy, they did not give tickets to any Muslim in Uttar Pradesh, despite the fact the state has a large Muslim population and it worked," said political expert Herdenia. But, Congress which was the shelter for Muslim politicians post-independence too has given a wide berth to Muslim candidates soon after the demolition of Babri Mosque. As a result, representation of Muslims leaders left in Congress are also just for.
The BJP, which has also bluntly overlooked Muslim representation, seemed to be in a  defensive mode when the issue of less Muslim representation was raised before them. Commenting over the issue, BJP spokesperson Rajneesh Agrawal said, "Our party distributes tickets on winning ability of a candidate and majoritarian views. And Muslim candidates hardly get in with the majoritarian view."
Loss due to
Lack of Leadership 
As a result of this lack of leadership, the members of Muslim community have been leading a miserable life in the state. A lot of their colonies are still lacking basic amenities like clean water, roads, schools, street lights, etc. The best example is old Bhopal where these basic amenities are still missing from Muslim colonies, claimed Abdul Jabbar a resident of old Bhopal, who is also a victim of the
Bhopal Gas Tragedy
. 
The above issues can be found in the Congress Manifesto released on November 10, because the BJP led government has failed to provide those amenities to the Muslim colonies during the past 15 years. However, the main issue of lack of representation does not find any mention.
Arif Aqueel, the only Muslim MLA in the state has recalled a unique case of Muslim discrimination in the assembly. "During the previous assembly session, when I asked, why the Narmada water was not being supplied to my constituency (Old Bhopal)? I was told by a BJP MLA that if I uttered Narmada Mata ki Jai and Bharat Mata ki Jai, then my constituency would get that. And, I had to utter those words in the assembly because providing water to my constituency is my true religion."
Muslim Representatives in MP assembly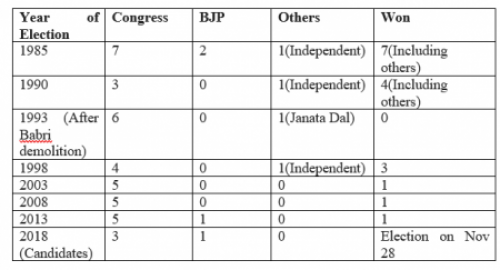 Courtesy: Newsclick.in