What kind of country stops a musician from singing? What kind of country keeps its citizens from listening to this musician? India today is such a country — the same India where those who dissent are intimidated; the same India where those who speak up for Indian diversity are silenced; the same India where citizens are lynched because of their caste or community.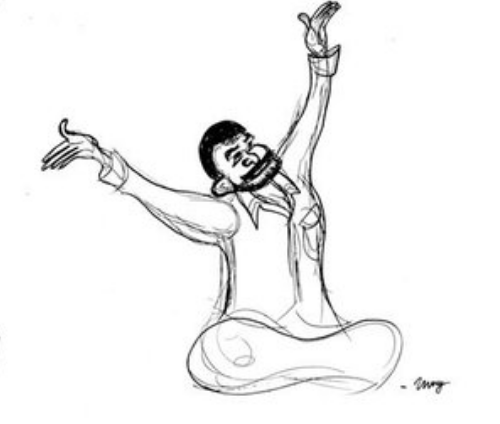 Image Courtesy:
E P Unny
On November 5, the Airports Authority of India (AAI) announced on its twitter handle that Karnatik vocalist T M Krishna would perform in Delhi as part of the programme "Dance and Music in the Park," organised jointly by The Society for the Promotion of Indian Classical Music and Culture Amongst Youth (SPIC-MACAY) and AAI. But according to a
report
in
The Indian Express
, on the night of November 13, AAI informed SPIC-MACAY over email that the concert has been postponed. "Because of some exigencies of work, we are not in a position to go ahead with the dance & music concert jointly organised with SPIC MACAY on 17th and 18th November, 2018 at Nehru Park, New Delhi. Hence, we request you to kindly postpone to a new date and inform all concerned. The new date will be discussed with SPIC-MACAY soon," the email said.
This comes days after AAI's tweets about T M Krishna's performance received
backlash
from trolls who were enraged by the fact that T M Krishna was invited to perform.  AAI was accused of organising a concert that would feature the "anti-India", "anti-Modi", "Urban Naxal" singer using public funds. Some trolls also tagged senior government officials such as Suresh Prabhu, Minister for Civil Aviation.
Krishna's attempts to increase the Carnatic music concert repertoire by including hymns in praise of Christ and Allah have been frequently attacked by Hindu right-wing activists. In August, TM Krishna, OS Arun and Nithyashree Mahadevan were targeted by the Rashtriya Seva Sangham, a group based in Tamil Nadu, for singing devotional songs about "gods of other religions". In response, Krishna resolved to sing one Karnatic composition every month on Jesus or Allah, which was ostensibly the cause for his concert at the United States being cancelled. In September, during his tour of the United States, he was invited to perform at the Sri Siva Vishnu Temple in Maryland but his concert was cancelled by the organisers after he was accused by Hindutva groups of singing Christians songs. However, a group of music lovers in Georgetown University, Washington organised a concert for him on campus the same day.
This time too, like the Maryland incident, Krishna has many people standing by his side. According to a
tweet
by
CNN News18
, the AAP government has extended an invitation to T M Krishna to come and perform at the National Capital on 17 November after an unfazed T M Krishna announced, "Give me a stage anywhere in Delhi on November 17, I will come and sing. We just can't let ourselves be cowed down by this kind of threats".
Commenting on the incident, poet and critic Ashok Vajpayee told the
Indian Cultural Forum,
"The cancellation of Krishna's concert in Delhi is yet another instance of a continuing assault on the pluralistic nature of the Indian culture, traditions and arts, including music. Krishna has boldly asserted and taken upon himself to highlight the presence in and contribution to carnatic music of Muslims and Christians. Apart from being an insult to the classical, this assault is anti-Indian and anti-tradition."
Renowned poet and author K Satchidanandan told the
Indian Cultural Forum
, "I am very sad that the trolls have taken control over our culture. Very recently, Ramachandra Guha was not allowed to take the visiting doctorship at the Ahmedabad University and now T M Krishna has been discouraged from singing at this festival." Calling the incident "disheartening", he added, "Musicians and music lovers look at him with great awe. To deny him the chance to sing in Delhi and to deny the audience a chance to listen to him, is in my opinion, an extremely criminal act on the part of whoever has done it and we know who has actually done it. These trolls know nothing about T M Krishna's music, they have only heard from someone or the other that he is very critical of the right-wing government at the centre. It is because of Krishna's political position that they are denying him his stature as one of the leading musicians of the country, trying to popularise classical music. This is yet another step towards the kind of barbarism that is already prevailing in the country and all of us as writers and artists should stand up against this kind of trolling and attacks on all artists."
Writer Githa Hariharan told the
Indian Cultural Forum
, "T M Krishna has integrity, not only in his artistic practice, but also in his convictions. All of us, whether musicians or writers or film makers, are citizens. We do not produce our work in an apolitical vacuum. We have the right to critique the present government and its extended family of hoodlums. Equally important, all citizens have the right to read our books, watch our films, and listen to our music without trolls as guardians. This is why we say, quite categorically: Sing, Krishna, we want to hear you."
Ramachandra Guha too has tweeted in support, "When a scholar like myself is stopped from speaking, that is intolerance. When a great musician like T M Krishna is prevented from performing, it is not intolerance, but barbarism."
T M Krishna talks to the 
Indian Cultural Forum:
Courtesy: Indian Cultural Forum