Geetha Gopi, a Dalit MLA of CPI, from Nattika constituency, Thrissur District, Kerala, sat down in front of the PWD (Public Welfare Department) on Saturday to raise concerns of the bad conditions of the roads in that area.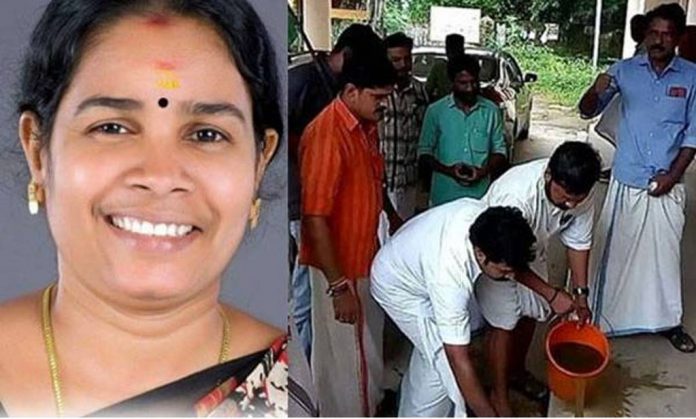 Image courtesy: Mangalam
She later withdrew her protest when concerned officers assured that they would take action and repair the roads.
But when she left the premises, a group of Youth congress reached the spot and sprinkled water and cow dung to 'purify' the place where Geetha Gopi had sat. They also took a march against her earlier before reaching the PWD office.
Geetha has filed a complaint with the police and a FIR has been lodged booking the youth congress workers under the provisions of SC/ST (Prevention of Atrocities) Act.

The MLA has not let the matter rest here; she has said that she will take it up with Pinarayi Vijayan, the Chief Minister of Kerala.
Leaders of other parties and state ministers condemned this act saying such acts are not acceptable.
Courtesy: Two Circle