Since 1968, he has spent more than 8 years in jail. He is one of the most outspoken men from the Kashmiri Pandit community. 
Sampat Prakash
, a well-known trade unionist caught everyone's attention last week when he was protesting along with many other Senior Citizens against any "tinkering" of Article 35(A). Born in Raniwara area of Srinagar City, he was first arrested in 1967 for launching a mass agitation against the government for low wages. He along with the 17 of his colleagues were dismissed from service and he was booked under Preventive and Detention act-a law passed by the Indian parliament, which was not applicable to the citizens of Jammu and Kashmir because of Article 35(A), which gives special status to J&K State. Sampat in an Exclusive Interview with 
Auqib Javeed for TwoCircles.net
 talks about his petition regarding Article (35A) in the Indian Supreme Court, the impact of Article 35(A) if abrogated on the economy, and the heritage and culture of Jammu and Kashmir.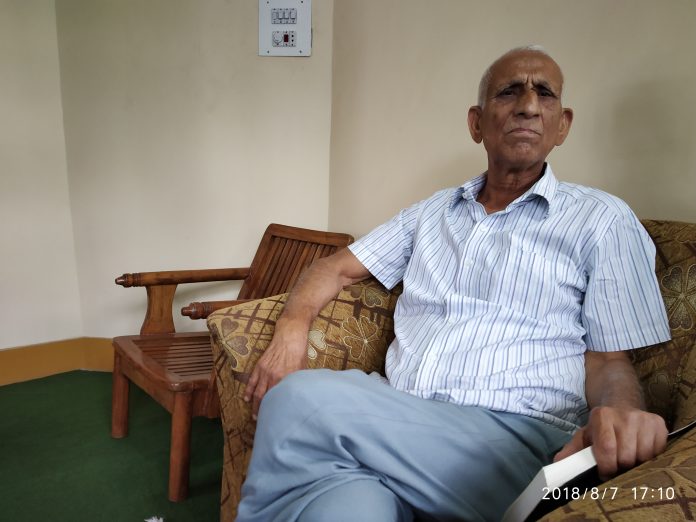 Pandit Sampat Prakash (Photo source: TwoCircles.net)
Here are the experts
Could you tell us a little about yourself?
I am a proud citizen of my state, Jammu and Kashmir; I was born in the downtown area of Srinagar City in a Hindu family. I was the chairman of J&K trade union centre, I am also the state president of Hind Mazdoor Sabha, and I am also the state president of retired gazetted/non-gazetted employees. I was heading many trade unions from time to time. I was arrested many times by different governments in the state related to my strikes and agitation regarding the matters related to the demands of employees. I have spent almost 8 years in different jails of the country.
Tell us about your petition regarding Article 35(A) in Supreme Court which you have filed decades ago.
---
In 1968, I along with 17 of my colleagues were arrested and booked under Preventive and Detention act section (13A) of Indian Parliament for launching a mass agitation against the government for low wages. Since this act was not applicable to the citizens of Jammu and Kashmir, I filed a petition in the Supreme Court challenging my detention under this act. My case is known as the Sampat Prakash V/S the state of Jammu Kashmir. In its Judgment, a five-member bench of the Supreme Court clearly ordered and I quote, "the word 'modification' as used in article 370(1) in the context of constitution includes as amendments as well. These are no reason to limit the word in Art 370 (1) only to such modification as do not make any radical transformation…."- the same kind of judgment came before that in Puran Lai Lakhanpal V/S President of India…a case where a five-member bench of Supreme Court ordered and I quote. "Word modification as used in Art 370(1) in the context of the constitution… we are therefore of the opinion that this word must be given widest effect to the meaning of the word modification word in Art 370(1) and in that sense, it includes the power to amend the constitution.
The five judges gave the judgement that the detained is not a convict and I, along with hundreds of Kashmir detainees who were booked under this act was released. So we were saved by Article 35(A). The point is Supreme Court has already dismissed a petition filed for the abrogation of Article 35-A decades back after it was challenged by me, so why this hue and cry this time?
Why do you want to defend Article 35(A)?
Because I want to preserve my identity, I want to save my culture, my heritage and my economy. As a member of Pandit community, a trade union leader and as part of Kashmiri society I want my Kashmiri pride and dignity to be restored, safeguarded and secured from all foreign intervention and nefarious designs. I have always taken pride in being a Kashmiri and thought for the rights of fellow Kashmiris. My struggle as a trade union leader is well known to all.
How will changes in the status of Article 35(A) impact the economy and the culture of the state?
First, we will lose state subject, which means anyone from outside state can get a job in my state. So I will have a lesser chance of getting the job in my own state. Besides that, the Tatas, Ambanis and Birlas of India will buy land here and they will establish their own industries and factories. They will modernise everything, as a result, we will lose our culture which was given to us by our ancestors. There will be no handicrafts, no paper mache and arts and emporiums will vanish. In short, the ways of our earning which was handed over to us by our ancestors will be over. They will modernise the Mughal gardens, we will lose our identity. As we know this article debars Indians from outside J&K from purchasing land and getting state government jobs in the state.
Tell us about this law since you have followed it closely. What is its history? 
I must tell you this is not a new law; this law is an old law as old as the formation of Jammu & Kashmir state itself. History tells us that this law was initiated by Walter Lawrence in 1884 when Kashmir became a part of British Empire and was sold to Dogras for 75 lakh Nanak Shahi. As a Kashmiri Pandit, for me this law is actually an outcome of the struggle of my ancestors like Jia Lal Kalim, Professor Jia Lal Koul, Shanker Lal Koul, Jia Lal Jalali and others who in 1880, when Partab Singh was ruling this land, started agitation for securing the rights of state subjects of Jammu & Kashmir. Even renowned representatives of Dogra Samaj like Om Prakash Saraf supported the said struggle and persuaded Maharaja to implement the law. For me 35A is not new and I am not fighting for its safeguard because it is in the Indian constitution, but for me it is a protection to my state subject law promulgated by Dogra Ruler Hari Singh in 1927 following a strong campaign by Kashmiri Pandit Community who was opposing the hiring of civil servants from Punjab.
For me, like my fellow Muslim Kashmiris and Dogra brothers, state subject law is a matter of life and death and fighting for it as sacred as anything. It is a matter of utmost shock and surprise that Indian Supreme Court has accepted to admit this new plea on 35 A. I am shocked because in past not once but twice, not any ordinary bench but a full constitution bench of 5 respected judges of the Supreme Court have already rejected or held these pleas invalid in the Past. Therefore, in my view, this matter in the first place should not have been admitted for a hearing and should have been rejected.
What is the stand of Kashmiri Pandits on this issue?
They are silent and silence amounts to death, but I must tell them they should join their Muslim brethren to save their culture, identity. Of course, there are some are very concerned about the issue. They will lose of getting jobs on the special package if they lose state subject.
Despite being a Kashmiri Pandit, you also led the protest against the establishment of Sainik and separate Pandit colonies in Kashmir. Why?
Because the creation of separate colonies was a challenge to Kashmiriyat and the majority of the Pandit population didn't accept this government proposal which was dividing the Kashmir society. The Muslims and Pandits have always lived like brothers, shared happiness and sorrows with one another. There are love and affection between these two communities but under a well-planned conspiracy Government of India with the help of some zealot Pandits want to create a wedge between Pandits and Muslims. So I was and will be against moves that attempt to divide the Kashmiri society.
What will be your message for your fellow Kashmir Pandits?
I have a humble appeal to every citizen of whole Jammu Kashmir including Kashmiri Pandits to stand up and rise above the considerations of your cast, colour, religion, language and even political beliefs. Unite and fight together to safeguard your special Status. Your uniqueness and your land state subject law is not important only to majority Community i.e. Muslims of Jammu and Kashmir… it safeguards us all. So let us all join hands to secure this law for our coming generations. As a Kashmiri patriot, it is my responsibility to raise my voice against this growing threat to our national life.
Courtesy: Two Circles