Gangrapes, murders and broken busts of Dr Babasaheb Ambedkar
Several stories are coming out Jind related to how the state has been failing Dalits in the region. On Jan 18, 2017, Ishwar Singh, an employee with Haryana Confed (Haryana State Federation of Consumers' Cooperative Wholesale Stores Ltd) committed suicide after months of harassment at the hands of corrupt officials and state administration.
Singh, a Dalit from Jind, Haryana, took the extreme step after he spent three months in jail when charges of corruption were filed on him. Singh had alleged that it was higher authorities who had been involved in corruption, but to acquit them, he, a lower level worker,was picked as a target.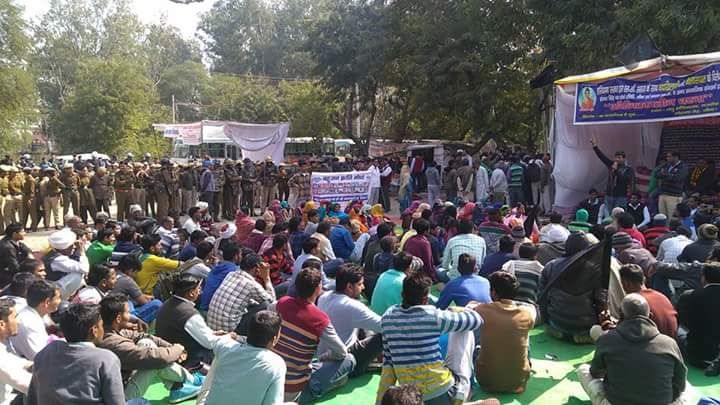 The protests in Jind have been going on for over 10 days now but the government is yet to act on the issue.
Although he came out of jail, he could never recover from the humiliation he faced. Having stopped talking to his family and even eating, he finally committed suicide on the night of January 17. After his death, the usual government promises followed, but not before the family had protested for five days outside the Jind Civil Hospital. The family was promised a thorough CBI inquiry into the corruption scandal, a compensation of Rs 10 lakh, and a job for one of the family members by state minister, Krishna Pawar. However, a year later, none of these promises have been fulfilled.
Another family, that of one Satish Kumar feels similarly cheated. Satish was a soldier in the Indian Army who died fighting Kashmiri insurgents. In a number of villages across the nation, martyred soldiers have a bust of theirs installed in their villages but since Satish was a Dalit, his bust was never installed in his village. Not only this, his family received neither compensation nor a government job as is the norm. Despite a number of pleas and visits to the Ministry of Defence and state government, there has been no response.
On January 9, 2018, a Dalit girl left her home in Jhansa village of Kurukshetra district for tuitions, but never returned. On January 12, her body was found about 2 km from her residence in the village of Rajvaha in Jind district. Post-mortem reports revealed that the girl had been gangaped and suffered vicious assaults. Her private parts had been penetrated with sharp tools which caused excessive bleeding leading to her death. Her body had bruise marks all over. A week later, one of the guys who was said to be a friend of the girl was also found dead. The family of the girl along with local Dalit activists sat on a dharna (protest) outside Jind civil hospital for over a week following which they were assured that the CBI would inquire into the matter. Again, the promises were never honoured.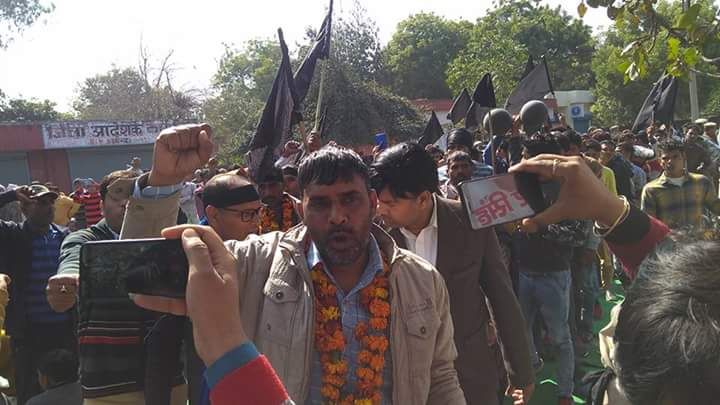 Protesters waving black flags in Jind, Haryana during the arrival of Amit Shah
This is not the first such incident in the region. Last year, a girl from Aasan village of Jind district was raped, following which she had to suffer humiliation at the hands of the public. In an extreme step, the girl committed suicide after consuming poison. Here too, the family was promised swift inquiry and punishment for the accused that was never delivered.
In many ways, these stories coming out from Jind are only a reflection of the deeply casteist nature of the society, says Rajat Kalsan, a Dalit activist and a lawyer from Jind. He points out, "In the past few years, there have been many reports emerging from Karnal, Kurukshetra, Jind, Panipat and Hisar about busts of Dr. Bhimrao Babasaheb Ambedkar being desecrated. However, not one person has ever been arrested in these cases. This shows how seriously the district administration takes cases where Dalit icons are humiliated."
Kalsan, who has been protesting along with the families outside the small secretariat in Jind for over 10 days, says, "Despite a series of attacks on Dalits, it seems the Haryana government is not at all interested. There are no constitutional bodies in the state to address Dalit issues despite the Constitution mandating it to have a National Scheduled Caste Commission."
Kalsan however, adds that he and the other protesters have been left equally disappointed with the support of people from all walks of life. "People who have benefited from the vision of Babasaheb Ambedkar are also silent on these atrocities…people and NGOs who claim a lot and talk 'big' are missing from these protests…one of the protesters Dinesh Khapad nearly died from the fast unto death yet not one person from the administration has blinked," he adds.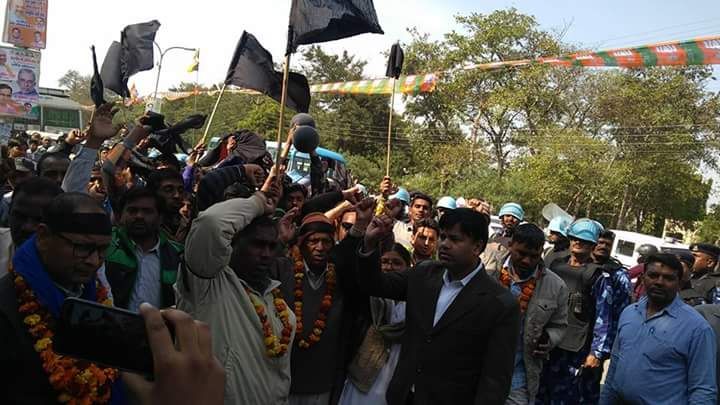 The protesters were detained for three hours on February 15
On February 15, six days after the protests started outside the secretariat in Jind, BJP National President Amit Shah was scheduled to visit the region. Rajat Kalsan, Dinesh Khapad and other protesters decided to waive black flags at Shah, hoping that the same would at least get the government to acknowledge their grievances. However, on the contrary, the police acted against the protesters and detained and were released only after three hours.
A detailed look into these cases, and a closer inspection of the caste realities of Haryana shows that despite strong laws such as Scheduled Caste and Scheduled Tribe (Prevention of Atrocities) Act, 1989 (PoA), there is a serious lack of will on the part of administration to implement the same. In most of these cases, the police do not even register FIRs until the community protests. Then, there is the inclusion of the PoA Act. "I will give you an example of how even this law is used to target us. Last year in Hisar, there was a row between Brahmin and the Dalit community over a public handpump, following which Dalits were beaten up. When we forced the police to include the SC/ST PoA Act, the Khap Panchayat called for social boycott of the Dalits who had filed the complaint. So, we filed a complaint against the people who had called for the boycott and made sure that these people are also booked under the Act as well. However, despite the Act being clear that offences under the Act are non-bailable, the sessions court freely released the accused on bail. When even courts do not want to help us, what options do we have?"
Kalsan knows a thing or two about how the police and the state machinery are complicit in these cases. "The attacks on Dalits are a systematic way to turn Haryana into a fight between Jats and other dominant communities versus non-Jats. The BJP government had no issue when Jats went on a rampage during their fight for reservations but refuses to even pay compensation when Dalits are raped and murdered," he says. Kalsan adds that time and again, he is accused by people of dividing people on the basis of caste. "I am a counsel for Dalit families of Mirchpur atrocity cases and for seven years, because of the nature of the case, I was given police protection. However, protection was then suddenly withdrawn. No reason was given on my asking why. ." He adds that for his efforts, there are more than 12 cases registered against him. "The law is strong, the people are not. And here lies the issue. We cannot achieve much unless the government wants things to change. And it seems this government is satisfied with Dalits being attacked and murdered," he says.