A few kilometres east of Gorakhpur railway station, there is a lake named Ramgarh Tal. Walking along the banks of the lake, one might get a feel of walking around Mumbai's seaside while looking at the multi-storey apartments under construction around the lake. The same path leads to Champa Devi Park where Akhilesh Yadav, the national president of Samajwadi Party and former Chief Minister of Uttar Pradesh, held a political rally on March 7 for the campaign of Samajwadi Party's candidate Praveen Kumar Nishad, who also adds 'Engineer' as a suffix before his name.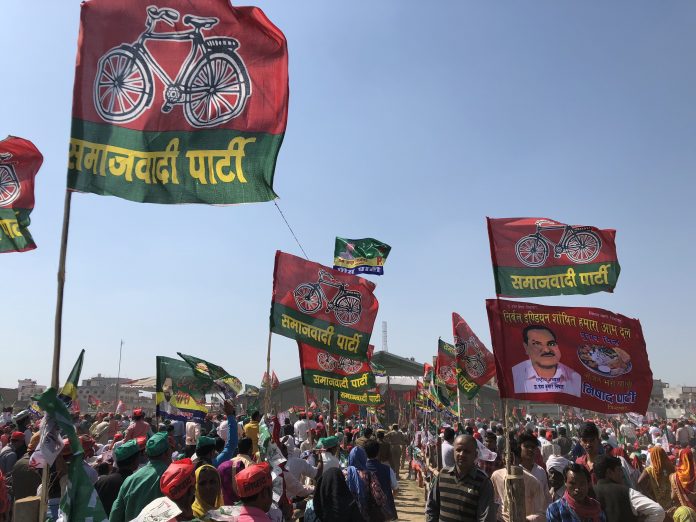 By Siddhant Mohan, TwoCircles.net

Akhilesh Yadav sat on the stage with senior leaders of various small political outfits of the state, strengthening the argument that he has succeeded in forging a sort of "grand alliance" in Uttar Pradesh as well.
 
Along with him, Rajendra Chaudhary from SP, Dr Ayyub from Peace Party, Sanjay Kumar Nishad from NISHAD party, and RK Chaudhary from Rashtriya Swabhiman Party also shared the stage, with their joint candidate Praveen Kumar Nishad standing on the left side of the stage.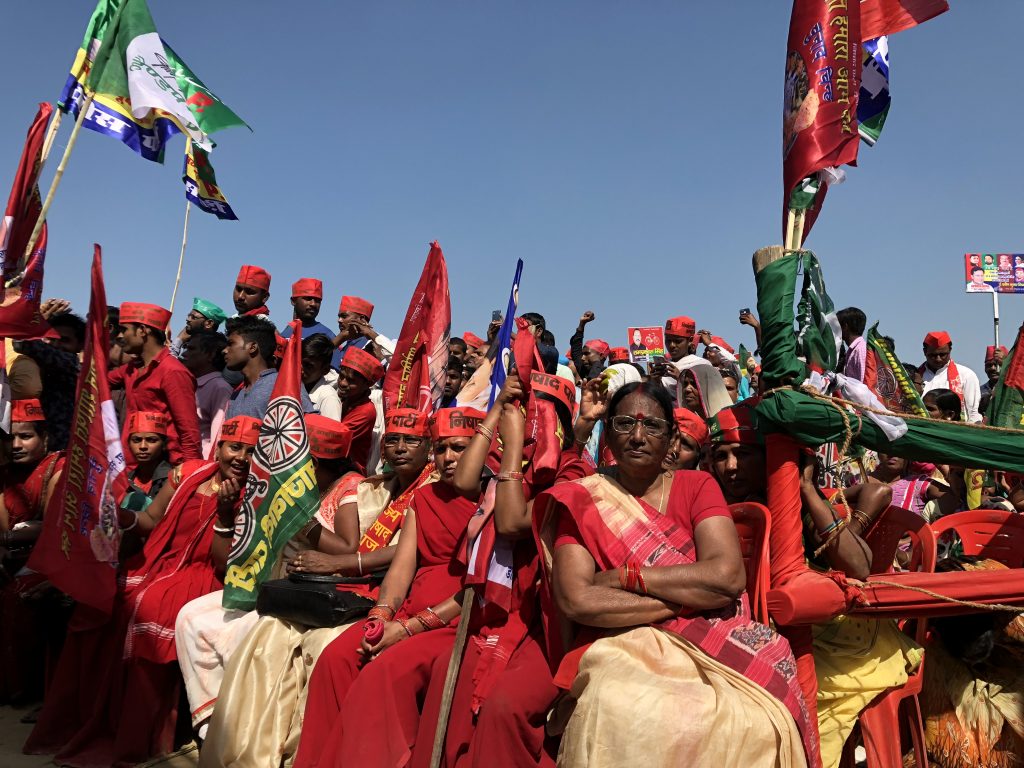 Apart from the above-mentioned political parties, several Communist parties, Rashtriya Lok Dal, and Rashtriya Vikas Party have also joined this alliance in Uttar Pradesh before the by-election in Gorakhpur Lok Sabha constituency to be held on March 11.

Dr. Ayyub, the founder-president of Peace Party made the aims of the alliance clear while speaking on stage. "A secular alliance comprising every group of the society needed in the state. This alliance is a first major step towards that.

"We will bring justice to Dalits, OBCs, Muslims and poor people in the polling on March 11," he said. Even though the Peace Party does not have much of a base in Gorakhpur, it has a long association with NISHAD party. Even in Muslim-dominated localities of Gorakhpur, people have only heard of Peace Party. Rashid Qureshi, a 43-year-old meat seller in Urdu Bazaar of Gorakhpur, said, "We know about Ayyub, his son, and their party. But I must add here that we have not seen them ever among us."

Muslims in Gorakhpur are likely to vote in the majority for the newly-forged alliance but the only reason behind this is the name of Samajwadi Party, which is an old favourite of Muslims of the state. "Samajwadi Party is only alternative to the Bharatiya Janata Party, and that has nothing to do with Peace Party or its campaign," added Qureshi.

However, one of the biggest game changer in the by-election equation is the NISHAD Party. The 'Nirbal Indian Soshit Humara Aam Dal' better known as NISHAD party was founded by Sanjay Kumar Nishad, who has also been a member of The All India Backward and Minority Communities Employees Federation (BAMCEF). Experts in Gorakhpur believe that in the last few years, BAMCEF-trained Sanjay Kumar Nishad has managed to create a large base in the rural areas of the district.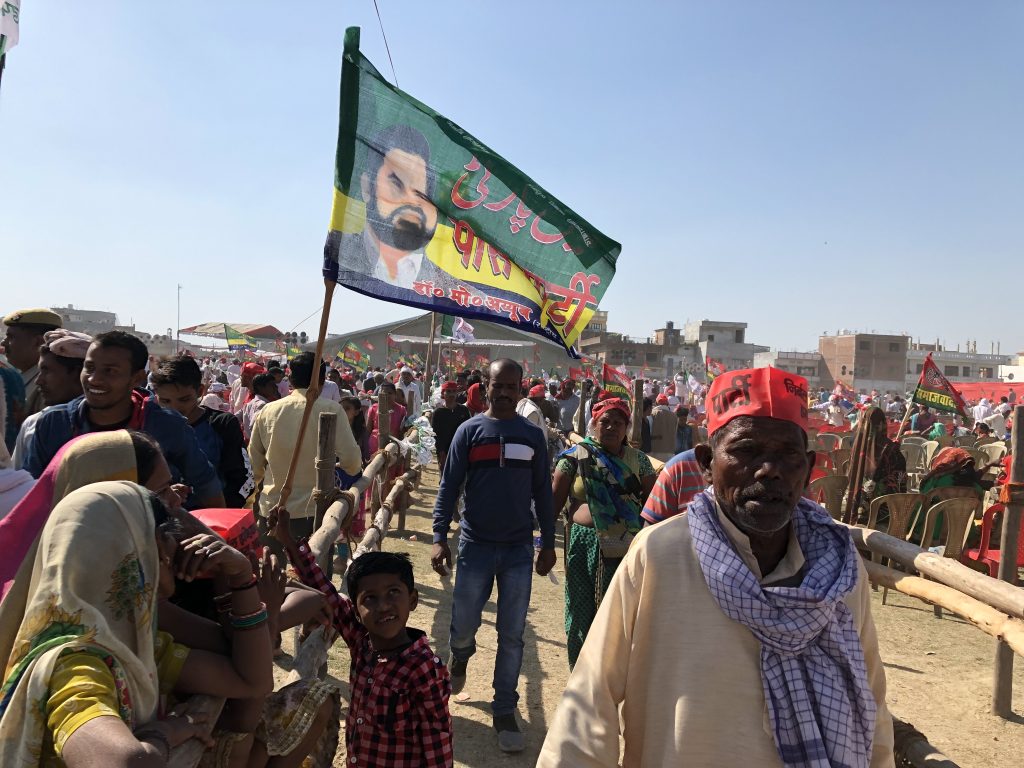 Maybe this explains the reason behind the huge turnout in March 7 rally of Akhilesh Yadav in Gorakhpur. "We did not have to do much to gather people here. Workers and supporters of NISHAD party did most of the work to gather people here," confessed one of the workers of Samajwadi Party on the condition of anonymity.

On Tuesday, March 6, hundreds of Nishad party members along with Sanjay Kumar Nishad entered Gorakhnath Temple and prayed for their win in the election. Sanjay Nishad conducted a press briefing outside the temple and made the same old, but well-known claim that the Gorakhnath Temple belonged to the Nishad community and lashed out at Yogi Government. This issue has often been brought up by the Nishad community especially in the context of the current politics of Gorakhpur, but very few media outlets carried the news next day.

According to journalists and the spectators, the rally on Wednesday was one of the biggest political rally someone held for the upcoming elections. Women, children, and senior citizens were fairly visible in the crowd. Sunita Devi, a 36-year-old housewife who held the flag of NISHAD party high, told TwoCircles.net, "It is an added attraction for us to see Dr Sahab (a famous nickname for Sanjay Kumar Nishad) with Akhilesh Ji. Yogi Ji is the leader of the temple and the people around it, but this alliance will take care of all."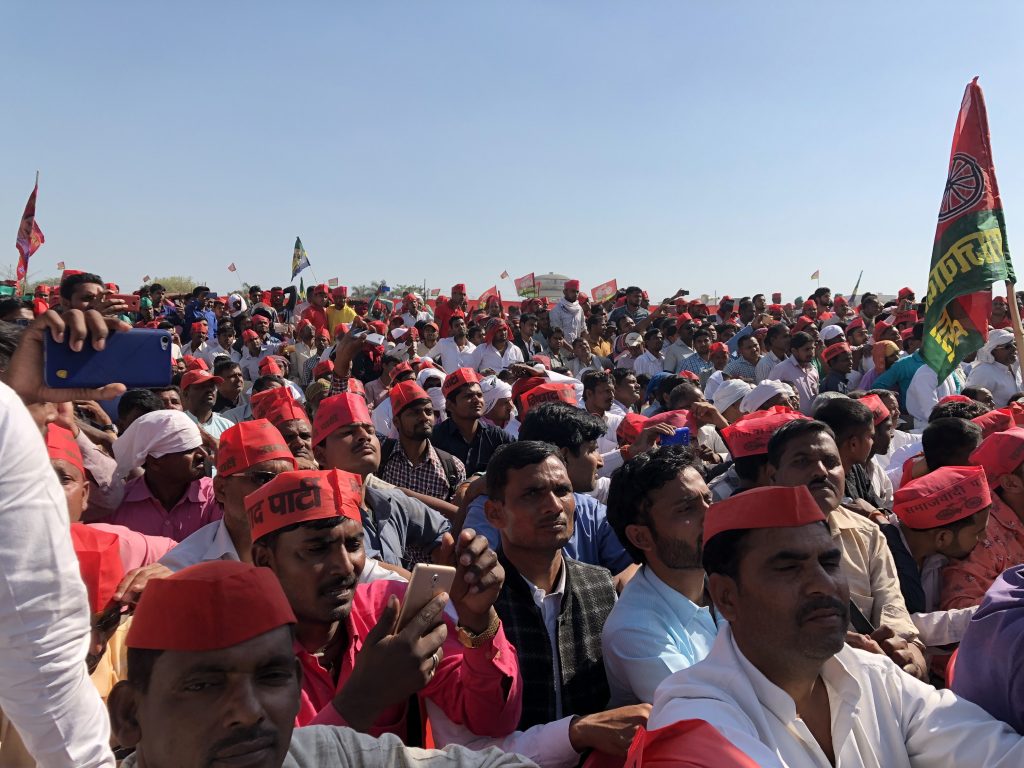 In his address, Sanjay Nishad called the 'BJP' the "Bharat Jalao Party" and said, "This (the alliance) is an attempt to consolidate the 70 percent votes which were cast against BJP in last general elections, and we will succeed in doing that."

He further said, "I have committed my son — Gorakhpur candidate Praveen Kumar Nishad — to the principles of Samajwadi Party," a statement which Akhilesh Yadav endorsed later by saying that "Praveen is the son of NISHAD party, but he is also the younger brother of the Samajwadi party."
 
Sanjay Kumar Nishad also attacked Yogi Government, holding them responsible for infant and child deaths in Baba Raghavdas Medical College, Gorakhpur last year. "Yogi should have been resigned from the post taking moral responsibility of the same, but he did not," Nishad said.

It is important to note that the Samajwadi Party started losing ground support in Gorakhpur since Yogi Adityanath aka Ajay Singh Bisht became the MP of Gorakhpur. It was always the division of votes of Nishad, Muslim and other backward communities between several parties which used to give a huge winning margin to Gorakhnath Temple. But the current by-election has put SP back in the fight. Ravi Kumar Gaud, 32-year-old rickshaw puller said, "I used to give my vote to Bahujan Samaj Party (BSP) or NISHAD Party, but this time I hope my vote to SP will not go for a loss."

As the BSP has extended support to SPs alliance for the by-election — even though none of the leaders from BSP was present on Wednesday rally — a major chunk of votes are likely to shift towards SP alliance. Raju Kumar, a 29-year-old jobless voter shares, "We have the conviction to vote for BSP since long. But in this election, Mayawati has told us to go with SP. Hope that will change something."

The mysterious Tiwari Hata, which is 'silent' this time
The rift between Brahmins and Thakurs in Gorakhpur is not new, but it came out in the open after a raid that was conducted on 'Tiwari Ahata' or more popularly known as 'Hata' — the house of Harishankar Tiwari, Yogi's rival in Gorakhpur situated in the middle of the Gorakhpur — soon after Yogi sworn in as a Chief minister last year.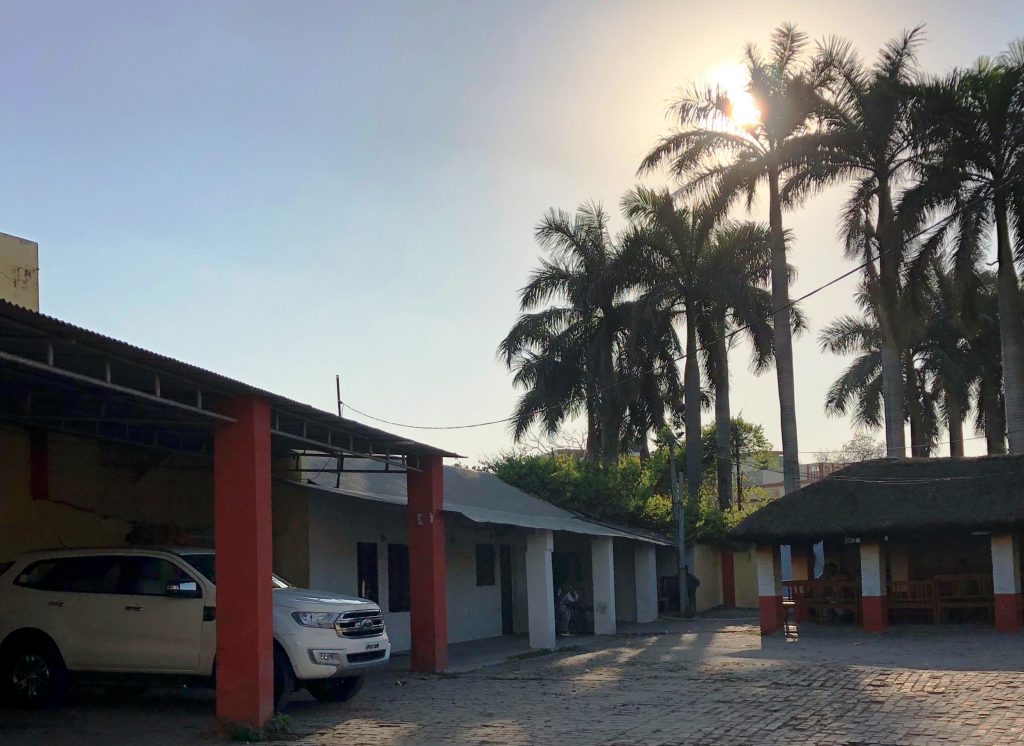 Tiwari Hata of Gorakhpur (Image: Siddhant Mohan/ TwoCircles.net)

Ex-cabinet minister and BSP leader Hari Shankar Tiwari has been a source of Brahmin pride in Gorakhpur and nearby areas. Considered a Bahubali, Tiwari has succeeded in creating a centre of Brahmin consolidation in Gorakhpur, a city which has a large chunk of Thakur voters. Yogi Adityanath, who comes from a Thakur background, has been a rivalry of Harishankar since he bagged the Loksabha seat of Gorakhpur 20 years ago.

Tiwari, who has been one of the favourites of BSP leader Mayawati, faced humiliation after UP Police conducted a raid on his residence on April 22 last year, and apprehended six people. Irrespective of the administrative explanation, people in the Gorakhpur knew that the raid was conducted on the direct orders of Yogi Adityanath, who wanted to humiliate Tiwari. Otherwise, there was no specific reason which caused the police to dare to enter the premises of Harishankar Tiwari's house after almost three decades.

But even after such episodes, Hata does not speak. None of the members of the family of Harishankar Tiwari or any of the men living in the Hata want to speak to the media over election strategies. We entered a 'Hata' early evening and met Bahubali Mishra, one of the several managers in Hata in his early 30s. After many attempts, Mishra spoke freely, "Everyone knows here that BSP has supported Nishad candidate of SP. But we see no activity in Hata about that."

It certainly feels strange that owing to BSP for a powerful politics, Hata seems silent when it actually has the chance to defeat Yogi Adityanath or BJP or the power centre of Gorakhnath Temple. The compound is filled with four-wheelers, but they rarely leave for campaigning. None of the vehicles or establishments has the flag of Praveen Kumar Nishad or Samajwadi Party or even the BSP. Mishra concludes by whispering, "This is not an election day in Hata. We are doing almost nothing besides our daily managing activities."

Vinay Shankar Tiwari, Member of Legislative Assembly from BSP and son of Harishankar Tiwari, is in Lucknow for assembly session. Another worker tells us, "MLA Ji is in Lucknow. If he would have given us responsibility, people would have been roaming around campaigning."

The idleness implies that the Hata does not want to oppose the BJP this time, which has fielded Upendra Dutt Shukla, a Brahmin. Rather, the Hata seems unaffected with the politics going on both sides. Senior journalist Manoj Kumar Singh tells, "Hata has always been following a closed-door politics leaving everyone in dark. But this time they are not even trying to consolidate Brahmin votes against BJP. It seems that they are trying to keep themselves out of the equation."

But where will the Brahmin votes go in the absence of Hata's voice? Akhilesh Kumar Pandey, a 39-year-old social activist, says, "Brahmins, especially the ones who are not part of the set up of Gorakhnath Temple, have a long history of opposing it. But when it comes to lining up with Nishad or Muslims, we refrain. So obvious choice would be going with BJP."

Usually, Brahmins tend to go against Yogi Adityanath, but seeing his diminishing power in the larger politics, the Brahmins may support BJP's Shukla. "In absence of a voice from Hata, people have no one to influence their insight. So they may go for BJP this time," added Pandey.

Hindu Yuva Vahini: A missing 'talk of the town'
"When I hear the word Hindu Yuva Vahini (HYV), two things come to my mind: Yogi Adityanath and Gorakhpur," says Pankaj Jaiswal, a fellow traveller with us to Gorakhpur. But keeping the HYV in focus, no one in Gorakhpur talks about Yogi anymore. Keshav Kumar Singh, 32, a member of HYV, meets us in Gorakhnath Temple. Keshav says, "Soon after Yogi Ji won the election, we were almost stopped assigning tasks. Soon, upar ke log cleared to us that we have to look at the organization's function and agenda unlike what we were doing earlier."

Singh clarifies. "Earlier, we had to create a momentum in the society about Hindu pride and the young generation's association. But we all are now a part of a larger politics which is controlled by Bharatiya Janata Party, so we exercise other sorts of tasks."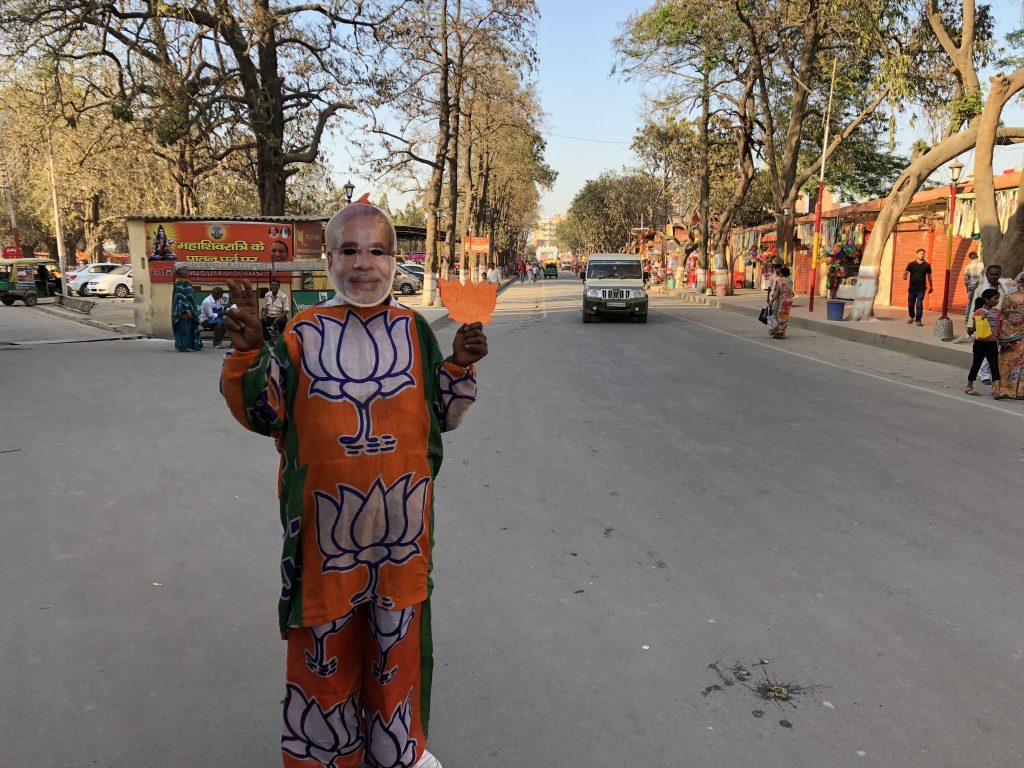 A BJP supporter at Gorakhnath Temple (Image: Siddhant Mohan/ TwoCircles.net)

Most of the members of Hindu Yuva Vahini have either left or joined other organisations. Many work with the BJP, many shifted to some other party, few have left the path of radical politics and are now involved in a business. However, there remains a small section of people who are willing to revive the Vahini even after Yogi's denial. One of such member talked with TwoCircles.net on the condition of anonymity. He said, "Yogi Ji does not need the organisation which actually built his stature as 'Hindu Hriday Samrat' (the king of Hindu hearts). He has a larger base of workers from BJP and Rashtriya Swayamsevak Sangh which is spread in more diverse areas, and they are doing enough to keep him in the sky."

"Now many of the members of HYV take orders from BJP's small-scale leaders, which is somehow not understandable because it was Yogi earlier who used to be our boss. But we know that if we want to be involved, we have to accommodate with the new development," added the member who admitted that he has been trying to get a ticket for next village-level elections.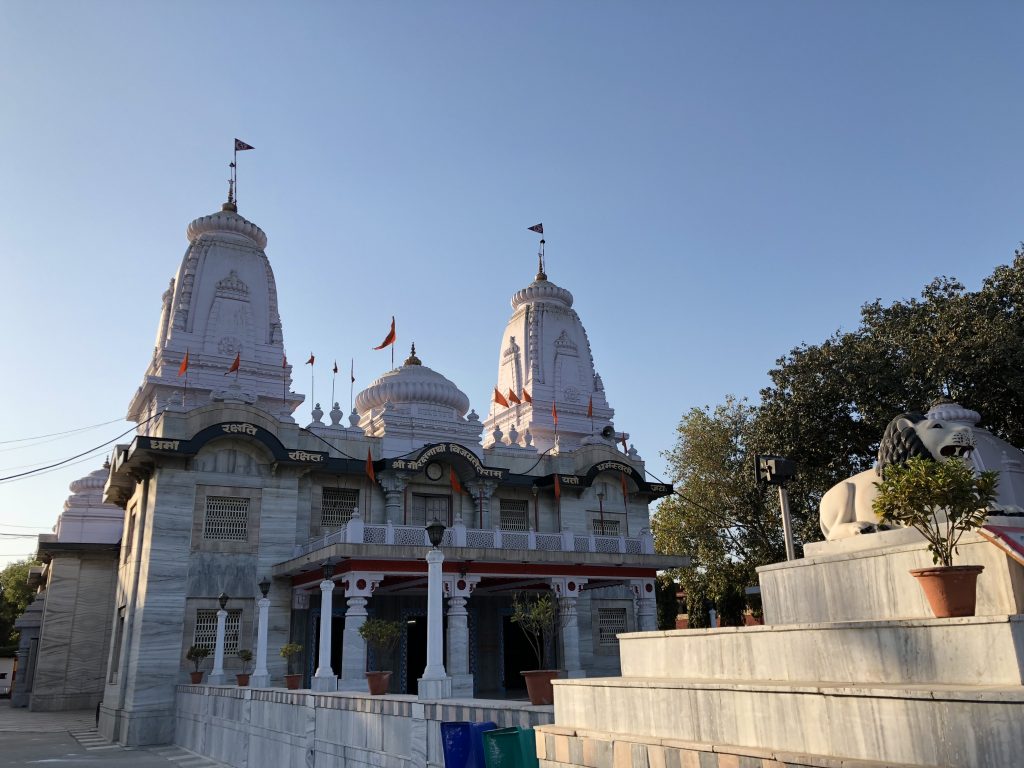 Gorakhnath Temple in Gorakhpur (Image: Siddhant Mohan/ TwoCircles.net)

With the candidature of Upendra Shukla, the claim to govern Gorakhpur has slid from the hands of Gorakhnath Temple to the BJP. With this, one of the last local reasons to keep Hindu Yuva Vahini alive has also come to an end. Many in Gorakhpur were influenced by HYV groundwork, but now at least among the lower castes and Muslims, the BJP does not have a good image.

Even Yogi Adityanath did not want to have Shukla as a candidate because the latter never had good relations with Yogi or his camp. Maybe this is the reason that workers close to Yogi Adityanath are half-heartedly involved in the campaign. But Yogi has sorted his ties with Shukla, which explains why just a week back, Yogi arranged the quick and efficient treatment of Updendra Shukla when he was diagnosed with a blood clot in his brain.

BJP might be covering the story of Shukla's illness and his comeback in just five days of time after operation, but Shukla is not clever enough to do that as he announces from the stages now, "Yogi Ji has saved my life."

Muslim factor supports the new equation
Maybe it is the new social engineering of Samajwadi Party, or the recent anti-Madrasa or anti-Muslim announcements or decisions by the Yogi government, or even the recent interference with the personal laws, but Muslims are clearly alienated from the Yogi camp this time. This also applies to Rasoolpur, a Muslim-majority locality surrounding Gorakhnath Temple, where a fair amount of Muslims used to vote for Yogi Adityanath as his camp inside the temple still deals with the everyday problems of Muslims.

Mohammad Shamim Ansari runs a cloth shop in Rasoolpur. He said, "This time, we are keeping our political and social equations far apart from each other because socially, the Temple helps us in the everyday matter, no doubt. But when it comes to politics, there is BJP which is strictly against Muslims. Many of our brothers are not voting for BJP this time."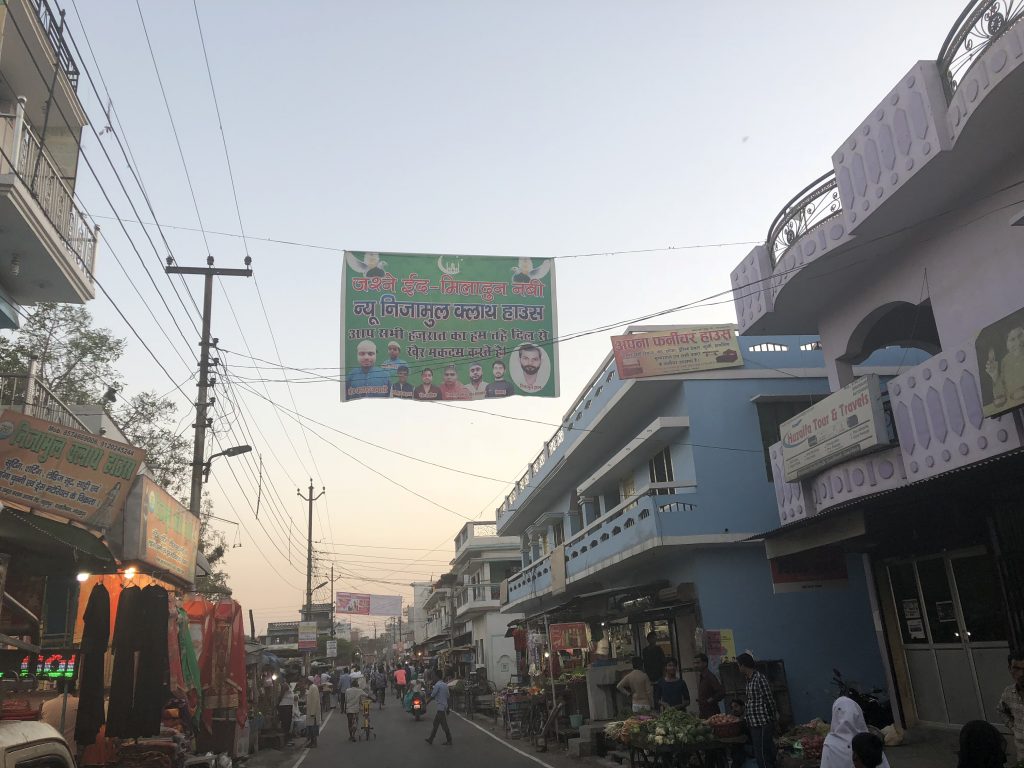 Rasoolpur locality of Gorakhpur (Image: Siddhant Mohan/ TwoCircles.net)

"Many of us are of the opinion that we will collectively go for Samajwadi Party, as many of us had already been doing that, which will make our survival easier, at least in Gorakhpur," adds Ansari. If claims made by Ansari stands correct, then BJP might lose few more votes of Muslims, apart from those of Nishads, Jatavs, a few Brahmins and other backward castes.

But will these changes in social equations affect Yogi's kingdom for the two decades? Let's look at the numbers. In the general elections of 2014, Yogi bagged 51.8% votes and ended up winning the election with the margin of 3.12 lakh, a number which was not touched by SP, BSP, and Congress collectively in the same year.

SP and BSP, have both been picking Nishad and Brahmin candidates alternatively for the past many Lok Sabha elections thereby cutting the votes of each other thus handing over the seat to BJP almost as a gift. So the past numbers indicate that indeed BJP is on the victory side, but the newly-forged alliance between SP and BSP by including NISHAD party in between is sparking a debate that first time in three decades, Gorakhpur is going to witness a real political fight.

If 3.5 lakh Nishad voters, 2 lakh Dalit voters and about 2 lakh OBCs in Gorakhpur consolidate without much difference, it may give rise to a new political episode in the district.

No game for Congress, yet again
In Gorakhpur, there is either Yogi Adityanath or Samajwadi Party. Almost no voter in Gorakhpur talks about Surahita Karim Chatterjee, the Congress candidate for upcoming by-polls. Karim is a well-known name in Gorakhpur and tries to win the election, but even many of the state and national level leaders and planners of Congress party do not have high hopes for her.

A senior state-level party worker told TwoCircles.net, "Surahita indeed is going to lose her deposit this time. It was never a fight for us, even though she performed well in 2012 Mayoral elections."

For the past many years, Congress' vote percentage has remained between 2.6% and 4.9% and almost every time, it has lost its deposit. And this time too, all thanks to the polarisation of votes between SP and BJP, Congress may face the same fate again.

The social engineering adapted by Samajwadi Party, and formulated by NISHAD party, has made the by-election extremely interesting in Gorakhpur. If this alliance performs well on March 11, the alliance may continue for 2019 general elections also, but it is indeed sure that if BJP witnesses a tough win or even a loss, Yogi will sure try to take back the charge.

Courtesy: Two Circles