If our mainstream media is to be believed, nothing good happens near or at the India-Bangladesh border. Every now and then, an 'expert' will tell us how the border is witnessing illegal immigration, smuggling and other illegal activities. However, as usual, if you scratch the surface, the truth about the struggles of people living in these areas come out. And the story of Farhana Firdous, a 25-year-old resident of Murshidabad district, is a testimony of how adversity can spark the birth of an incredible talent. Despite much hardships and the daily struggles of being a Muslim woman who wants to study, Firdous has excelled and secured three medals for her Master's degree in Physiology from the University of Kalyani, West Bengal, in its 28th Convocation held in September last year. Mind you, this is not the first time that she has won medals and given her career path, it is unlikely that this will be the last time her efforts are awarded.
Firdous scored 86.8% in her M.Sc degree that bagged her three medals from three different fields. She was rewarded with silver 'Professor A.G Datta Endowment Medal' for standing First Class First for her M.Sc degree, gold for 'Mitali Memorial Medal' for obtaining Highest Marks among the recipients of the same degree under the Faculty of Science and bronze 'Satish and Tulsi Manna Memorial Endowment Medal' for standing First among all the successful candidates at the Post Graduate Examination under the Faculty of Science.
In 2014, she bagged the fifth position among the undergraduate students of 49 colleges under Kalyani University scoring 67.8% marks. She got 82.4 % in her matriculation and 72% in 10+2 in Science stream.
Though it is a fact that she is really an intelligent student, her journey up to this success was never smooth and clear. The first and foremost drawback for her was opportunities from her very early life. She resides at a 2 k.m distance off from the Bangladesh border where people hardly get most of the social amenities. Her village, Katlamari under Raninagar police station of West Bengal's Murshidabad district, is about 60 km from where she used to go to attend her tuitions at Baharampur, Islampur, Domkal localities because of the non-availability of tutors in her locality. The distance only increased when she took admission for her M.Sc degree at the University of Kalyani, about 200 km from her home after finishing her schooling at her locality and graduation from Baharampur Girls' College in 2014.
While talking to TwoCircles.Net, Farhana shared her experiences of the journey. She sets out at 3.a.m from her home to attend her classes. She says, " Most of the times and even till now, I had to get ready at around 3.a.m of night. I start first cycling to Sekhpara located 2 km from our village to take a bus to Baharampur. After that, I have to take a train to reach my university in order to attend my classes. Many times I missed the first class because of the non-availability of buses at Sekhpara."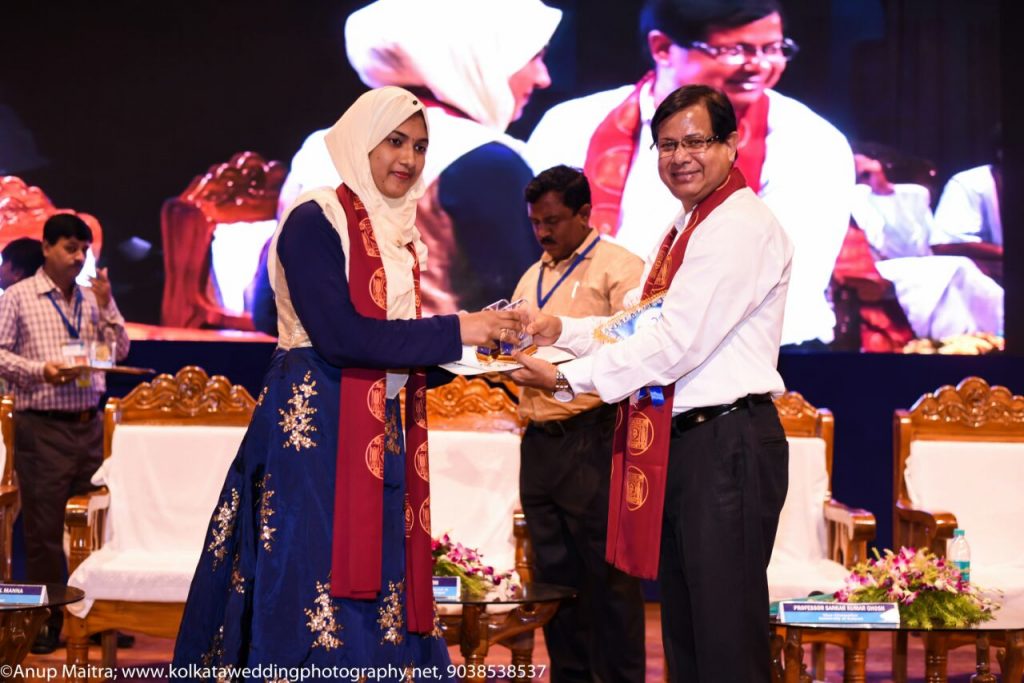 Farhana Firdous receiving her Medal and Certificate from the V.C of Kalyani University
.
This problem, according to Firdous, is far bigger than the rebukes and rebuffs of the neighbours because of her being a woman coming from a Muslim family. But she kept her endeavour intact to pursue her higher studies and fulfil her dreams at a large.
Firdous says that all she has achieved is thanks to her family, which has always stood by her side in order to fulfil her dreams. In this regard, she says, "While my family supported me in the possible way, many rebukes and rebuffs my family and I had to listen from my localities for my womanhood. Marriage and social settlement were their prime concern that they wanted to impose upon my family and to me, but that was never a matter to introspect to my family until my success."
Her mother, Nazmun Nesa Begum, a housewife, concurs: "I wish she secures a good career after such a toilsome journey through both social taboos and academic hardships."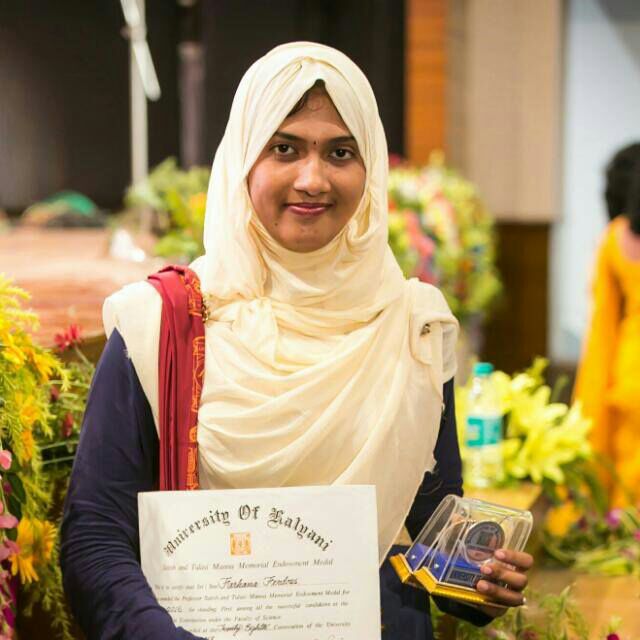 Farhana Firdous with her Medal and Certificate
While Firdous says that many people have inspired her, her biggest source of inspiration was her late grandmother Nur Nahar Begum. Firdous' father, Firoz Shahjahan, a contractual school teacher under Matriculation Seva Kendra Scheme, says, " my mother was her sole strength to reach up to this position. She was the first to come forward to get Firdous admitted to the Kalyani University. Thanks to her blessings, she became the first woman in our family to earn a Master's degree in Science."
Among other names who inspired Farhana were her Professors- Dr Gautam Paul, Dr Subhasish Sahu, and Dr LakshmiKumari Lahiri. In fact, it was Dr Paul, Farhana shared, whose inspiration resulted in her success. TwoCircles.net managed to talk to Dr Paul who is the former Head of the Department of Physiology. He says, "She is a very intelligent and diligent girl. She illuminated us coming from one of the most socio-economically minority populated districts of India. I wish she keeps this trend of illuminating success up in her future and let us feel pride for her."
For the time being, Farhana is preparing for NET Exam and wishes to pursue her research on Human Physiology in her PhD degree.
She now aspires to run a Career Counseling programme in her locality. Sharing her experiences, she said, " I was not aware of different streams as a part of curricula and hence different lines for job markets until my coming into the university. I believe that if a student has knowledge on many things, he/she can easily choose his/her preference to follow as their career and it lacks among the students of my locality who are in their Matriculation or +2. So, I have a dream to organise frequent Career Counseling for all of them so that they can way out their career." No matter what path she takes, it is clear that Firdous will continue to prove her doubters wrong.