Activists, human rights defenders and journalists welcomed the letter from the UN Special Rapporteur to Twitter questioning why the social media giant was silencing users who sharing Kashmir-related content.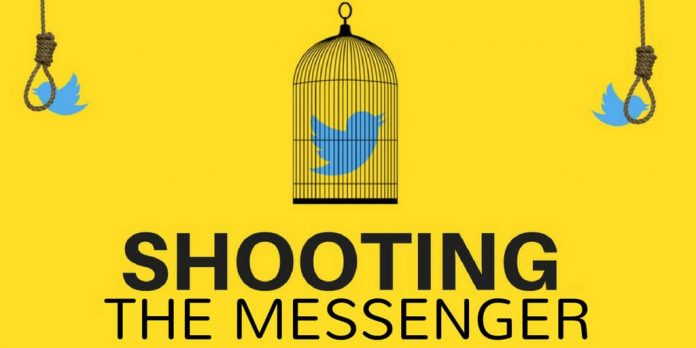 On Friday, for the first time ever David Kaye, the United Nations Special Rapporteur on freedom of opinion and expression wrote to Twitter CEO regarding the blocking of Twitter accounts of Kashmiris and users who shared or posted Kashmir-related content.
Kaye has asked Twitter to provide complete details of the request made by the Indian Government about the withholding of Kashmir content and blockage of Kashmir Twitter handles.
Taking to social networking site Twitter, 
David Kaye
wrote: "platforms may be improving but they are often opaque to users whose accounts are suspended or posts hidden from view, esp when under pressure from governments. for case in point see my letter to @jack @twitter re #Kashmir #India:"
Scores of Kashmiris have complained that their accounts were withheld and many of their tweets are being removed by Twitter for sharing the content related to human rights abuses in Kashmir.
Why does Twitter delete/withholds accounts?
Journalist and activist Irfan Mehraj thinks Twitter deleted or withheld Kashmiri accounts or censored Kashmir related content on request from the GoI (Government of India) because they would not like Kashmir's ground realities to be discussed openly and independently.
"Government wants to control the flow of information coming from Kashmir because it goes against its conduct there," he says. Irfan believes that the Indian government has put a lot of pressure on social media platforms to comply with their demands and both Twitter and Facebook have complied without caring for the human rights of its users, which Kaye has also highlighted.
Irfan, who has faced censorship from Facebook multiple times, says several of his posts critical of Indian government's conduct in Kashmir were taken down during summer uprising of in 2016. On October 24, his publication Wande Magazine's official Facebook page was removed by Facebook without any reason or intimation or warning.
"It was taken down by Facebook in October. Due to the pressure we built on social media and relevant channels and after continuously writing to Facebook, we were able to get the page back," he adds.
This 'random and unnecessary' act of censorship by Facebook has left Irfan wary of its promises of being a "powerful platform for promoting free speech and expression".
"In Kashmir, we have seen other alternative media pages getting censored in this way while pages which are known to have published and circulated fake news are operating without any tabs or questions. This is unjust and unfair," he says.
Recently he was blocked by Facebook for 24 hours without any warning. This has happened with a few other Kashmiri journalists and news websites like Free Press Kashmir and The Kashmir Walla.
For the people, social media is an important medium through which they seek to highlight the human rights abuses by the Indian forces in Kashmir. People post videos of armed forces torturing civilians, mutilating bodies of militants and vandalising public property after the encounters. It is also being used to counter the Indian narratives in Kashmir.
On August 31 last year, Wasim Khalid, a Srinagar-based journalist, received an email from Twitter stating that the Indian government had objected to some of his recent tweets.
One of the tweets that Twitter later removed from Khalid's timeline was posted on June 16 of this year. Waseem says it was a picture showing two Indian soldiers standing next to a Kashmiri boy who was handcuffed and made to sit on the ground. Khalid's tweet read: "A teenager being used as a human shield by Indian paramilitary man in #Kashmir to stop other pro-freedom leaders from moving ahead."
Similarly, Srinagar based online web portal Free Press Kashmir has faced censorship multiple times on Facebook. On December 14, the social media page of Free Press Kashmir was banned from publishing by Facebook. Its editor, Qazi Zaid while speaking to TwoCircles.net believes it was incorrect reporting and flagging that was a reason for their Facebook ban.
He says his web portal has reported in details regarding withholding of Twitter accounts, deleting tweets on the request of the Government of India.
He says four of their stories were removed, and later restored. "These were critical of the right-wing BJP, critical of UP Chief Minister Yogi Adityanath and PM Narendra Modi to be precise. One story has been permanently removed from our page, in addition to a 48-hour period during which we were stopped from accessing our page" he adds.
A Turkey-based Kashmiri Journalist Faisal Mohammad who was also served with a legal notice by Twitter says Social media is not just a platform for Kashmiris to document human rights abuse and comment on the situation in Kashmir. It has manifested itself into a weapon against 'Indian propaganda'. "And as such you see UNHCR reports and David Kaye's involvement into Kashmir. That's why India wants to set up 'information warriors' to fight the narrative of Kashmiris online," he adds.
Faisal says there are many fake accounts which are run by the government and army masquerading as Kashmiris on Facebook and Twitter who are agent provocateurs on comments and tweets. He is hopeful this statement will serve as a wakeup call for Twitter and other social media platforms, which are pro-people in the west, and pro-government in the east.
Twitter is India's fastest growing market
Since the BJP came into power, Twitter has actively created partnerships with BJP governments both at state and federal level which is understandable as India is the largest and the fastest growing market for Twitter.
The moderators of Twitter would have to comply with the state's policy. India like other authoritarian countries has sent countless requests to take down content which the country deems illegal. It has sent legal notices, mostly to activists in Kashmir and also journalists. "It definitely means that Twitter is collaborating with the Indian state in censoring voices from Kashmir," Faisal says.
Noted Human rights activist Khurram Parvez who is an active user of Twitter and usually posts stuff related to human rights abuses in Kashmir, says it is important that various UN Special Rapporteurs have slowly begun to monitor human rights situation of Kashmir.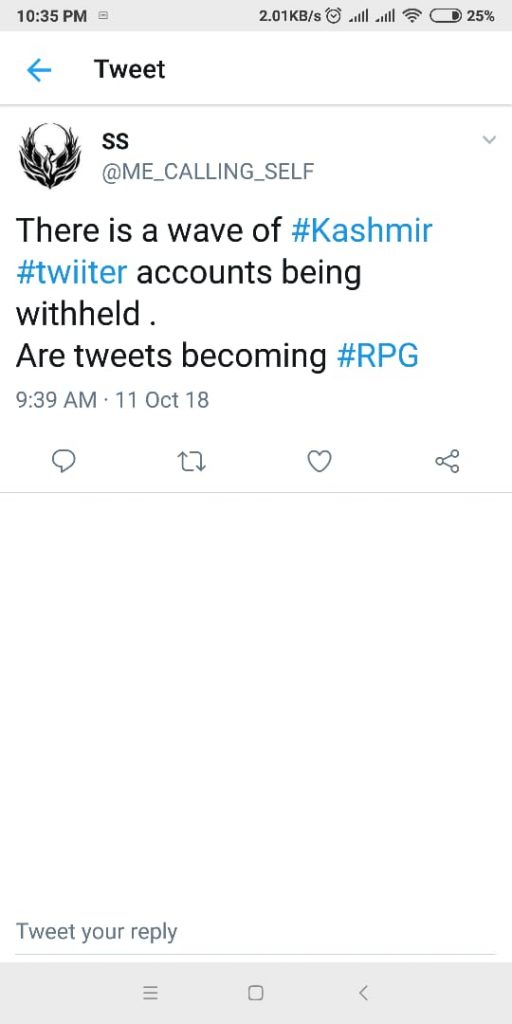 "David Kaye's letter to Twitter for withholding Twitter handles of Kashmiris will certainly push Twitter to rethink how they were unethically and illegally strengthening the Indian state's efforts of choking of democratic rights of Kashmiris. Twitter perhaps was obliging India because of business interests with India" he says.
For Qazi Zaid, there is a different approach from Twitter, when it comes to the subcontinent. "Champions of free speech and democracy take a very authoritarian position of the government to curb free speech and freedom of the press," he adds.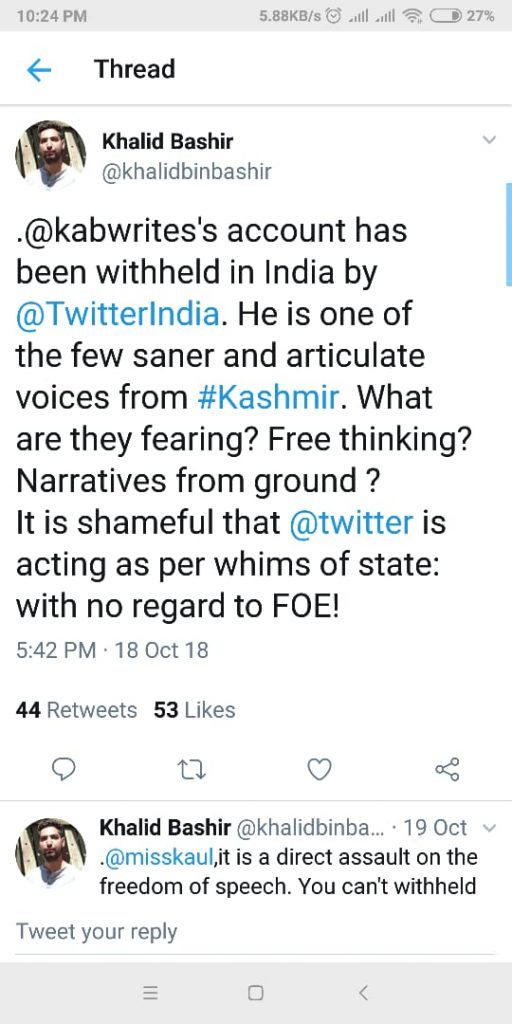 Courtesy: http://twocircles.net/