As the students' strike in Tata Institute of Social Sciences (TISS) entered the 18th day, Advocate Prakash Ambedkar, National President, BHARIP (Bahujan Mahasangh) came out in support of the TISS strike regarding the Government of India Post-Matric Scholarship issue. Adv Prakash Ambedkar has given a call for rally to the Vidhan Sabha. Samyak Vidyarthi Andolan, the students' wing of the BHARIP Bahujan Mahasangh, will organise a protest march to the Vidhan Sabha on March 15 to raise the issue of scholarship for students of backward classes.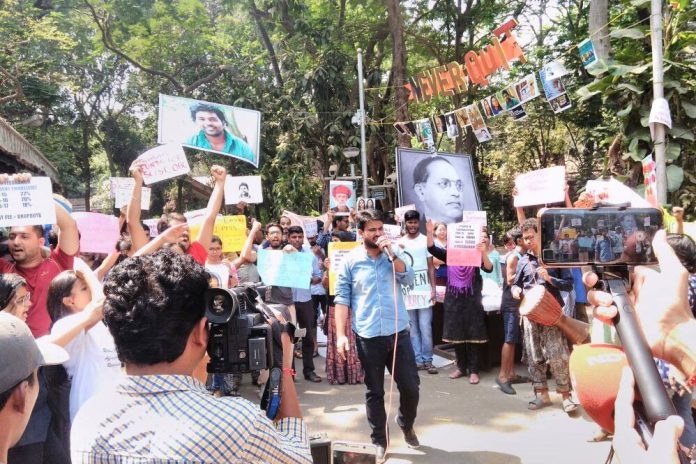 The BHARIP president addressed the protesting students of TISS along with Rekha Thakur, General Secretary Of BHARIP and said that education is a constitutional right to be guaranteed by the state. But the current and previous governments are acting like it is a family responsibility. Further, he said the fight for educational rights have been going on for long and it is appreciable that TISS students have been fighting not only for their rights but for the future generations also. The issue of scholarship, said Adv. Ambedkar, is such that in colleges in small towns, students have not been paid scholarship and had to discontinue their education. He also added that the fight is against the management and also against the state.
In a Government resolution released 10 days ago, the Maharashtra government said that the state will only fund 30% of OBC scholarship. It was declared that BHARIP will submit petitions to the District Social Justice department regarding the issue and will see that the issue of scholarship is raised in the current session of Vidhan Sabha. Rekha Thakur, General Secretary of BHARIP also spoke in support of the students strike.The students also handed over a memorandum to Adv.Prakash Ambedkar regarding their demands.
Fahad Ahmed, the General Secretary of TISS Students Union said that the students are trying to have a dialogue with the administration, but if the demands are not met then they might be forced to go on a hunger strike to claim their rights. The current fight is for guaranteeing the rights of affirmative action initiated by Babasaheb Ambedkar, he added.
According to a recent update, TISS administration has appointed a Empowerment Committee to address the issue of the students. The committee consists of various senior faculty members as well as SPO Dean Vijay Raghavan. This committee was appointed after repeatedly failed negotiations with the the Acting Director Shalini Bharat. After the formation of this committee, the students have consistently raised questions regarding the "power" that this committee holds. The students have stated that they do not wish to dialogue with the Empowerment Committee and would like to dialogue with the governing body of TISS to address the issue.
So far the demands which have been met are partial in nature, and their is no mechanism the institute has worked on for the upcoming batches. None of the issues put forth by the OBC GoI PMS scholars and upcoming batches have been concretely addressed till date.
Courtesy: Two Circles