The leaked NSSO report records that joblessness among educated men has nearly tripled, and among women it has doubled. Even among skill trained, it has doubled.
Image for representational use only. Image Courtesy : Scroll.in
The leaked NSSO report on the employment situation in the country in 2017-18 contains some shocking information about joblessness among educated persons. It also reveals that the much-hyped Skill India type of programmes have miserably failed, both in terms of providing skills and also in helping people get jobs.
It may be recalled that the Narendra Modi government had commissioned a specific, new survey in 2017 for surveying and bringing out firm data on the status of employment and unemployment. The National Sample Survey Office (NSSO), under the Ministry of Statistics & Programme Implementation, was given charge of carrying out the survey, which was dubbed the Periodic Labour Force Survey (PLFS).
The survey was done during June 2017 to June 2018 and its report was finalised and cleared by the National Statistical Commission in December 2018. However, it has still not been released, leading to resignations of two members of the Commission. Daily newspaper
Business Standard
acquired a
copy of the report and published
it.
In the
latest instalment
of its revelations, the PLFS is quoted as saying that female unemployment in rural areas jumped from 9.7% in 2011-12 to 17.3% in 2017-18. The last NSSO survey on unemployment was done in 2011-12. In urban areas, female unemployment similarly nearly doubled from 10.3% to 19.8% over the same period.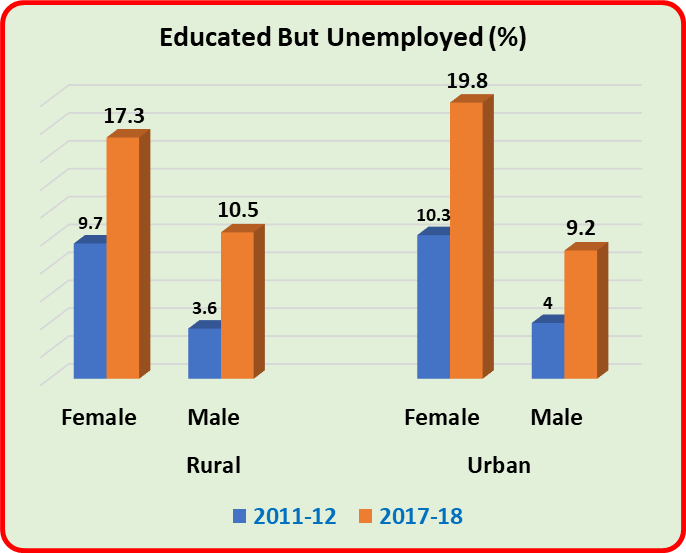 Among men, unemployment rates jumped from 3.6% to 10.5% in rural areas and from 4% to 9.2% in urban areas between 2011-12 and 2017-18. Educated is defined as any person who has completed secondary stage of education, that is, up to class 10.
This may be compared with the overall unemployment rate of 6.1% reported by this same survey. Clearly, educated persons are finding it much more difficult to find jobs under the present dispensation. This is also a period when education enrolment has generally increased.
Another worrying bit of information thrown up by the leaked report says that even among those who have completed some kind of skill course (vocational or technical), the unemployment rates continued to zoom up. This puts paid to the erroneous theory propagated by many with neoliberal leanings – and accepted unthinkingly by the Modi government - that all you need is skills, and jobs will be available at your wish.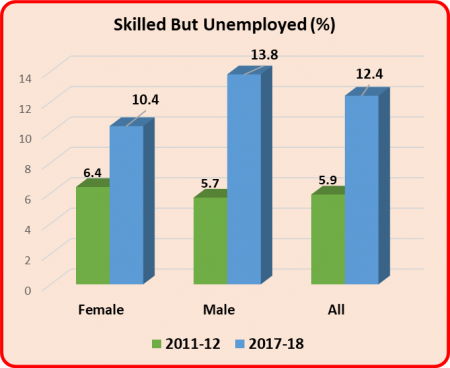 The elaborate Skill India programme with Rs.1,200 crore funding is obviously spluttering if the net result is that among the trained persons, unemployment has shot up from 5.9% in 2011-12 to 12.4% in 2017-18.
In fact, the leaked report reveals that the share of persons who have got formal vocational or technical training has declined in this period from an already abysmal 2.2% to just 2% of the whole population. This seems to indicate that the "skill training" provided to about 41 lakh persons in short-term courses (as reported in Rajya Sabha Q.No.3811 on March 28, 2018) of the government's skill programme is overwhelmed and drowned out by the growing number of "unskilled" persons. This is not surprising, in hindsight, because if skilled persons are not getting jobs, why undertake a training course?
The fact remains, that unless a vigorous push for employment creation is given by the government itself through expanding public investment and spending, nothing is going to change on the jobs front. It would entail not just filling up vacancies in government posts (estimated at 60 lakh) but also investment in agriculture and industrial expansion. This would also entail raising the wages of both agrarian and industrial workers, and giving better prices to farmers so that the common people acquire some buying power which, in turn, would spur demand for more goods and services, and hence create jobs.
Courtesy: News Click.in