For most of us especially those living in urban spaces, food items are now available at the mere touch of a button on our smartphones. The choices are endless, the prices as per our affordability and regardless of what day or time it is, there will always be some restaurant ready to feed the 'hungry'.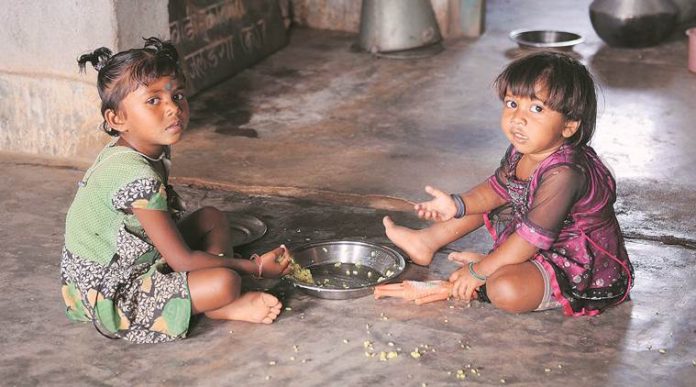 The same cannot be said of the government when it comes to taking care of the poorest, most vulnerable and the most marginalised.
Across India, over 50 people have died due to starvation-related deaths in the past four years, mostly after their ration cards were cancelled when they were not linked with Aadhar, as per the data released by two Right to Food Activists.
In India, there are approximately 30,000 deaths reported due to malnourishment every year. As per a recent report published by UNICEF, malnutrition is a direct contributor to nearly half of all deaths of children under five years. Malnourishment is just another name for starvation because these children do not get enough food and are too weak.
These deaths are never called starvation deaths. Many people and even the Government refuse to believe in starvation deaths. Nevertheless, the fact remains that 19 crore people sleep on a hungry stomach in India, which explains why India ranks 100th out of the 119 countries in the global hunger Index.
In July 2018, three little girls – sisters ages 2, 4, and 8 died of hunger in India's capital Delhi. This tragedy should have stirred the government to take concrete steps to provide food security to the poorest of the poor but unfortunately, the politicians were all busy blaming the other parties. Each time a person or a child dies of hunger the government refuses to accept it as hunger death till the post-mortem report reveals that there were no traces of any food in the stomach from a long time. Otherwise, they are passed off as malnutrition deaths.
Two activists, Siraj Datta and Reetika Khera from Bihar and Delhi respectively compiled a list of hunger deaths related to Aadhar both directly and indirectly across India to remember the first death anniversary of  'hunger death' of 11-year-old Santoshi in 2017.
On September 28th 2017, Santoshi Kumari of Jharkhand died due to hunger as there was no food at home. The girl slipped into unconsciousness due to extreme hunger and died in a state of unconsciousness. The truth came to light later that the family had lost their ration card because it was not linked to Aadhar. It is reported that the Government of Jharkhand 'mass cancelled' Aadhar-less ration cards. And Santoshi's family's ration card was one among those.  
"There are thousands of hunger deaths in India and these are only a handful which we compiled that are related to the exclusion caused due to the compulsory linking of Aadhar card to ration card," Said Siraj Datta, who is associated with the Right to Food Campaign. "The idea behind this study was to bring out the exclusion caused due to non-linkage to the Aadhar card and to initiate political debates about these deaths. It is sad that these deaths are not being registered."
Of the 56 hunger deaths compiled by the team from 2015 to 2018, 42 deaths have been reported between 2017 and 18. Most of these victims are from the disadvantaged groups such as Dalits, Adivasis and Muslims and a majority of these deaths are from two states – Jharkhand and Uttar Pradesh.
Common reasons include losing one's ration card or pension for lack of Aadhaar linking, and failure of Aadhaar-based biometric authentication (ABBA), which is compulsory – for practical purposes – in several states.
Another recent death of two siblings belonging to Dalit community, Govinda, aged 5 years and his sister Munni, 2 years on August 31, 2018, and September 1 occurred in Bihar as they could not get their Aadhar card and as a result, they were denied rations from the last 8 months. With the father in jail due to some protest he was involved in, the mother could not find any work under MNREGA.
More recent is the tragic death of 8-year-old Khushi from Hathras in UP. The family had no ration card and used to buy food grains. But when her father became jobless and could not find a job for two months, the family began to eat less and lesser ill they were finally reduced to go hungry. After a week of remaining hungry, Khushi and her sister fell unconscious. Khushi died on the way to hospital while her sister is being treated.
All this in a state where retailers have been accused of siphoning off over 2.2 lakh tonnes of food grains under the 30 crore PDS scam in which Aadhar numbers of genuine beneficiaries of subsidised rations have been replaced with fake ones.
In case of Santoshi, her mother and sister moved to the Supreme Court to highlight the condition of the Dalit families in Jharkhand who have been denied food grains due to non-linkage of Aadhar and ration cards. Even though they sought criminal action against the officials due to whose negligence starvation death/s have occurred, the SC merely issued a formal notice to the Government. And the Government denied these allegations stating the deaths were due to "illness".
The Supreme Court in its latest verdict in September 2018 upheld the constitutional validity of the Aadhar card and although linking Aadhar card to avail certain benefits have been waived; linking Aadhar to avail welfare schemes is mandatory leaving the people with no choice but to comply.
Requests to push for alternative identity in case of non-linkage of Aadhar card with ration card have not been considered.
Courtesy: Tow Circles