The Dravida Munnetra Kazhagam (DMK) announced on Monday that it will hold a protest at Jantar Mantar, Delhi on the 22
nd
of August against the move of the central government to abrogate the special status of J & K and for the detention of the political leaders of the state.
DMK has invited likeminded parties to join in the protest on 22
nd
to demand the release of all the political leaders who have either been arrested or are under house arrested.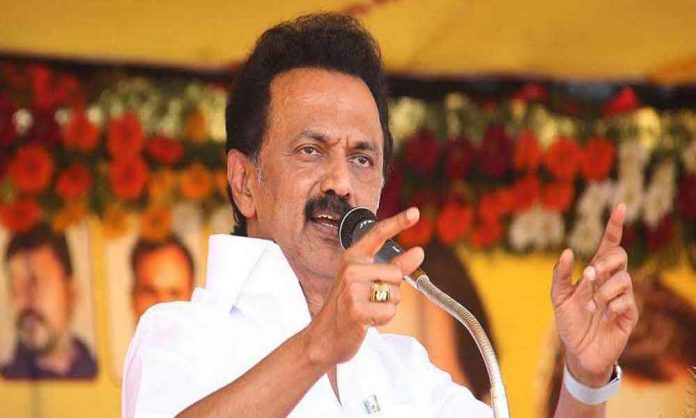 Image courtesy: Thehans
The regional party of Tamil Nadu (DMK) released a press statement wherein the MK Stalin, leader of DMK has condemned the abrogation of Article 370 and also the detention of political leaders and in some cases even the family members of the leaders have been detained which MK Stalin termed as 'unacceptable'.
The parties that are likely to join in the protest are Communist Party of India (CPI), Communist party of India Marxist (CPI M), Congress, Trinamol congress (TMC); India Union Muslim League (IUML) and others.
DMK is also trying to rope in MPs from other parties. Political leaders including former chief Ministers of J & K Omar Abdullah and Mehbooba Mufti have been under detention from the last 14 days ever since the special status of J & K has been scrapped and the people are all living in fear as there armed troopers everywhere imposing restrictions on the people.  
The restrictions have been eased in some places and landline phones were allowed and schools seemed to have re-opened but there is still tension prevailing in the valley. And the leaders are yet to be released.
DMK President in his statement also condemned AIDMK – All India Anna Dravida Munnetra Kazhagam ( Ruling party of Tamil Nadu) for supporting the centre in its decision to revoke article 370. He called this decision of the centre that has been taken without consulting the people of Jammu and Kashmir and using repressive forces, as murder of democracy.
On 22
nd
the opposition parties will gather at Jantar Mantar to demand the immediate release of all leaders who have been detained.
Courtesy: Two Circles