Her mother Zareena instinctively shielded her daughter and took the major brunt of the attack. Subhan fled from the scene leaving both the mother and daughter writhing in immense pain as the acid quickly burnt the skin and the tissues exposing the burnt flesh.
Passersby took them to the Government Hospital in Machilipatnam, a town located about 70 km from Vijayawada. Both were critical having suffered major burns all over the body.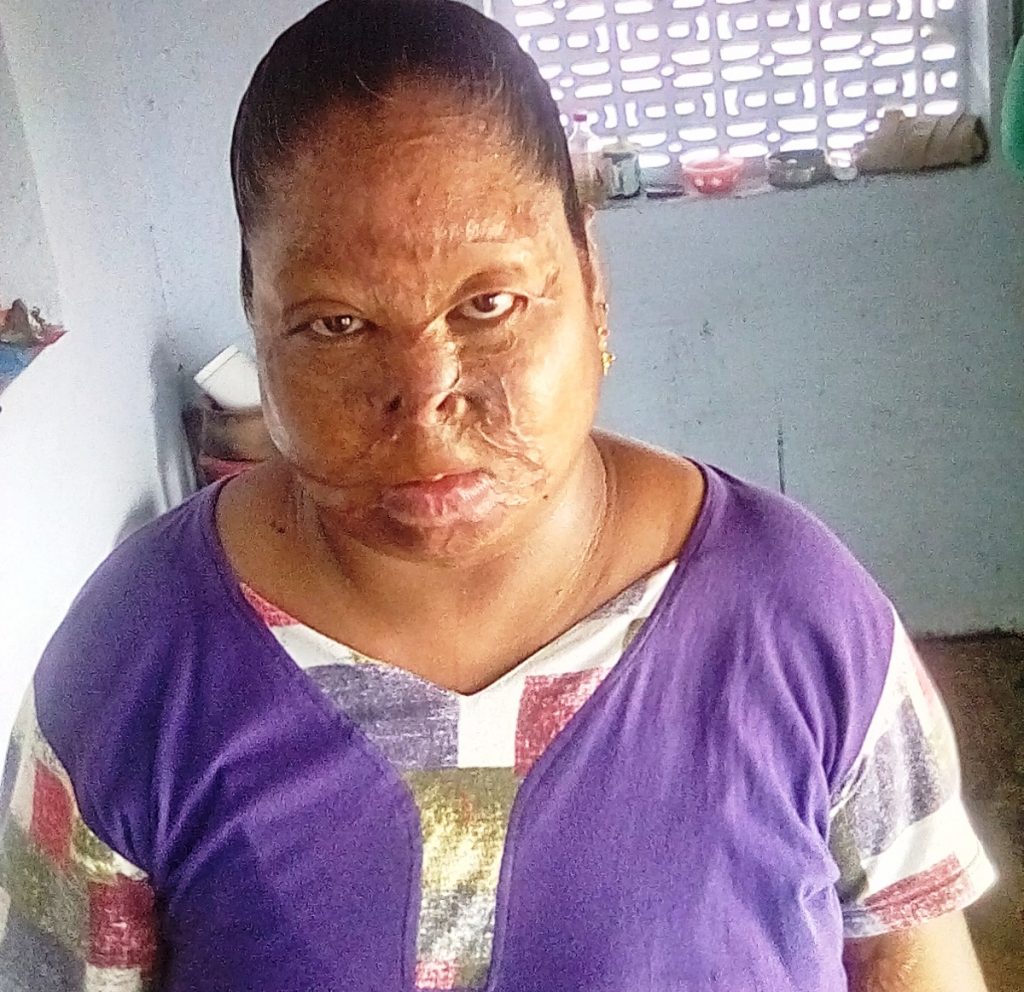 Hajida after the attack and partial treatment.
The police arrested Subhan whom not just Hajida and her mother but also others had seen. However, Subhan who in the process had burnt his hand was out after a few days.
Hajida, 23, lived with her parents, a sister and a brother. Belonging to a very poor family she had not even completed primary school. She and her older sister Asma were both engaged in covering beads in gold foil for a local businessman dealing in artificial jewellery. They were paid Rs.1,000/- each per week. Both of them ran through the house with their brother chipping in.
Subhan was their immediate neighbour and though married with kids of his own he had been harassing Hajida. And he never lost an opportunity to propose her. He tried the angle of a 'sad husband' telling Hajida that his wife is very ill and will not live beyond a year. So he wanted Hajida to marry him.
Hajida, however, was not interested and refused each time. He kept pestering not just Hajida but also her family to agree to his proposal.  When they refused, his frustration mounted he decided to seek revenge.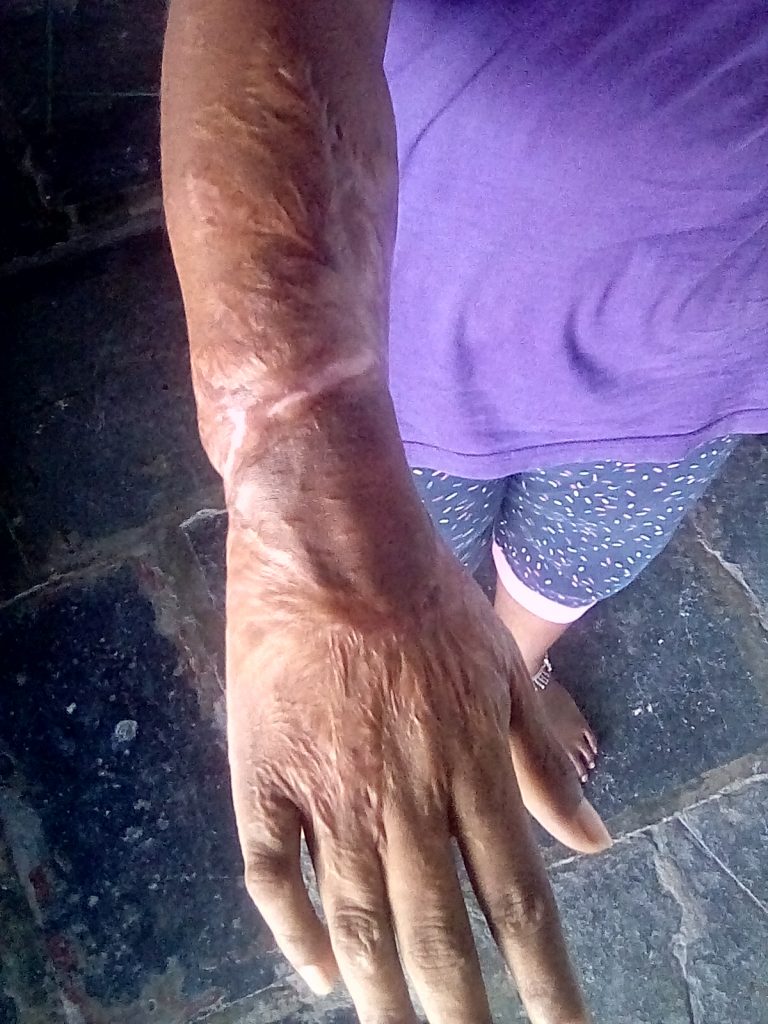 Hajida shows her burnt hand
It was the month of March 2014 when he flung acid on Hajida in an attempt to kill her. But instead, he killed Zareena who succumbed after a month and disfigured Hajida.
Hajida had lost all will to live after suffering severe agony due to the burns. Her whole body and face were burnt except for her legs. She also lost 60% of her eyesight. And it was Asma her older sister who stood by her like a rock. Asma nursed both her mother and Hajda on two different beds in the same hospital.
But the treatment was not getting anywhere at the District hospital in Vijayawada, as it was not equipped with the kind of medicines needed to treat acid attack survivors.
After the death of their mother, Asma decided to take her sister to Hyderabad for treatment. And it was in Hyderabad that a group of women activists contacted them and offered both moral and financial support. They even helped in accommodating them during their stay in Hyderabad for treatment in Apollo Hospital.
Hajida underwent many reconstructive surgeries in the last four years that helped her regain her vision and move her wrists. Now she is able to do some work at home.
Recalling the ordeal Asma and Hajida went through, Asma said, " The neighbours used to fight with us frequently asking us to vacate the house because their children were scared of Hajida".
It hurt Hajida hearing all these cruel references to her because she did not go outside and did not even peep out the window or the door. Still, the neighbours accused her of scaring their children. After a year, Asma could no longer fight the neighbours anymore as she was already burdened with nursing her younger sister, working to feed the family, grieving the death of her mother and comforting and giving strength to Hajida.  Added to this were Subhan's threats to withdraw the complaint. So they relocated to Chilkalpally, lcoated on the outskirts of the town.
And each time Hajida heard Subhan's voice she trembled with fear. Asma approached the police who assured them that soon the case would be concluded and Subhan would be in Jail. But it took four long years for the sentence from the lower court in Machilipatnam to arrive. Finally, on July 30, 2018, Subhan was convicted and sentenced to a life term.
However, even after shifting to a different locality, Subhan visited a couple of times to threaten the sisters.
Were it not for Asma, Hajida would have succumbed to her injuries that had eaten away her flesh and her zest for life. Asma gave her sister all the comfort Hajida needed. And Hajida slowly built her confidence and her will to live bit by bit.
Hajida grew from strength to strength also because of the support she got from the women activists who treated her like their younger sister. The bond of sisterhood helped both Asma and Hajida steer through the toughest of the times.
The court case was also going nowhere and Hajida though outwardly seemed calm and determined to punish Subhan was hurting all the time both from inside and outside. The healing process was as slow as the days that passed.
But Hajida requested for a change in the public prosecutor on the advice of her well-wishers. And luckily the court changed the public prosecutor after which the case seemed to be moving ahead.  She received a compensation of Rs. 50000 twice in the last 4 years which was all spent on her medicines.
The government also allotted her a small plot of land and a loan to construct the house. The loan will be sanctioned if she can contribute her side of the amount for the loan.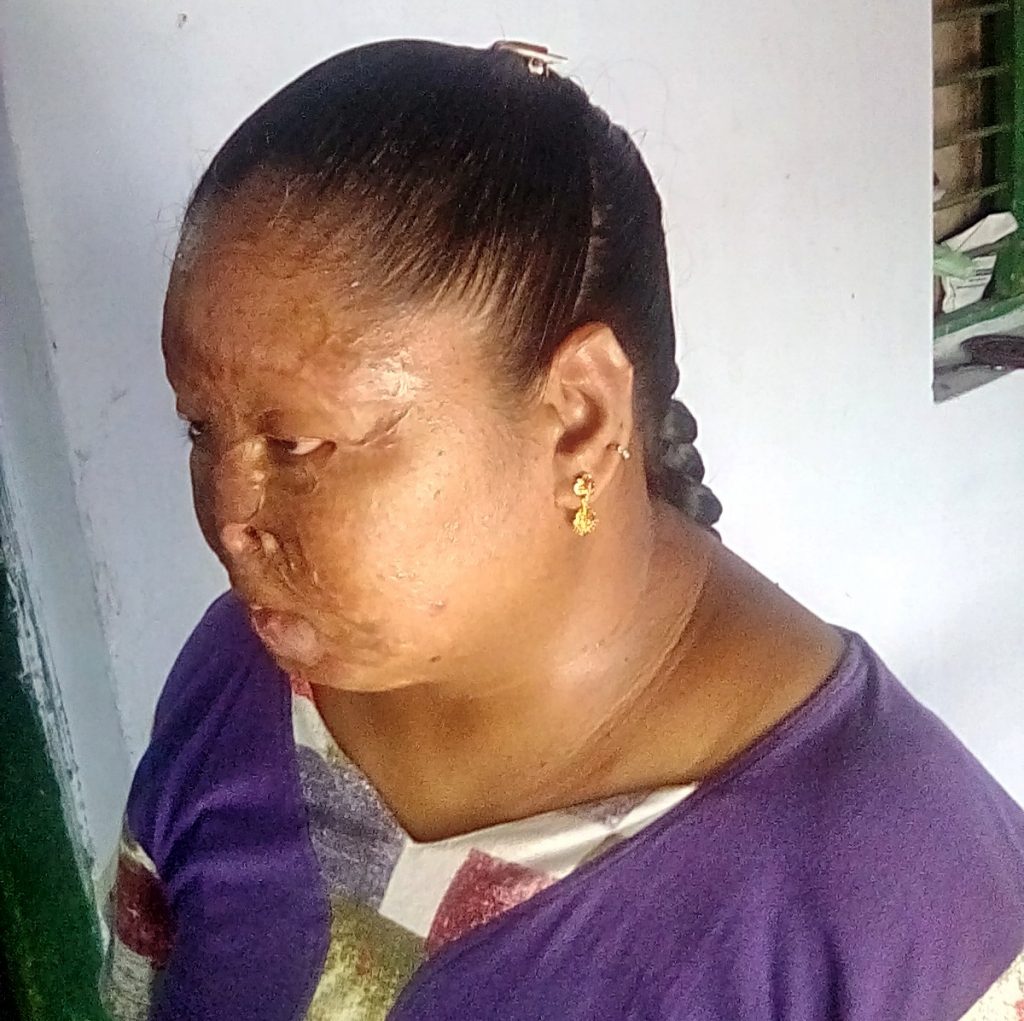 Hajida now
Hajida has to use eye drops 3-4 times in a day regularly to be able to see properly. However, she still cannot see the smaller, finer things as her vision is not fully restored.
Travelling to Hyderabad which is roughly 340 kilometres was another cumbersome task the sisters had to put up with. And finding accommodation each time was also difficult. There seemed to be no option for them until Dr Lakshmi Saleem, the seniormost and reputed plastic surgeon examined Hajida and kindly agreed to conduct all her future surgeries free of cost at St. Ann's Hospital, Vijayawada which is 67 kilometres from Machilipatnam.
Hajida finished her last surgery on 13th August in Vijayawada.
Again the women activist have come to her rescue and raised funds for this surgery. She still needs another 5- 6 surgeries on her face including reconstructing eyelids and nose.
Asma, her sister is the only breadwinner in the family while their father gets a pension off Rs.1,000 under the old age pension scheme.
Efforts are on to raise more funds for Hajida as she needs money not just for surgeries but also to construct a small house on the land allotted to her by the government.
With Subhan behind the bars, the sisters are feeling safe to move around and live their life in some peace.
Asks Hajida, who is still unable to forget the nightmare " If I don't like a guy and am not interested to marry him, can't I say No to him?"
It may take time for Hajida to look normal again till then she has to keep fighting. Her first priority after her surgeries is to build her own house so no one will ask them to vacate again.
PS: People who wish to help Hajida rebuild her life can do so by contributing to the following account:
Account number: 027210100091504
Bank: ANDHRA BANK
IFSC code : ANDB0000272
Name: SHAIK ASMA
Branch: Javvarapeta, Machilipatnam
This article was first published on 
twocircles.net.