In a first ever hopeful news since the Jawaharlal Nehru University (JNU) scholar Najeeb Ahmed went missing more than thirty months back, the Central Bureau of Investigation (CBI) court ordered CBI to hand over the documents listed in the annexures A and B of the closure report to his mother, Fatima Nafees, in the next two weeks.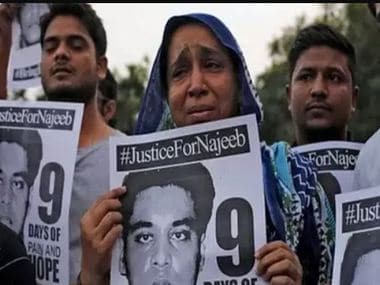 Image Courtesy: First Post
SabrangIndia's Teesta Setalvad noted,
The documents that the court ordered to be presented include call data records (CDR), witness statements and other documents mentioned in the closure report. Earlier, after closing the case, the CBI had denied presenting these documents to Fatima Nafees, the petitioner in this case.
On March 28, CBI had argued that "there is no provision in law" to present the documents.
The Delhi High Court had
allowed
the CBI to file a closure report in his case and had "declined" Fatima Nafees's plea to constitute a Special Investigation Team (SIT) to monitor the probe. The CBI took over his case in May 16, 2017 and after more than an year of investigation
said
that it had looked into all the aspects of the case and was of the opinion that no offence was committed against the missing student.
Najeeb's brother Haseeb Ahmed
said
that this was the first hopeful news they heard since Najeeb went missing. He added, "Now we are hopeful that my brother will be back soon and the ones behind his disappearance will be behind bars."
Najeeb Ahmed, a first year MSc Biotechnology student in the JNU went missing on October 15, 2016 after the alleged attacks on him by members of the Akhil Bharatiya Vidhyarthi Parishad (ABVP), the student wing of the ruling party. This had sparked students' movements across the country. His mother Fatima Nafees has been tirelessly following up his case. On multiple occasions she has faced extreme police brutality despite peacefully demanding for her son to be found.
His case was initially
investigated
by the Vasant Kunj Police, and was subsequently passed on to the Special Investigation Team (SIT) of the Delhi Police, the Crime Branch of the Delhi Police and then the CBI. But all these institutions failed to find his traces.