In a historic judgement, the Supreme Court of India has granted adult Indian Lesbian, Gay, Bisexual, Transgender, Queer, Intersex and Asexual (LGBTQIA) people the dignity they have always deserved... the right to love who they love and to not be punished for expressing that love sexually and privately. In doing so, the SC has granted all consenting adults the autonomy of intimacy.
The five judge bench lead by the Chief Justice of India pronounced four separate but concurrent judgments. CJI Dipak Misra read out his and Justice AM Khanwilkar's judgment saying, "Section 377 so far as it criminalizes same sex or heterosexual relationships is violative of the Constitution." He added, "View taken by SC in Suresh Kumar Koushal impermissible. Sexual orientation of an individual is natural and discrimination on the basis of sexual orientation is a violation of Freedom of Expression."
Overruling the judgement in the 
Suresh Kumar Koushal
 case, the court said, "Section 377 of IPC insofar as it criminalises consensual sexual acts between man and man, man and woman or woman and woman is unconstitutional and struck down. Sex with animals will however remain criminal."
All eyes were then on Justice DY Chandrachud's judgement given how it was he who had opened a backdoor in the Privacy Judgement that in a way made it possible to challenge Section 377 again. He did not disappoint as he began by saying, "Constitutional morality and not societal morality will decide the validity of Section 377. Section 377 is unconstitutional!" Justice Chandrachud's judgement was worded with sensitivity and compassion. He said, "What is natural and what is unnatural? Who decides these questions? People have challenged a long history of discrimination, which they seek to have remedied. Human sexuality cannot be confined to a binary existence." He added, "It is difficult to right a wrong by history. But we can set the course for the future. This case involves much more than decriminalizing homosexuality. It is about people wanting to live with dignity."
Justice Fali Nariman also concurred saying, "Homosexuals are entitled to live in dignity. 377 in so far as it criminalizes same sex intercourse is struck down." And Justice Indu Malhotra said what the community has patiently waited to hear for decades, "History owes an apology to these people and their families. Homosexuality is part of human sexuality." She ruled, "They have the right of dignity and free of discrimination. Consensual sexual acts of adults are allowed for LGBT community."
Reactions from the Community
Needless to say, the community, their friends and family, activists and allies, were all overjoyed. Twitter was awash with tears of joy!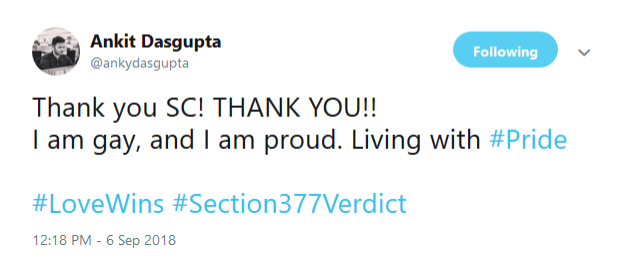 Celebrities who have supported Equal Rights also expressed joy and relief over the verdict:
A brief background: Section 377 in the Courts
In May 2009, The Delhi High Court had read down section 377 and decriminalised consensual sex between adults irrespective of their gender or sexual orientation. A summary of that judgment may be read here:
Case Summary Naz Foundation v. Government of NCT of Delhi and Others
In December 2013 however, the Supreme Court set aside this landmark judgment effectively recriminalising so called "unnatural sex". It was left to the Parliament to pass appropriate legislation to tackle the subject. The judgment may be read here:
Suresh Kumar Koushal & Anr vs Naz Foundation & Ors
After this Bharatnatyam dancer 
Navtej Singh Johar
 and others moved Supreme Court in June 2016. Their petition highlights how the constant fear of their sexuality becoming known has affected their personal and professional lives. This petition 
may be read here
.
In an unexpected shot in the arm for India's vibrant LGBTQIA community, while delivering the verdict in the Right to Privacy Case in August 2017, Justice DY Chandrachud who authored the judgment of the four judge bench that also comprised then Chief Justice J.S Khehar, Justice RK Agrawal and and Justice S Abdul Nazeer, made remarks that once again left a backdoor open to legally challenge section 377. You can read the entire judgment here:
Right to Privacy Judgment
Fresh Petitions in the Supreme Court
After the landmark ruling in the Privacy case a slew of petitions were filed once again in the Supreme Court. These include:
There is a petition by 
Ashok Row Kavi
 who is one of India's oldest and most prominent LGBTQIA rights activists. He is the founding chairman of The Humsafar Trust, one of India's best known non-profit organizations working to not only educate and support the LGBTQIA community, but also spread awareness about HIV, AIDS and safe sexual practices. The entire petition 
may be read here
.
Keshav Suri, the 33 year old Executive Director of the Lalit Suri Hospitality Grouphas also moved Supreme Court against Section 377. His entire petition 
may be read here
.
Equal Rights activist Harish Iyer has also filed an Impleadment Application urging the court to consider how homosexuality is not against Indian culture. His IA 
may be read here
.  
Related:
Understanding LGBTQIA (Community Resource)
Rainbow through the years
Love is the Order of Nature
Homophobia is Anti-National: Keshav Suri