It is impossible to not hear the term 'Bangladeshi' when you are in Assam. It is a term that divides Assam;a region where human migration precedes national boundaries by centuries. No one ever says that there are no Bangladeshis in Assam; the questions seem far more focused on "what to do with them". It is also pretty clear that no one exactly knows who a "Bangladeshi" is: Assamese Muslims, Bengali Muslims, Bengali Hindus and sometimes even Assamese Hindus, along with even Nepalis and Bodos, have all been signalled out as Bangladeshis. When human lives are reduced to statistics and government policies put one religion against the other, it is the marginalised who suffer the most.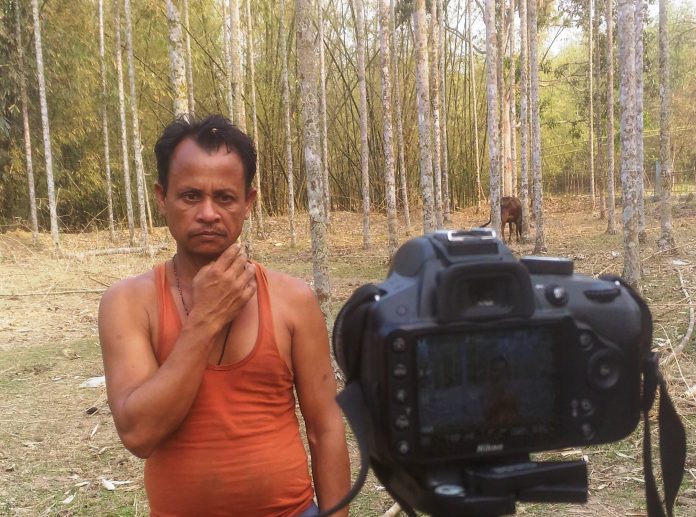 Sajahan Ali talking to TwoCircles.net about his detention.
The Idea Of a 'Foreigner' :
The Assam Accord, signed in 1985, has played an extremely important role in this regard. The issue of 'foreigner' was central to this Accord. Contested migrations after two partitions (1947 and 1971) along with a subsequent surge in Assamese nationalism resulted in a policing of "foreigners". As a result, the Assam accord enlisted a series of measures to be taken as part of a Memorandum of Understanding between the then Prime Minister Rajiv Gandhi and the All Assam Students Union along with Assam Gana Sangram Parishad. One of the most important points of the Accord was that all 'foreigners' who had arrived after March 1971 be expelled from the state.
The Creation of a D voter :
Following the Accord, it was in July 1997 that the Election Commission of India (ECI) asked the state government to segregate its citizens and non-citizens. Following this, the ECI prepared a list of voters in the state and mark 'D' (doubtful) next to the names of people who were suspected to be non-citizens. In 1997, this list included 3.5 lakh names. As of February 2017 according to Assam Parliamentary Affairs minister Chandra Mohan Patowary, the Assam Border Police were conducting investigations into 6,21,688 cases related to foreigners till October 2016. Of these, 4,44,189 were referred to the 100 Tribunals established in the state, where about 2,01,928 cases are still pending.
Detentions :
Among the cases that have been 'resolved' however, are the stories of about 1,800 persons who have been detained across Assam on charges of being a Bangladeshi. Even the most cursory conversations with the families of the detained people show that almost all the detainees belong to poor families who could barely afford any lawyers or appeal against the judgement issued by the Foreigners' Tribunal. Since this issue comes under the Foreigners Act, 1946 and Foreigners (Tribunal) Order, 1964, a lot of times the lawyers are unaware of how to approach the case but nevertheless take it for easy money.In this three-part series, TwoCircles.net looks at how detention camps are wreaking havoc with the lives of people, especially Muslims, across the state.In the first of the three-part series, we tell the story of Sajahan Ali, an Assamese-speaking Muslim who was in jail (detention) for 11 months on charges of being an illegal Bangladeshis. While he may be out now, the case has broken his family, left him with no savings, a sizeable burden to pay off and a mortgaged house.
A week before Ramadan was about to begin, Sajahan Ali, a resident of Buzurg Manikpur village in Barpeta District, had gone over to his mother's house for the night. Dining at a stone's throw away from his own house, Sajahan decided to call it a night in his mother's house while his wife and two children remained home. At that time, Sajahan Ali did not realise that this was the last night his family was together. Around midnight, the police knocked on the door. Ali, confused and scared, thought that they had come to arrest him for a small-time feud which took place a few months ago. "I remember that night well…when the police came, I thought it was because I was involved in a local feud and a fellow resident of this village had filed a complaint. But I did not understand why they needed to arrest me in the middle of the night," Ali says in a conversation with TwoCircles.net.
TwoCircles.net met Ali in a village called Kukiripada, located about 30 km from his village, where he was working with other men erecting electric poles as part of the Deen Dayal Upadhyay Gram Jyoti Yojana. It has only been three days since he came out of the jail but Ali has little time to take rest or reflect on what happened over the past 11 months. Having erected the last pole for the day, Ali and other men sit down to discuss the trauma that Ali has undergone in the past year. "It was only when I was produced before the Foreigners' Tribunal that I realised that I had been arrested on charges of being an illegal Bangladeshi in Assam," he says. "I was shocked…all my life, I had been living here without any such issue. I voted in 2016 state elections and all elections before that. How did I become a Bangladeshi all of a sudden?"
Within a few days, Ali, who is in his early 40s, went from being a poor resident of an Assamese village to a poor 'illegal Bangladeshi' in Assam. He was now one of the about 1,800 people who had been put in one of the six 'detention camps' in Assam. Talking about his case, Ali explains, "When my case was brought to the Foreigners' Tribunal, I found that I had been a D-voter (doubtful voter) since 2005 and that I was being arrested because I had failed to reply/honour any of the court summonses that had been sent to me."
But like most of the cases of D-voters, Ali's case was much more than what met the eye. Turns out, Ali says, he had been declared a doubtful voter in the same district (Goalpara), but in a different Tehsil (Dudhnoi) in 2005. Over the next 12 years, as the court paper shows, he had been sent a summons seven times by the Foreigners' Tribunal but he never showed up so finally, he had been tracked down and arrested. "My voting is in Buzurg Manikpur, which falls under Goalpara East. I was declared a doubtful voter in a Tehsil and village that I had never resided in. How was I to know what happened?" Regarding the summons, he says, "I was supposedly sent a summons but at an address where I have never lived. Then how am I supposed to respond? If you live in one village and a letter comes for you in another village, how are you at fault?" he asks.
Ali's claim might be valid, but this did not matter much when it came to the legal implications. As the summons went unanswered, his case was declared 'hanging' and the Assam Border Police, which is the main security force which looks after this issue, pushed for an ex-parte decree in this case. An 'Ex parte decree' is a decree passed against a defendant in absentia. On the date of hearing, if only the plaintiff appears and a defendant does not appear, the Court may hear the suit ex parte and pass a decree against the defendant. So, while Ali had been working as a labour in Assam and then in Meghalaya, the Police were on a 'lookout' for him.
All of this meant that after he was arrested in July, he was sent to the Barpeta detention camps, located about 100 km from his residence. Inside, he realised that being an illegal Bangladeshi was even worse than being a criminal. "We were kept separately from the convicts and treated much worse too. The food was horrible, the hygiene was non-existent and we had no money. We could not even work in the jail."
Nurul Islam, a lawyer based out of Goalpara who handled Ali's case, explained how the case unfolded "After Sajahan Ali was arrested, we approached the Gauhati High Court for a stay order since the FT had passed an ex-parte order. It took us nearly four months, but we finally got the stay. Then, the case was contested in Foreigners' Tribunal and I presented all the required proof of residence on behalf of Ali. Earlier this month, Ali finally won the case in the FT and he was free after nearly eleven months in jail."
Given that most people sent to detention camps either spend years inside or are still inside, one might even say that Ali was lucky: he, after all, came out within 10 months. But of course, the arrest has taken a massive toll on his life. "In the days following my arrest, my wife left with my son and went to her parents' place. I am not sure why she did so…maybe she thought I would never come back. I haven't even seen my son in almost a year…my daughter, who had got recently married, was sent back by her in-laws after they came to know that I had been arrested as an illegal Bangladeshi. Thankfully, my brother and his wife along with our extended family took care of her. My brother is also a worker. When I was in jail and we had an appeal in the High Court, he had to mortgage his brother's house to raise the much-needed money. Now, Ali is scared thinking if/when he will lose the house. "I don't know how I will save my house…and even if I save my house, my family is broken…who will live there?" he asks.
In such cases, the need for legal aid becomes paramount but given the complexities of the issue, there are no such facilities available for the detainees. "In any other case in Indian courts, if the accused cannot afford a lawyer, he/she is provided one by the government. But not in these cases…similarly, once sent to detention, there is no bail, no parole not even to appear in your own case even when you appeal the verdict in the High Court," says Islam.
As we end our conversation, Ali can barely hold his tears. He says, "I am a poor person but I had a family. I lost a year's worth of income, I have almost lost my house and my wife and son left me…for what? How can I be a Bangladeshi when I have lived here all my life, like the rest of my family?" He shrugs off any idea that he should file for compensation. "I do not have the time, money or the courage to approach the courts again…when you see the condition in which human beings are made to live in these detention camps, you thank Allah for bringing you out of it. I hope others also come out…it is hell inside. No human being, Indian or Bangladeshi, should ever be made to live like that," he says.
Courtesy: Two Circles