The Union Labour Ministry has issued draft rules that allow businesses to hire workers on fixed-term contract basis and fire them without notice.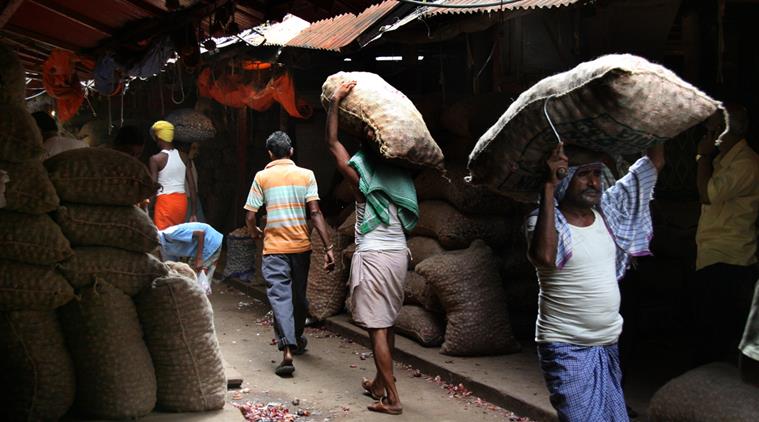 Image Courtesy: Indian Express
For the fourth time, the BJP-led NDA government is trying to turn the productive workforce of the country into an army of casual workers. 
The Union Ministry of Labour & Employment has issued a
notification
with draft rules introducing "fixed term employment" across sectors. 
This means all businesses are allowed to hire workers on a fixed-term contract basis — even as workers across industries have been demanding an end to contract labour and are demanding regularisation of jobs. 
All central trade unions in India have been consistently opposed to the moves towards contractualisation and casualisation of workers. 
The draft rules make it clear that employers are not required to give notice of termination of employment for fixed-term workers, nor do employers owe any retrenchment pay to such workers. In other words, workers can be hired and fired without notice.  
It makes little difference then for the rules to say, as they do, that fixed-term workers are entitled to the same hours of work, wages and other benefits as that of permanent workers. 
In fact, the provision mandating that only a fixed-term worker who has served for three consecutive months is entitled to a two weeks' notice (and in absence of notice, will be informed of the reason for retrenchment in writing) indicates how short a term of employment even the government envisions for the workers if these changes are introduced.
The NDA had first introduced hiring of fixed-term contract workers in 2003, but the UPA government in 2007 had reversed the order, owing to massive unanimous opposition from all the central trade unions. 
Then in 2015, the NDA again issued draft rules for the same purpose, but the proposal was shelved again following protests from trade unions. 
In October 2016, the NDA introduced fixed-term employment in the apparel manufacturing sector, despite the continuing stiff opposition. The government had tried to justify it saying that work in the apparel sector was seasonal in nature.
Now, on 8 January 2018, the labour ministry again issued the draft notification meant to amend the Industrial Employment (Standing Orders) Central Rules 1946. The notification has been uploaded on the ministry's website for comments till 9 February 2018.On 10 January 2018, the Centre of Indian Trade Unions (CITU) wrote a letter to the labour ministry, urging the government to drop this incredibly anti-worker proposal.
"Have all jobs in all industrial sectors turned "seasonal"?" asked the letter by Tapan Sen, general secretary of CITU, referring to the ministry's earlier justification for introducing fixed-term contracts in the apparel sector.
"It is a grossly anti-worker measure designed to temporarise and casualise the workforce to serve the interests of the employers' class," Sen said.
"Extending same wages and service conditions as regular workers to fix-term employees as mentioned in the notification does not mean anything since the very temporary character of employment and accompanying fragility in job security will not allow such temporary employees to demand such equal treatment simply out of fear of losing employment."
The notification is a "design to gradually replace the regular workforce in industries by temporary workers, totally deprived of all rights and hence cannot be accepted," the letter said. 
It has been
reported
that there was pressure from various quarters of industry to bring back the proposal allowing flexibility in hiring workers. When talking of expanding the fixed-term employment to other sectors, the government has said the idea was to "attract large scale investments at global scale" by improving the ease-of-doing-business.
Speaking to
Newsclick,
Dr K Hemalata, president of CITU, said, "This will only make the conditions of workers more precarious, as employers will have no obligation towards the workers. They'll get a almost entirely free hand to hire and fire. There will be no job security and no social security for workers," said 
As for the claims of employment generation, Dr Hemalata said, "Employment generation depends on the purchasing capacity of the people. If the people have money, if they purchase, only then will they produce and only then will there be employment generation. Whatever employment is being generated is not creating that kind of purchasing power among the workers. It is not any decent employment."
"When the PM says that a person selling pakodas and earning Rs 200 a day is employed, when MGNREGA workers who don't get even 40 days of work are said to be employed, then what is this type of employment?" 
She said even an International Labour Organization (ILO) report of 2015 had said that attacking the rights of workers was not how employment generation took place.
No wonder that a
2018 report by ILO estimates
that 77% of Indian workers will be engaged in vulnerable employment by 2019.
Courtesy: Newsclick.in