Thousands gather from across the country to demand rights for Dalits.
The 7-day Freedom March (Azadi Kooch) led by Jignesh Mevani of the Rashtriya Dalit Adhikar Manch started its journey from Mehsana to Suigam in Gujarat today. This is a march demanding land for the Dalits and protection from Saffron terror. Hundreds of common people and activists from across the country are participating in this journey. A massive public meeting was held at Somnath Chowk, Mehsana before the march. The programme started by paying homage to the seven pilgrims who died in a firing on a bus carrying Amarnath pilgrims in Kashmir.
Following the homage, Jignesh Mevani addressed the gathering thanking the farmers, workers and the people from the Muslim and Patidar communities who supported this march. He said that Modi's Gujarat model is a failure and stressed the need to build a model where the Dalits, Muslims and Patidars come together and fight the communal forces which are spreading violence and hatred. He also stated that the objective of the march is to take physical possession of the lands that were given to Dalits. These land allotments existed only on paper. Mevani said that the Dalits would hoist the Indian flag in the lands allotted to them and cultivate them. The crowd responded to this with huge applause, and the slogan "You keep the cows tail, give us 5 acres of land and jobs" reverberated among the people.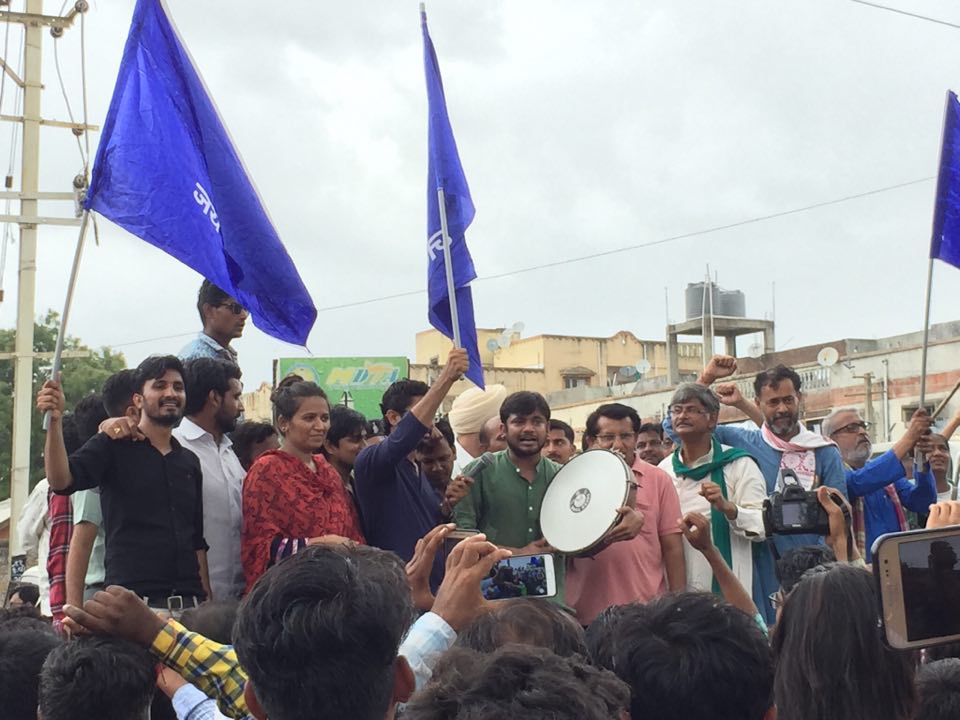 Speaking next, Reshma Patel from the Patidar community said that all should unite and work for the development of all communities. She also cautioned the people against the politics of the RSS. They would try to spread communal hatred in the name of the killings of the Gujarati pilgrims who were on Amarnath Yatra. She said that it should be remembered that a Muslim driver saved the lives of more than 50 pilgrims by taking them to a safe place. "Humanity is more important than religion", said Reshma Patel.
Many others including former JNU Students Union President Kanhaiya Kumar addressed the gathering. In his speech, Kanhaiya said that for the sake of power, the Hindutva forces would create communal conflict and try to reap the benefits. He said that the Modi's main interest was to please the big corporates like Ambani and Adani who helped him to come to power at the Centre.
The gathering was later joined by a group of 150 farmers who are participating in the Kisan Mukti Yatra, led by Yogendra Yadav of Swaraj Abhiyan.
To mark one year of the assault on the Dalits in Una by the 
Gau rakshaks
, a one-day conference was organised yesterday by Jignesh Mevani and his team in Ahmedabad. The conference, held in a packed hall, was also a part of the programmes organised in the wake of the Freedom March.
As per the latest report from the ground, former
JNUSU president Kanhaiya
Kumar has been detained by the Gujarat Police.