This story was published in March 2017 and is being re-published today, September 6 in the wake of Gauri Lankesh's brutal murder

Yogesh Master, Narendra Nayak, and H Farook are the most recent examples of continued intolerance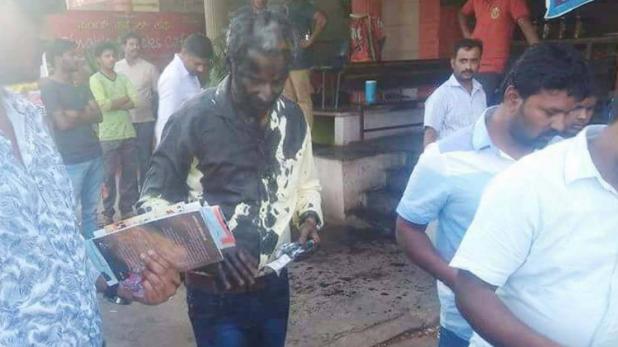 Image courtesy http://aajtak.intoday.in/story/ink-attack-on-kannada-writer-yogesh-master-face-writing-against-hindu-god-1-917375.html
What does a writer and theatre personality, a professor fighting for justice for a slain RTI activist, a filmmaker questioning Hindu rituals, a young dalit student and writer questioning the system of caste, and an eminent academic of Vachana literature have in common? All of them have faced the wrath of the right-wing for speaking out against injustice in the state of Karnataka. In the last week, Yogesh Master, theatre personality and the writer of the novel
Dundhi
, was
attacked
with black ink by members of a right-wing vigilante group. Days following this attack, rationalist Professor Narendra Nayak
escaped
an attempt on his life. Professor Nayak has faced threats for years and has police protection for over three years now. His vehicle was stopped by unknown individuals on bikes at a time when the state allotted guards were not at his side. Repeated threats to his life in the days before the attack and his presence of mind saved his life. The story of Chetana Thirthahalli, filmmaker, and Huchangi Prasad, a young dalit  writer studying journalism, made news in 2015 when they were attacked for daring to speak their mind. Chetana Thirthahalli
received
threats to her life, and of rape and murder for supporting the right to eat beef or any food of choice by the people of our country. Huchangi Prasad was
attacked
for speaking against the caste system and the violence perpetuated in the name of Hinduism. Writer KS Bhagawan has faced
threats
to his life for years for boldly standing up for rationalism, scientific temper and social reform in a caste divided society. These attacks continued despite the outrage following the 
killing
of Professor MM Kalburgi. It is this last case that most of us are familiar with, a professor of Vachana literature, an author of hundreds of books and articles, a winner of the Karnataka Sahitya Akademi Award, a leading member of the Lingayat community in Karnataka, an epigraphist, the Vice Chancellor of Kannada University in Hampi and a vocal voice against idolatry in Hinduism, Professor MM Kalburgi, was shot dead in his home by two members of a right-wing group.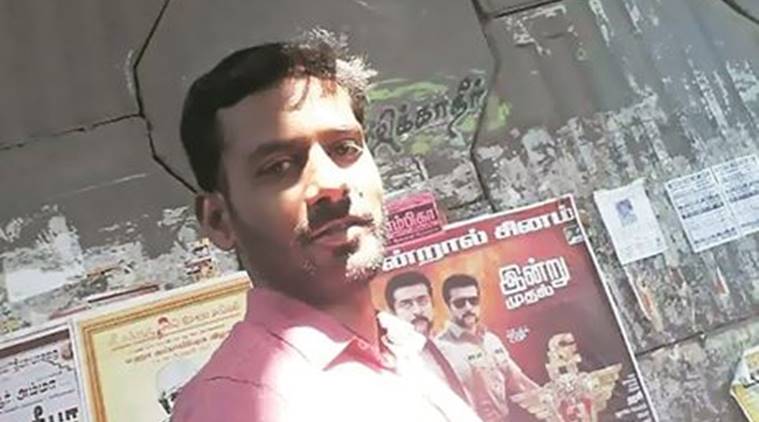 Image courtesy http://indianexpress.com/article/india/tamil-nadu-atheist-killing-police-suspect-group-linked-to-blast-accused-4575547/
To be a rationalist, anti-superstition activist, academic or a writer is a dangerous occupation. Just a few days ago, a rationalist, H Farook, in a town near Coimbatore in Tamil Nadu was 
killed
for refusing to take down a WhatsApp group. While the Tamil Nadu police was looking for a motive behind the killing, the accused, charged with blasts in Bengaluru, were openly declaring their intentions on social media threatening further reprisals. Incidentally, Farook's post on social media boldly claims, "I am an enemy of God, enemy of religion, enemy of caste and enemy of all blind beliefs. But I am not an enemy of humans who believe in humanity". A day before this incident, on the morning of 15
th
of March, Narendra Nayak was
accosted
by goons hired by the Baliga murder accused. Professor Nayak has been tirelessly fighting for justice in the case of the
killing
of RTI activist Vinayaka Baliga. After facing repeated threats to his life, Professor Nayak was vigilant and because of sheer presence of mind escaped from what could have been fatal for him. Three days before Professor Nayak was attacked, Yogesh Master had black ink smeared on his face when he was drinking tea after a literary event organised by
Lankesh Patrika
. Abused for what the attackers called his 'anti-Hindu' writings, Master was physically assaulted, inked and threatened with death if he continued writing anything that spoke against Hindu gods and goddesses. Two of the attackers have been apprehended. Both belong to Hindu Jagarana Vedika, one among several violent right wing groups functioning in Karnataka. Over the years, these groups have been responsible for attacks on writers, activists, public institutions, traders and common people. It appears that anyone questioning the caste-ridden society in India, the idol-worship professed by the proponents of Hinduism and the espousal of black magic for everyday ailments are met with humiliation, repeated assaults on social media, blackmail, and when nothing else works, bullets.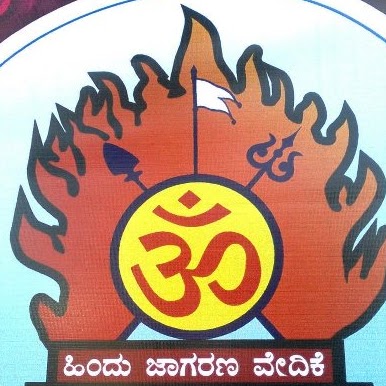 Image courtesy https://plus.google.com/101919274959999809251
In light of these attacks, it is imperative to look at the nature, purpose and modus operandi of organisations like the Hindu Jagarana Vedika (HJV), its close sibling, the Shri Ram Sena, an organisation infamously nurtured and armed by Pramod Muthalik, a RSS activist, Bajrang Dal leader and one time BJP's strong-man in the region. Members of these organisations are ostensibly trained to fight a war on Muslims and 'anti-Hindu' elements in society with brutal violence. Another organisation based out of Goa called the Sanathan Sanstha has been vehemently attacking such rationalists, activists and academics for what they view as 'anti-Hindu' positions. The
killing
of Dr. Narendra Dabholkar in 2013, Comrade Govind Pansare in February 2015, and Professor MM Kalburgi in August 2015 helped us see a pattern in these attacks. Meanwhile, in Karnataka, the Hindu Jagarana Vedika members function as Gau-Rakshak's or 'Cow Protectors' in the Udupi region. Recently, in a twist suited for the reel, HJV members
killed
a local leader of the BJP for transporting calves. Ironically, several local level leaders of the BJP have been arrested for transporting cows following attacks by right-wing groups
charged
with vigilantism. In February of this year, a Hindu Jagarana Vedika member was arrested for
pelting
stones at a mosque in Udupi. Soon after the arrest, the Go Andolan Samiti, of which HJV and other right wing organisations are a part,
marked
a "Go-Satyagraha" in Udupi. It is important to note that organisations like the HJV and Shri Ram Sena have been making headlines in Karnataka since 2009 for
attacking
pubs in Mangalore, homestays and even private spaces alleging that it was part of their fight to save Hindu culture from corruption. Pramod Muthalik has brazenly threatened to cut off the tongues of Kannadiga writers who "do not stop insulting the gods". These self-styled protectors of Hindu culture and their vigilante groups have publicly announced arms training camps to fight Islam, including a suicide squad, apparently with thousands of volunteers. Besides achieving notoriety for thuggish behaviour in the locality and visibility in the media, these organisations and their leaders are keen to be seen as relentless saviours and protectors of a glorious Hindu culture.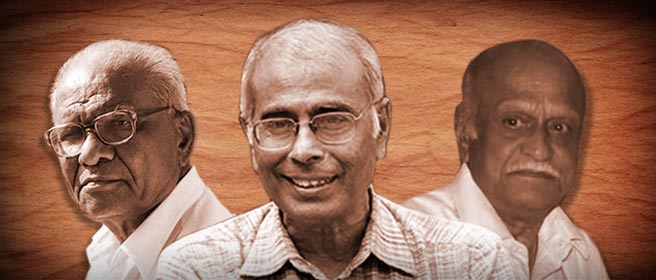 Image courtesy https://www.newslaundry.com/2015/09/14/the-death-of-rationalism-who-killed-dabholkar-pansare-and-kalburgi
With growing intolerance and fear of violent reprisals by such vigilante groups taking over our lives, the visage of a democratic country is being shattered. In a democratic country, where the right to speech and expression, the right to equality, the right to freedom, the right against exploitation and the fundamental right to life and liberty are inscribed in the Constitution, these attacks force us to take note of a crumbling reality around us. On the one hand we have right-wing organisations emboldened by a sympathetic government, a complacent media and, most effectively, complicit system of law and order. And on the other, we have to contend with shrinking spaces of debate and discussion within institutions, university spaces, in literature, in culture and in our everyday life. In this political climate, a writer, activist, academic or filmmaker who refuses the toe the line of a dominant Hindu upper-caste, upper-class male vision of society is effortlessly deemed 'anti-Hindu'. Consequently, the rhetoric of the state, now metonymic of this vision of Hindutva, renders 'anti-Hindu' as 'anti-national' labeling any dissenting voice criminal. These labels are then conveniently invoked to justify threats, attacks, and even murder. Thus, today, it isn't enough to condemn the attacks and killings of writers, scholars and rationalists. We need to understand, assess and excoriate the efforts being made to establish a majoritarian Hindu state. Today, it is a battle for our fundamental rights; it is also a battle for our right to think, feel and express freely. We need to take responsibility for the death of those amongst us. But, more than anything else, we need to keep fighting and keep speaking our minds, and remember that the strongest weapon in the face of ascendant fascism is our humanity.
Vidhya is part of the Editorial Collective at the Indian Cultural Forum.

This article was first published on Indian Cultural Forum