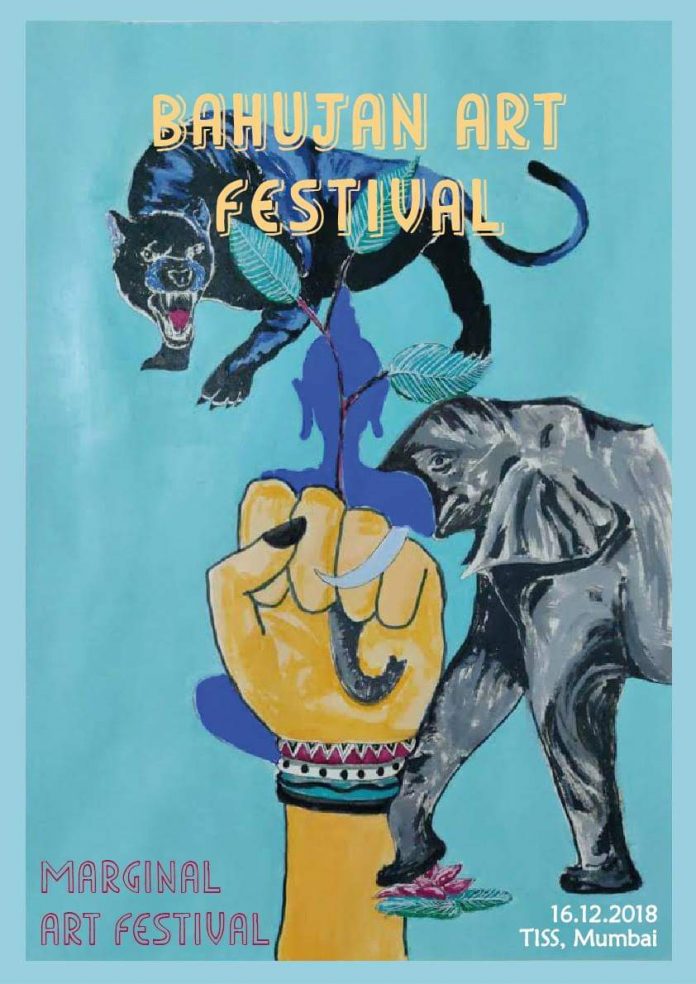 The Mumbai campus of Tata Institute of Social Sciences was abuzz with the colours of Bahujan Art the past weekend as students came together to celebrate the Bahujan Arts Festival. Around 30 artists from Dalit, Bahujan and Adivasi communities from 10 states came together for this day-long festival.  The Bahujan Arts festival aims to  bring together various forms of creative expressions by SC/ST/OBC artists exploring caste and indigeneity in their everyday work. The festival seeks to highlight voices, cultures, and resistance through artistic means.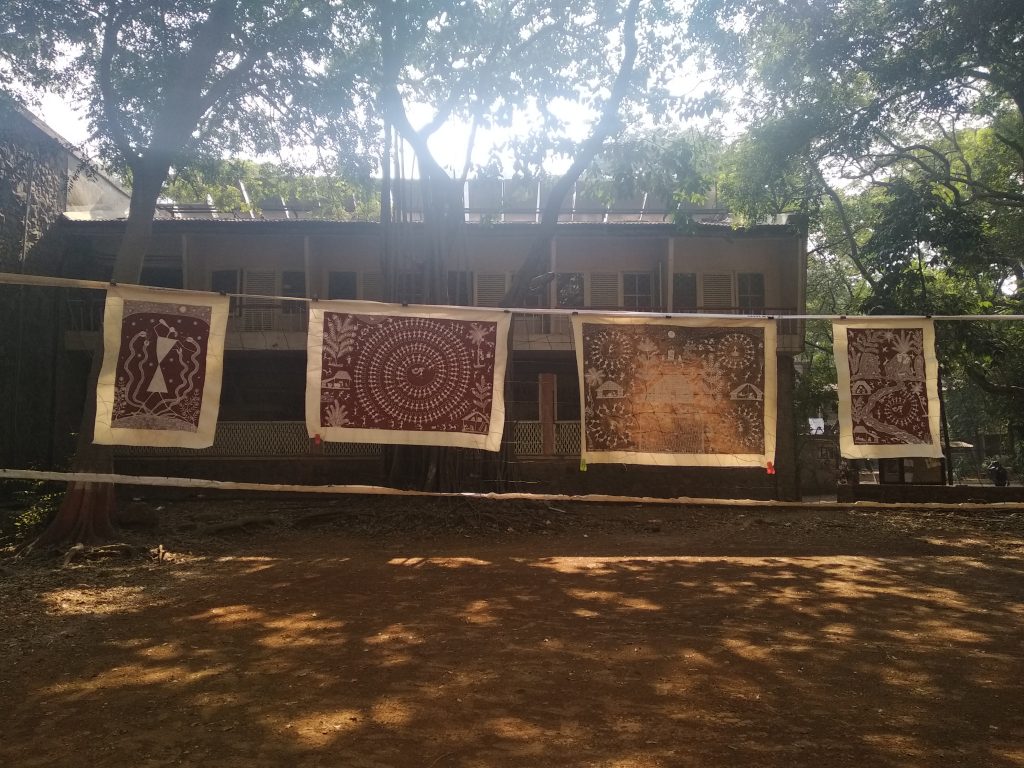 Warli paintings by Kishor and Arvind Mhase
The artists included famed Bhimgeet singer Kadubai Kharat. The poster of the upcoming documentary by TISS students called 'Kadubai' was also unveiled on stage.  Rapper Sumeet Samos performed his latest song, Desia Pila Area Khali, which talks about the exploitation and casteism in his  hometown of Koraput in Odisha. Dharavi-based Parai group, Neelam meaning 'blue', performed the Parai Attam.
The evening also saw a panel discussion by famed writer Urmila Pawar who spoke about the casteism she faced in childhood and how it culminated into her autobiography Aydaan (The weave of my life), and a one-act play on the life of Savitribai Phule performed by Usha Ambhore. This was followed by Kathputli act and discussion titled The Cultural in our resistance by Paras Banjara and Ram Lal Ji who  spoke about the kind of exploitation the Kathputli artists have been facing.  
Films like Nachi Se Banchi (Dance to Survive) by Biju Toppo, Pratik Parmar's Project Heartland and Disad Dis by Nagnath Kharat were screened. A panel discussion by young filmmakers like Somnath Waghmare (The Battle of Bhima Koregaon),  Jyoti Nisha (upcoming documentary Ambedkar Now and Then) and Omey Mangal Anand (upcoming documentary on Kadu Bai), discussed Dalit Bahujan filmmakers' access to film technology.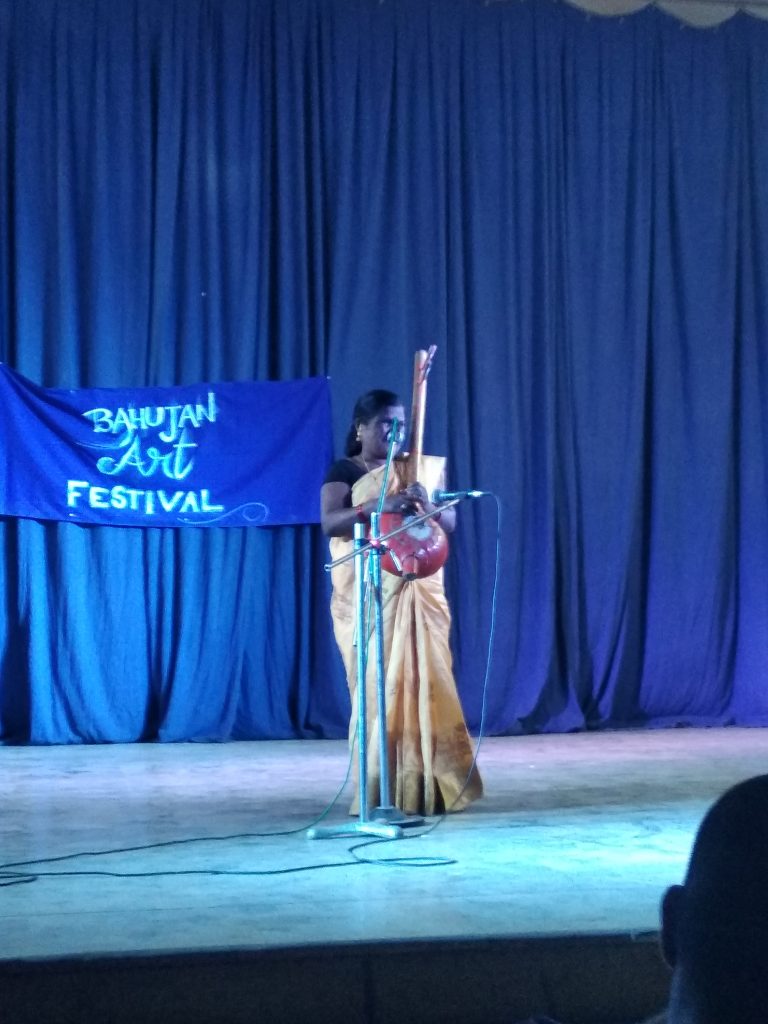 Kadubai Kharat
Amongst the audience, the great great grandson of Birsa Munda was also present to spoke about the Tribal resistance. The festival also saw an exhibition of paintings by  younger generation of Warli artists Kishor Mhase and Arvind Mhase. Works of artists like Malvika Raj, Shyamsundar Vunnamati, Sunil Awchar and Maari Zwick-Maitreyi were also exhibited.  The evening ended with drum beats of Parai and echos of Jai Bhim, as Kadubai Kharat wowed the audience 'Tumhi Khata Tya Bhakriwar' and 'Mai Bhhimane'.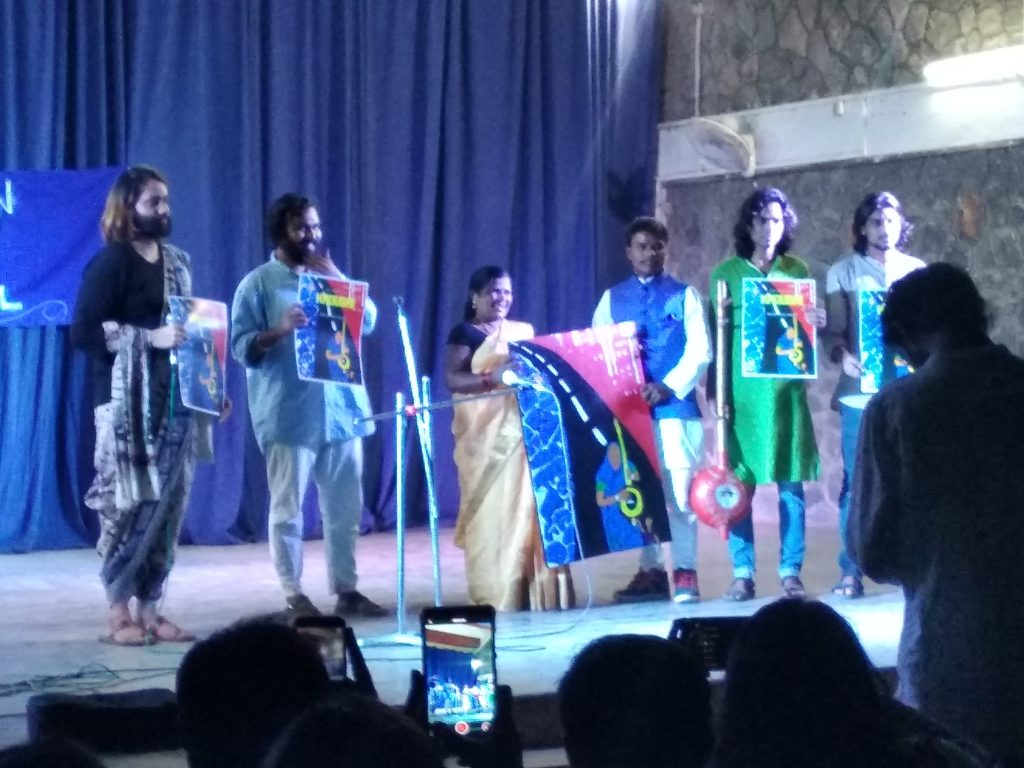 Kadubai Kharat unveiling the poster of a upcoming documentary titled Kadubai made by TISS students
Courtesy: Two Circles