On the 103rd Commemoration of Jallianwala Bagh Massacre
Contemporary documents of the brutal massacre and people's heroic resistance remain hidden in boxes of National Archives


Image Courtesy:indiatvnews.com
India has turned into a grazing field for all kinds of religious bigots led by the Hindutva gang. Even PM of the country who took oath to uphold democratic-secular polity is identifying himself as a Hindu nationalist as if he is in office to serve the cause of Hindutva. The RSS/BJP rulers are openly declaring their commitment to turn India into a Hindu state where Brahmanical Code of Manu which reduce women and Dalits to sub-human status would be the law of the land. For them India is Fatherland and Holyland for Hindus only. It is to be noted that as per the Hindutva definition only those can be considered as Hindus who have Aryan blood, believe in Casteism, are of fair colour and treat Sanskrit as a holy language. These are not Muslims and Christians only who are out of Hindu nation, even faiths such as Sikhism, Buddhism and Jainism can survive only as sects of Hinduism.
However, it was not the scenario 103 years ago, when the British rulers perpetrated one of the worst massacres in the modern history; the Jallianwala Bagh massacre on April 13, 1919. People of India subjugated by the most powerful imperialist power of the world, Britain, presented a heroic united resistance. It is not hearsay but corroborated the contemporary narratives and retained in the archives of the colonial masters. These amazing documents were part of the British archives, established in 1891 at Calcutta which became National Archives of India after Independence. As a pleasant surprise these documents were made public to mark the 75th commemoration of the Jallianwala Bagh massacre as part of an exhibition titled Archives and Jallianwala Bagh: A Saga of Independence.
The documents, concerning the most volatile period of the Indian freedom struggle, not only showed how the Britishers brazenly flouting human rights-democratic norms, indulging in barbarism while suppressing the mass discontent but also brought to light hitherto hidden aspects of Indian people's united heroic fight-back. The documents exhibited were both saddening and amazing. It was immensely saddening to watch the 'civilized' British indulging in acts of unprecedented violence against Indians and amazing way the people of India, collectively and individually, belonging to different faiths and Castes, rose in revolt.
The shocking part has been that this treasure of visual and written narratives was put back in the boxes of the National Archives, never exhibited again. It was not taken out even at the centenary commemoration in 2019. It seems the rulers and managers do not want that coming generations should know about the barbarism of the colonial masters as well as united great heroic resistance of the people of India.
The barbarism of the British rulers
Photographs in the show recorded heart-wrenching scenes of the barbarity of the British rulers in coping with the unrest in Punjab during 1914-1919. Punjabis, specially, Sikhs, tied on the wooden/metal frames being flogged or forced to crawl on their bellies on public roads, their naked body in full view of the public, filling all with shame and anger. Punjab had become a military camp. The rulers aiming at crushing the self-esteem of patriotic Indians forced Indians to salute every Englishman/woman, not to ride cycles and forcibly pulling moustaches and beards. There is no doubt that such repression produced revolutionaries like Bhagat Singh and his comrades.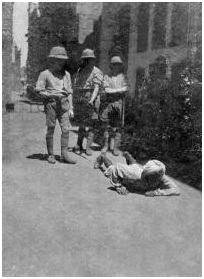 The records narrated the story of newly married Rattan Devi had spent the night of April 13-14, 1919 by the side of her husband. Only, he was dead, lying amid the hundreds strewn all over the Bagh. The place was overflowing with blood, as she narrates in the chilling statement on display, and after removing the body of her husband to a comparatively dry place,
"I sat by his side… I found a bamboo stick which I kept in my hand to keep off dogs. I saw three men writhing in great pain and an injured boy, about 12 years old, entreated me not to leave the place, I told him that I would not go anywhere leaving the dead body of my husband. I asked him if he was feeling cold, if he wanted a wrapper I could spread it over him. He asked for water, but that could not be produced at that place…"
In this exhibition a stunning story from a Hindi daily, 'Abhiuday' (October 4, 1919) was included which narrated the story and photographs of two friends, 18-year-old Abdul Karim and 17-year-old Ramchander who came together from Lahore to attend meeting at the Bagh against Rowlatt Act. Both were martyred here. After the martyrdom of Abdul Karim when results of Punjab University [Lahore] came out it was found that he had passed the matriculate examination in the first class.
Air bombardments
But what really startles viewers is the hitherto unknown fact that the British government had, during the disturbances in 1919, used Royal Air force planes to bombard the interiors of Punjab. A top-secret document - again, made public for the first time - was a Task 14.4.1919. It reads thus:
"Aero plane No. 4491 Type BO E-2.E. Squadron No. 31. Pilot captain Carbery. Hour at which flight started from Lahore: 14.20. Hour at which flight concluded: 16.45. [The details] 15.20: village two miles north west of Gujranwala (now in Pakistan)-dropped three bombs on party of natives 150 strong…50 rounds machine gun fired into village.
"15.30 Village one mile south of above-party of 50 natives outside village. Two bombs dropped…25 rounds machine gun fired into village. About 200 natives in fields near a building. One bomb dropped, 30 rounds MG fired into party who took over in house. 15.40: Gujranwala-Bombs dropped on large crowd of natives in south of town. 100 rounds MG fired into parties of natives in the streets. At
15.50 when machine left for Lahore no natives could be seen on the streets…"