The Khap Panchayats believe it is their duty to protect their age old traditions and the court has no business interfering in their decisions.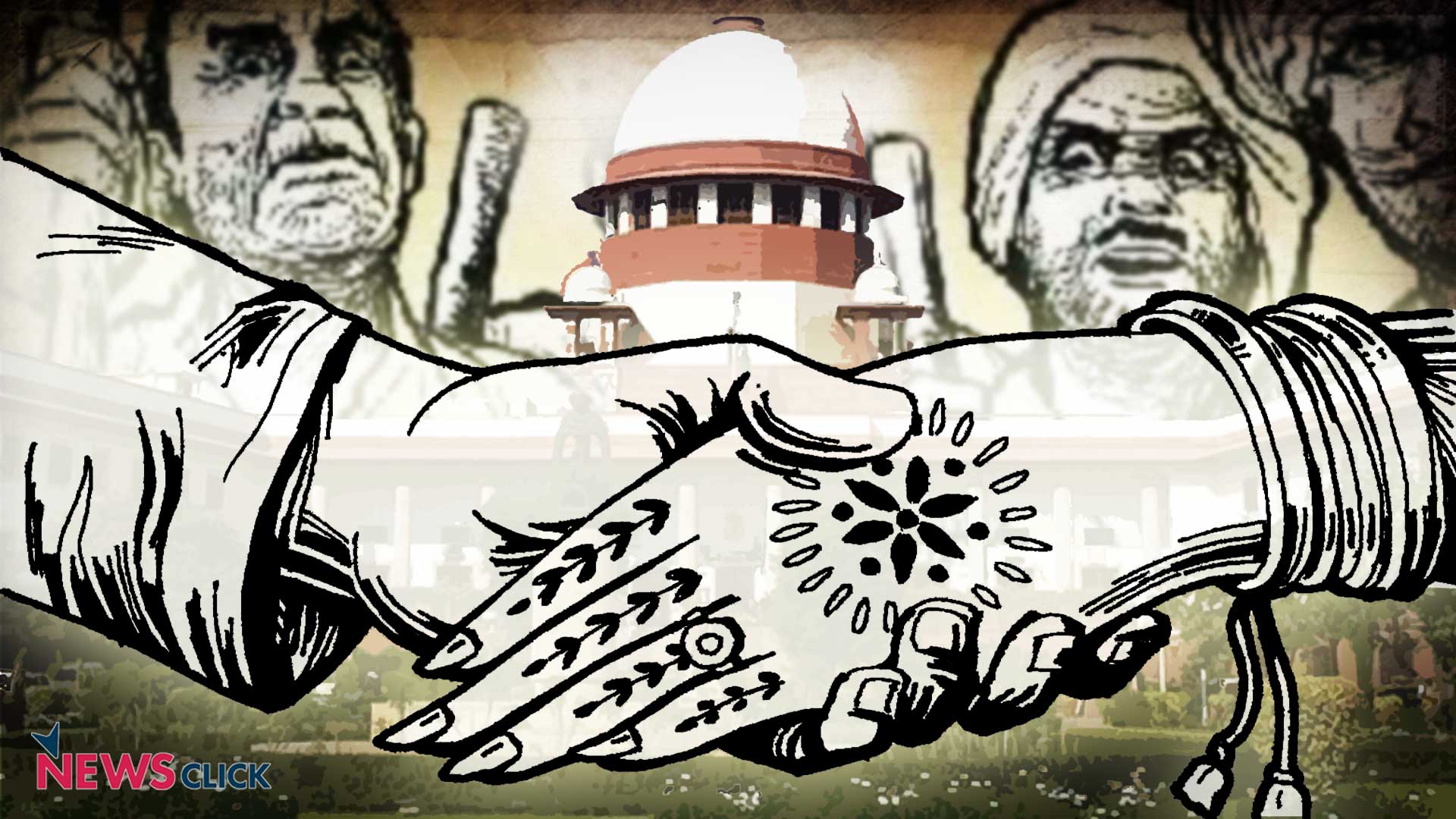 Newsclick Image by Nitesh Kumar
Two days after the Supreme Court lambasted Khaps for acting like "conscience keeper (of the society)" and punishing interfaith and inter-caste couples, leaders of unofficial community organisation representing a clan or a group of related clans have said the top court has no right to interfere in their business. Terming the apex court's observation as "ghinauna" (despicable), they threatened them "will not let girl children to be born if the judiciary continues to make such judgments that are against their traditions".
Hearing a petition seeking a ban on '
khap panchayats' (
self-appointed village courts in parts of north India), which believe it is their duty to protect "thousands-year-old traditions" and pass order to punish couples who marry against their families' wishes, Chief Justice of India Dipak Misra on February 5 said when two adults marry, no one has the right to interfere.
"Whether it is parents, society or anyone, they are out of it. No one, either individual or collective, or group, has the right to interfere with the marriage," said the CJI directing the Centre to come up with effective suggestions to protect such couples.
The petitioner Shakti Vahini, a non-profit organisation (NGO), has asked for a ban on 'honour killings' - the killing of a relative, especially a girl or a woman, who is perceived to have brought dishonour on the family by marrying without their parents' consent.
Following the SC's observation, khap leaders clearly said the apex court has no right to interfere in their traditions and that they will never let their daughters marry with a person of her choice.
"We respect the honourable Supreme Court, we also respect some of their observations but the judge must think before passing any judgement and making observations. Why are they taking such a ghinauna (despicable) decision? Why are they hell-bent to end our thousands of year-old culture and tradition? Who has given them the right to interfere in our traditions? We will not tolerate it at all," Naresh Tikait of the Balyan Khap told
Newsclick
.
He threatened, "We will not let girls be born or let them study if these kinds of orders are passed by the Supreme Court. What will happen then? To what extent will the SC go?"
"We let our girls study and spend lakhs of rupees on their education. Why will we allow them to marry whoever they want? We won't let them do this at any cost," he said.
Malik Khap chief Rajbir Singh Malik said the Supreme Court's might be influenced by the 'vulgar exhibition of modernity in cosmopolitan cities'. "They (the judges) must understand that village life is different, and we are bound by our traditions," he added.
Spokesperson of the petitioner – Shakti Vahini – declined to comment adding that "it's not fair to give any statement at this juncture when the matter is subjudice".
Killings in the name of 'honour' are still common enough among Hindus and Muslims to regularly make newspaper headlines in a country where most marriages are arranged by families. Men and women are murdered in India every year by their family members for bringing "shame" to the family by eloping,
fraternising with men or any other infraction against conservative social values. These incidents are termed as honour killings, which have witnessed a sharp rise of around 800 percent in 2016 in India – according to figures presented in the previous session of Parliament.
As per a statement made by Minister of State for Home Hansraj Ahir in the Lok Sabha (lower house of Parliament) on December 5 last year, a total of 251 cases of honour killings were registered in 2015 as against 28 cases lodged in 2014 when the government began counting them separately from murder. The number given by him was based on the data released by the National Crime Records Bureau (NCRB) on November 30.
The surge could partly reflect more willingness by people to report such crimes, which many still consider just punishment for women and men who defy communal customs by marrying outside of their religion, clan, or caste.
Women's rights activists say the government must pass legislation to recognise the crime as "unique" so that perpetrators can be prosecuted.
"The government should take it as a priority. Though the police now count these killings separately, some police officers still record such cases in the larger murder category and do not probe into it in absence of a separate law defining such crimes," said All India Democratic Women's Association (AIDWA) Vice President Sudha Sundararaman.
The separate category to record cases of honour killing was created after 'sustained campaign by women's groups', said senior Supreme Court lawyer Kirti Singh, so that a real picture of the heinous crime can be ascertained. "But there are still many cases that go unreported," she said.
Most of the cases are reported from northern Indian states like Haryana and Uttar Pradesh, where caste councils wield enormous power in village life.
The highest number of such killings recorded in 2016 was in Uttar Pradesh, where 131 cases were recorded compared with just two cases in 2014, Ahir said, citing the NCRB data.
Activists question the figures terming it an "underestimation". They claim – on the basis of a study they had conducted in 2011 – on an average, 900 people are killed every year in India in the name of 'honour'.
Annie Raja of the National Federation of Indian Women explains the reason why the NCRB data is an "underestimation". "Such cases are not generally reported because families feel ashamed to bring them on record," she said.
The situation, said Raja, has worsened in the past few years. "There is an increasing trend that village elders promoting conservative, anti-women values in the name of preserving Indian culture and tradition. The society is unwilling to accept the choices made by young women when it comes to their marriage," she added.
The Supreme Court, also in January last year, had termed attacks by
khap panchayats
on adult man and woman opting for inter-caste marriage as "absolutely illegal".
Courtesy: Newsclick.in